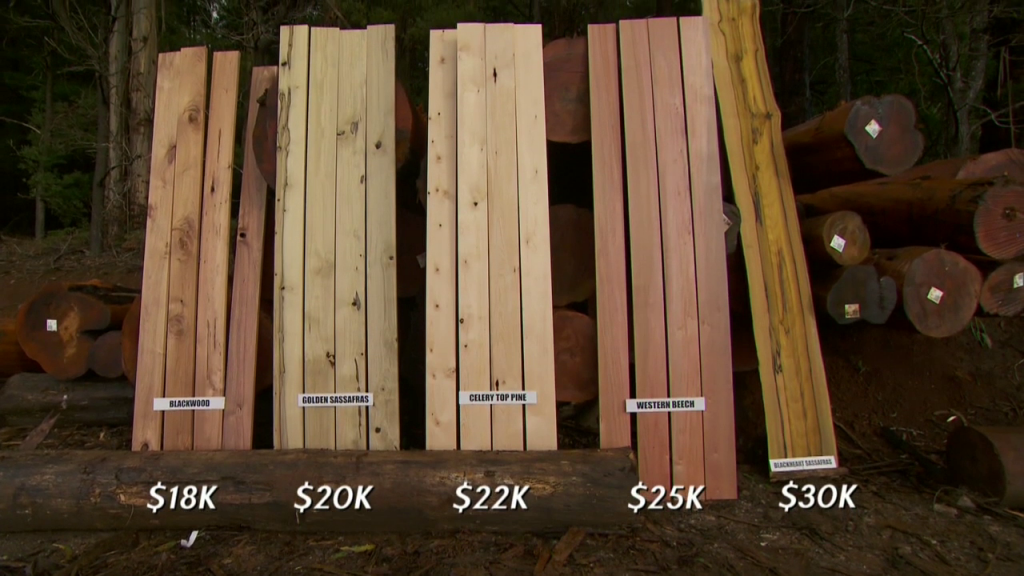 Wednesday night's episode of The Block saw the Blockheads road trip through Tasmania for a challenge that involved designing a table for terrace week.  With five rare and expensive timbers up for grabs, the winner's design would be made from the Blackheart Sassafras timber worth $30,000.
The timbers were recused from Lake Pieman, an ancient forest which had been flooded and forgotten. The use of rescued and recycled timbers like these not only create a stylish and unique touch to home interiors, it is also a sustainable source of materials.
The fifth place design received a Blackwood Timber worth $18,000.  A rich golden brown Australian hardwood, Blackwood typically has reddish streaks throughout with a straight or wavy grain. As it is an easy to work with timber, it is ideal for interior use.
Fourth place was a Golden Sassafras worth $20,000. Golden Sassafras is an attractive and pale creamy to white timber, commonly used for flooring and cabinetry.
Coming in third was a Celery Top Pine worth $22,000. With a subtle rosy gold hue, Celery Top Pine is a beautiful fine grained timber. As it is light, easy to work with and incredibly durable; Celery Top Pine is perfect for furniture construction.
With a value of $25,000, second place was a Western Beech timber. Sometimes called Tasmanian Myrtle, Western Beech's colour can vary from pink to a warm reddish brown. The hardwood has a fine grain that varies from a straight, interlocked or fiddleback pattern.
And finally, as the first prize valued at $30,000 was the stunning Blackheart Sassafras timber. Similar to the Golden Sassafras, Blackheart comes about when a staining fungus marks the timber with dark streaks. As each piece is distinctive and unique, Blackheart is highly prized as a decorative timber. In the end it was Will and Karlie's panelled glass design table that took out this stunning timber as first prize.