We chat with Justin Wagemakers, senior designer at Blue Sky Design Group and two-time winner of the Reece Bathroom Innovation Awards (in 2008 and 2011).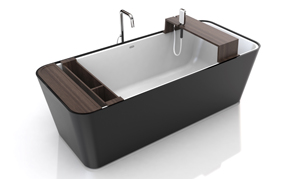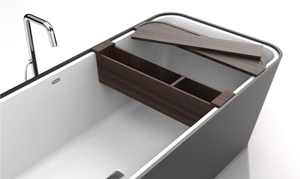 Pictured: Bathe, Justin's Reece BIA award-winning design from 2011.
1. What inspires your design concepts?
As a designer, I'm always searching for, and absorbing, as much information as possible. From architecture to film and from consumer electronics to developments in the car industry, there are so many areas of innovation that you can gain inspiration from.
Being aware of what happens around you, both at home and overseas, is crucial to inspiration. When you compile all these key pieces of information, they come together to give you that one great idea and shape what you are looking for.
2. What do you see as the key colours and materials for bathroom design in 2012?
With all the new materials and innovative production processes around today there's so much choice. Thanks to these advancements, you can now customise the bathroom to meet the homeowner's demands and style.
In terms of specific trends, I have noticed a move towards natural materials, such as wood and stone, as well as accents of bright colours, namely red and blue. Solid materials that create a real quality feel are currently popular. The combination of a minimalistic, architectural feel with hard edges and straight lines, and organic, soft and flowing cut-outs create a contrast that is very on-trend. And, finally, the use of graphical elements, such as mosaics, etchings or prints, is also quite hot in today's bathroom design.
3. How will your product design change the industry?
While I don't know if my design will truly change the industry, I hope that it does inspire others. When designing my award-winning design for the Reece Bathroom Innovation Awards in 2011, I realised that the bathtub is becoming a much more used fixture in the modern bathroom, as people tend to use it to find sanctuary from their busy and demanding lives. As each person likes to do this in different ways, I knew the bathtub needed to adapt. My winning entry, Bathe, showcased the idea of increased customisation in a designed manner, which I hope has had a positive influence on the industry.
4. What inspired you to begin a career in design?
As someone who was brought up in an expat family and moved to a new country every three years, from an early age I was always fascinated by how different cultures have their own unique approaches to similar design problems. The way things look and how they work always interested me. After graduating from The Design Academy in Eindhoven (the Netherlands) I worked for Philips Design and Scope Design Strategy before returning to Australia where I currently work for Blue Sky Design Group.
5. Tell us a little about your favourite product you've designed.
That is a hard one to answer as I have fond memories of each product I have designed. However, one that stands out for its fun factor and quirkiness is the "climate torch" for GetUp. This was an Olympic-style torch that was used in a relay run around Australia to promote climate change. A total of 20,000 people across Australia ran with the torch, including celebrities such as Cate Blanchett and Ian Kiernan. The torch was designed to embody four solutions to climate change — it used wind and solar power, a "people power" hand crank, and also drew power from a lemon battery, representing the innovation and creativity we need to support and find new energy solutions. The four energy sources powered an onboard microprocessor and LCD display showing the carbon output across the planet in real time.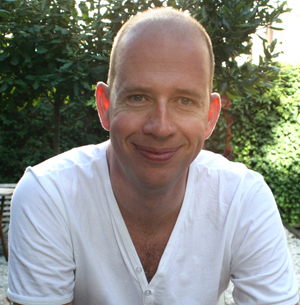 Bio:
Justin has welcomed new cultures and ideas from a very young age, travelling extensively with his parents, migratory diplomats. Settling in the Netherlands, Justin graduated from The Design Academy, working with Scope Design Strategy and Phillips Design on innovative ventures such as the Noah's Ark Experience Design project. In 2006, Justin migrated to Australia and now works as a senior designer at Blue Sky Design Group in Sydney.
For more information, visit www.blueskydesigngroup.com.au
From Kitchens & Bathrooms Quarterly magazine Vol. 19 No. 2