The bathroom has become a haven  — a clean and light space that offers a sense of calm amid a busy lifestyle.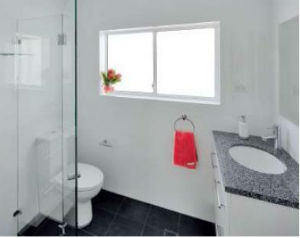 Cameron Richmond and Christopher Wright of Dynamic Renovations and Design understand the need for these rooms to provide comfort, sophistication and so much more than meets the eye. This bathroom in Carlton, NSW, was one of those perfect jobs where the designers were given full trust and scope by the owners. The residents selected a design-and-build company they respected and were happy to hand over the decisions to the professionals. As a result, a superior finish, thoughtful inclusions and a sense of space and modernity have been introduced.
High-gloss white tiles have been applied to the walls that span right up to the dropped ceiling, where they fade behind the shadowline for a polished finish. The white is contrasted with a deep-coloured floor tile called Sixth Sense. It has the appearance of concrete but is a strong, glazed porcelain tile and adds a raw, tactile quality to the room. This deep colour is also echoed in the CaesarStone countertop and the dramatic edging of the recessed shelf in the shower. Dynamic Renovations takes pride in completing a thorough and pristine job.
The details are what set the company's bathrooms apart from others. Here, the shower is stepped down slightly from floor level to ensure that the shower is 100 per cent waterproof and does not spill out into the room. Power points are cleverly installed at the back of vanity drawers so hair dryers and shavers can be stored ready to use, but are also neatly out of view. Dynamic Renovations also takes care to ensure that the bathroom tiles are flush with the carpet or flooring of the adjacent room.
For Cameron and Chris, there is no cutting of corners; their clients deserve the best throughout every step of the process. "We ensure customers benefit immeasurably by having two dedicated tradesmen complete their project from commencement to completion. We constantly pay attention to the little details, which combine to make a beautiful bathroom."
Project Particulars
This project was designed and built by
DYNAMIC RENOVATIONS AND DESIGN
Tel: 0402 259 789
Email: enquiries@dynamicrenovations.com.au
Web: www.dynamicrenovations.com.au
Licence Number: 136612C
Sanitary fixtures + bathroom fixtures
Toilet: Parisi
Basin: Roca underbench basin
Taps: Crestial
Cabinetry: Custom made
Tiles/wet areas: Ceramic, rectified, square-edge from Tile Bazaar in Sylvania
Flooring: Sixth Sense, black porcelain
Windows: Laminated glass window with aluminium frame by TruBlu Windows
photography by Marian Riabic