We've selected the best books on style, interior design, and decorating trends for your home.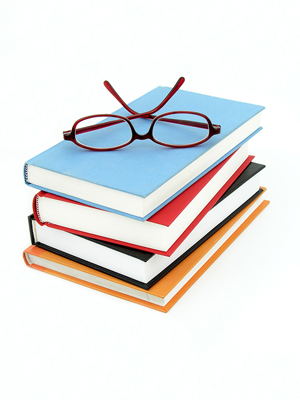 Let this selection of must-read books fill you with inspiration and help you create the beautiful home you've always wanted. And when you're done, they can be used as intriguing and stylish coffee table books.
1. The making of a house
Janne Faulkner and Harley Anstee
Published by Hardie Grant Books, rrp $59.95
The Making of a House takes you on a journey through a typical house, from the front door where those all important first impressions are made through each and every room, stopping along the way to provide valuable ideas on how to choose a design theme and set a desired mood. Aware that no two families are the same, the book provides a range of possibilities for interior decoration and design and it does this by showcasing fully realised interior spaces and then deconstructing them to reveal the various components, from the paint colour and upholstery fabrics to the furniture and accessories, that went in to creating the final look.
2. Inspired interiors
Judith Miller
Aurum Press, rrp $29.95
Inspired Interiors traces the main influences on interior design from the early 18th century onwards, looking at a range of period styles and how the essence of each style can be successfully integrated into a home in the 21st century. From the opulence of the early neo-classical period to the vibrancy of the 'swinging' 1960s and '70s, from the Arts and Craft appeal of decorative painted walls to the stark simplicity of modern minimalism, each style is described in a clear manner and analysed in terms of characteristic architectural elements, materials, colour and patterns, furniture and artefacts, all of which are brought together in complete rooms.
3. Sense of style: space
Shannon Fricke
Murdoch Books, rrp $29.95
Sense of Style: Space is a 'how to' book with its own sense of style. Interior stylist Shannon Fricke presents the design tools needed to create home décor that reflects the owner's individuality. Featuring photos taken by leading interiors photographer Prue Ruscoe, this book has a relaxed, eclectic visual style that is sophisticated yet accessible and engaging. For anyone looking to decorate a new home or apartment from scratch or take an existing home and give it a new lease on life and an injection of personality, this book will prove a very useful reference source where you can find equal measures of information and inspiration.
4. Home interiors
Arian Mostaedi
Published by Links International
Distributed by Bookwise International, rrp $39.95
This book presents a wide-ranging selection of house designs as diverse and eclectic as the people who live in them and the architects who design them. Included is an exhaustive cross-section of apartments, lofts, houses and studios that reflect the forward-looking lifestyles and domestic aesthetics of a new century. Minimalist environments, sensual and intimate spaces, and spacious light-filled homes all make their mark with style and distinction. Each project is shown in detail, with numerous photos, detailed floorplans and the architect's own commentary. Home Interiors is a very useful book for anyone planning a new home or major home renovation.
5. It's your bed and bath
Joan Kohn
Bulfinch Press, rrp $60
Distributed by Warner Book Group
Bedrooms and bathrooms are the two most private and personal rooms in the home so it is essential they provide you with an atmosphere of comfort and repose. In this book, the author offers a comprehensive guide to creating beautiful rooms that meet your aesthetic needs while taking into account practical considerations such as budget, lifestyle, and the existing structure of your home. The full gamut of decorating styles are covered — crisp and contemporary, luxury resort hotel style, cosy country cottage — to show you just how many different looks can be achieved and to give you some ideas on creating your own private sanctuary.
6. Decorating walls and floors
Liz Risney Manning, Rigina Cole, Karen Aude
Published by Rockport, rrp $44.95
In any decorating scheme, the walls and floors are critical to achieving a successful outcome. Properly chosen and well maintained, walls and floors can make a home come alive or, if you want, they can be handled in such a way that they make you feel safe and cocooned. This book showcases myriad creative ways to use wall coverings to enhance and enrich your environment. For walls, it presents a variety of ideas for creating a particular style or theme by mixing colours, patterns and fabrics. For floors, it reveals the latest types of flooring available from the newer options in wood, marble and tile to more adventurous choices, such as bamboo or concrete.
7. Timeless interiors
Barbara & Rene Stoeltie
Published by Frances Lincoln
Distributed by Bookwise, rrp $45
Timeless Interiors looks at homes in Europe and America that have been decorated to reflect a style favoured in bygone times or simply restored to their original period look. As if taking the reader back in time, the authors provide an insight into how interiors looked before the clutter and 'mod cons' that go with today's lifestyle. Elegant lounges, simple seating, fireplaces, the use of timber, wrought iron and fabrics to accent rooms and the colours employed to give these rooms an authentic ambience; this book is about capturing the romance of the past, but it doesn't advocate throwing away your washing machine and living in an old-fashioned way.
8. In the arts & crafts style
Barbara Mayer
Published by Arum Press
Distributed by Bookwise International, rrp$59.95
The Arts and Crafts movement has never gone out of fashion. Since its birth at the turn of the century, this classic style, with its uncompromising workmanship and simple elegance, has revolutionised home design. The genre is experiencing a renaissance and its admirers are bringing the timeless beauty of the style into their homes with renewed enthusiasm. Each chapter of the book examines a different aspect of the aesthetic, beginning with its European origins and proceeding to America classic, including California's Mission style. It also highlights Arts and Craft standards like the Morris chair and Tiffany lamp, displayed in various contemporary interiors.
9. Blooming rooms
A Bronwyn Llewellyn, Meera Lester
Published by Quarry
Distributed by Tower Books, rrp $55
Flowers, in all their magnificent incarnations, are the most popular decorating icon in the home. From the fabulous multi-floral chintzes of the cottage styles to the exquisite stylised poppies of Marrimeko, from a single perfect rose in a silver bud vase to an exotic garden room overflowing with orchids, flowers provide colourful inspiration for all types of decorating styles. Covering historical patterns, ethnic motifs, contemporary styles, romantic imagery, floral folklore and more, this unique style guide shows how to integrate floral styles into a complete design plan.
10. Garden details
Lynne Blundell
Published by Lansdowne, rrp $39.95
The fountains, furniture and art works you choose are the finer details that give your garden its unique character, and focal points are integral in defining that character. In nature, natural forms function as focal points, but in the urban garden we need to add them through ornamentation and built structures. To ensure they enhance a garden's design they need to reflect its style. And to ensure they are placed correctly, you need to understand about perspective, proportion and how space is viewed. This book is a font of inspiration for those looking to add a unique decorative touch to hard landscaping elements and for those seeking guidelines on how to decorate a garden room.
11. The organized home
Randall Koll & Casey Ellis
Published by Quarry Books
Distributed by Tower Books, rrp $44.95
The Organized Home is not merely a practical book about labelling boxes and finding more storage space — it's about great design and it's about living with style. This book is filled with professional advice, information and checklists that will help you create the organised, peaceful and beautiful home you want. The authors emphasise the intelligent and imaginative use of furniture and accessory choices to ensure function goes hand-in-hand with good looks. This beautiful volume offers professional advice, surprising and clever solutions, insights into creating positive household habits, and inspiring photos.
12. Home theater design
Krissy Rushing
Published by Quarry Books
Distributed by Tower Books, rrp $65
This is a comprehensive guide to planning all types of entertainment spaces in the home. Author Krissy Rushing reveals how to choose and place acoustic and audio-visual systems for the best results, as well as how to plan a home theatre or music room. This book looks at the aesthetics too, with a "whole interior" approach to home entertaining. The book offers information on a variety of design considerations — furnishings, comfort, setting up entertainment spaces, hosting get-togethers, accommodating guests — while factoring in style, functionality, new technology, acoustic planning, soundproofing, lighting, and environmental and personal health considerations.