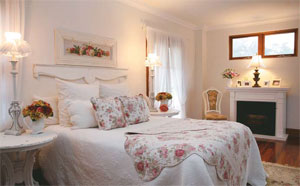 Giving your bedroom a beauty facelift may be as simple as rearranging your knick-knacks.
"No object is so beautiful that, under certain conditions, it will not look ugly." Oscar Wilde
We all have differing opinions on what is beautiful. When it comes to finding beauty in people's physical features, some admire the eyes; others might notice someone's hair, stature or manner of dress. The same is true of our decorating. What we each consider to be beautiful in our homes can vary greatly. That's why there have been so many incarnations of country style over the last decade. Let's face it, there was once a time when country decorating had only one look and feel, but today it has gone in dozens of different directions, from rustic to cottage, and casual French to manor-house English. And once we put our own personal take on them, those styles can evolve into yet more variations. Nowhere is this more true than in decorating our bedrooms.
Personally, it is what I am enjoying most about country decorating at the moment — the shifting and merging of boundaries, with the result that our rooms are tending to have more of our own personalities imprinted on them.
In our bedrooms, this is surfacing in new colour schemes, fabric combinations and sometimes even quite modern items thrown into the mix. The key secret to mixing and matching elements and styles is to edit, then add. Take a look around your bedroom at the elements you still love — be it the curtains, the old iron bed or the fabulous timber dressing table. These items must stay. Now, look again and find the things that make you cringe, or at least no longer make you smile. Your tastes grow and change, and it's OK to look at an item you loved a decade ago and decide you don't want it around anymore. Gather up the items you no longer love and take them out of the room.
Because we are aiming for tranquillity, our bedrooms are the one area of the home that really does function better de-cluttered. There is less to occupy our attention as we try to fall asleep, there is less to attract dust which might annoy us and interfere with our sleep, and a simplified space will certainly have other calming influences on our minds as we try to nod off.
By editing your room's contents you'll find a fresher style will evolve that brings a smile to your face consistently. This needn't be an expensive process. You could make a stylish bedhead by covering some canvas squares from a bargain shop or cork tiles from the hardware store in a great floral, linen or leatherette fabric. Team these with some fresh floral bed linen and your room will have a much more modern country feel.
Or you could try a modern bold colour as a feature wall and team it with some new complementary cushions and a piece of wall art, but keep your furniture exactly as it is. Your room will still have a fresher face and a blending of old and new.
Giving your bedroom a beauty facelift may be as simple as rearranging your knick-knacks; removing some and swapping with others from another room. Take a peek at our article on the Art of Display for some ideas on freshening up the way you and others look at your bits and bobs.
You might also like to borrow beauty from nature and make a regular habit of bringing some fresh blooms into your bedroom. Flowers can instantly soften a room, add fragrance and romance and even cheer a less-than-perfect boudoir or temporary accommodations. You could carry this one step further by incorporating floral bed linens or curtains into your roomscape.
Don't forget to add back elements you consider beautiful, from layered linens and cushions to photographs and personal knick-knacks. Take a leaf out of William Morris's book and add only items you consider beautiful or functional. Don't feel you have to incorporate all the latest technology into this space and don't be pressured by others' opinions or ideals. After all, you are master of your own personal space, your haven, your retreat.