The Block's Shaynna Blaze shares her advice on getting bold, bright and sassy with colour in your home.
1.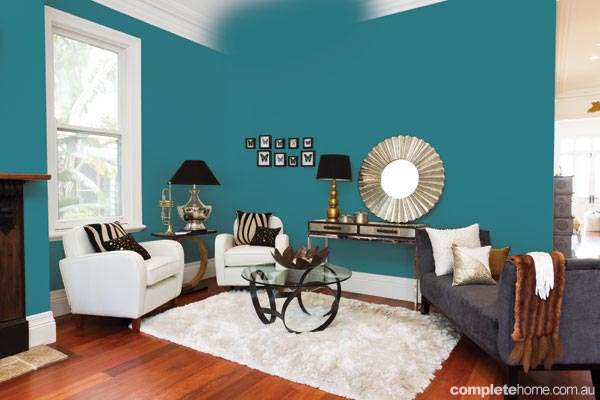 By Shaynna Blaze
Bold, bright and sassy is the only way to describe the colour revolution that has been trailblazing our interiors over the past twelve months. Not sure it is for you? Well, hold on, as it is only going to get bigger and stronger.
A few years ago we were just dipping the toe in creating spaces that were presented with quiet confidence by artisans, driven by eccentric personalities and the more handmade and un-finished the better. The latest movement of colour, however, is sharp and with a bold sophistication — it's very hard to ignore its presence. Recycling and sustainable building values are still the trend and usually that conjures visions of raw materials and textured surfaces, but the earthy tones interestingly sit quite comfortably with the intensity of colours in our new palettes.
2.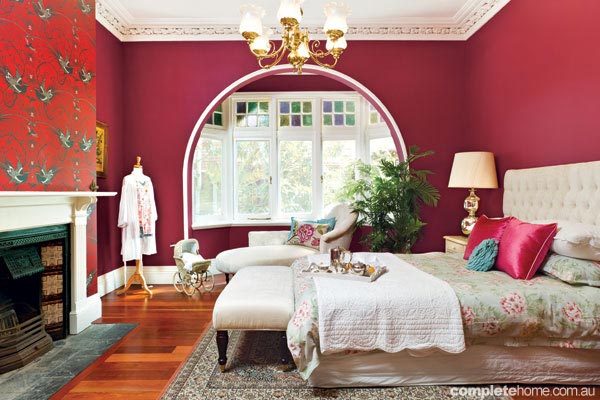 The beauty of the colour movement is the breaking of the rules; neon playing contentedly with primary colours and even the resurgence of a grownup version of pastels has squeezed its way into this year's schemes.
I think the biggest fear is investing in colour for your expensive pieces and worrying whether you will be regretting it in the years to come. If you are anxious of colourful, bold statements then paint is the easiest way to get on trend, followed by soft furnishings, and then your surfaces. Not everyone is going to rush out and buy everything brand new in their home and create a new combination overnight, so take comfort in knowing it will be around for a while so you can make the right choices at your pace.
The colours in the market now are risk-takers but not a flash in the pan. To make these statements in colour by manufacturers' means they are investing not just in trends, but asking you to invest in a piece that will last and is hanging around with you. A piece that is driven by a love of choice rather than a "trend buy" is what makes this new wave of colour the hardest choice for a lot of people.
3.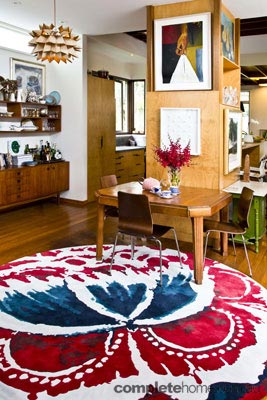 4.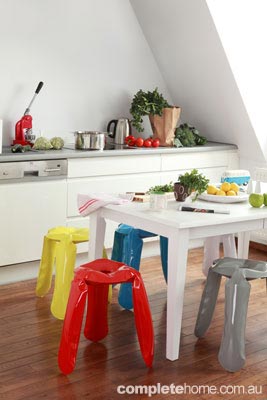 Selecting colour is approached with a lot of hesitation as the fear of making a mistake is high on the agenda, but also — and really think about it — selecting a colour and being judged by it is just as relevant. Colour gives an instant visual reaction and if someone walks into your home they are immediately going to like it or hate it — the outcome is making a judgement on your taste. If someone walks in and says, "Ooh I hate that colour," no matter how much you like it, somewhere deep inside you will question your choice.
So where does that leave us? Colour is about being confident in your choice or learning to take the leap and create confidence in selecting colour. There are traditionalists who will say that the slide back towards minimalism is just around the corner. There will be some of that in the following twelve months, but it won't be a dramatic shift. Colour is now and it is an investment that if you commit to, it will give you a lot of joy in your home. Still lacking confidence? Then get a colour consultant. There are many experts out there who specialise in colour. 
Visit dia.org.au to find a qualified decorator or colourist, or to get a consultation from a paint company. Even if they bring you a colour scheme and you sit on it for a while, it is a way of testing colour in your home to see if you are ready to make the change.
Images:
1 and 2. These schemes I created for Taubmans Look Books are about taking the classics and giving it a twist with a bold statement in the choice of paint colour. Your furniture can remain timeless but still move with the trends in a very simple and painless way. taubmans.com.au
3. The retro, timber base in this interior is the perfect platform for the electric primary colours in this Easton and Person rug. designerrugs.com.au4. A statement in your furniture can take on a fun element, such as these Plopp stools by Oskar Zieta. The unique design of thin sheets of steel that are then inflated to its final shape are deserving of such a strong colour range. You can have one impact colour with simple white or go the whole rainbow in one area. textura.com.auFrom Grand Designs Australia magazine Vol. 2 No. 1