You don't have to rip the kitchen out and start again, nor spend huge amounts of money, to achieve easy access and better organisation. Tansel Stainless Steel Wireware shows you how you can maximise storage in existing cabinets.
by Tansel Stainless Steel Wireware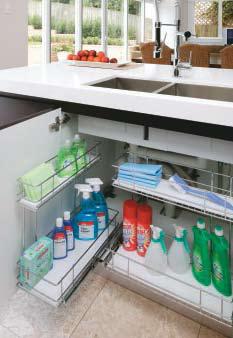 1. Pantry storage
This is by far the most common storage potential in a home. With more than 200 items stored in your regular pantry, having fixed shelves can restrict access causing clutter and underutilised space. Stainless-steel wire baskets (with a wire or solid base) can be an easy and quick solution. By removing the shelves and installing pull-outs (which are suitable for DIY) you can add as many as you require without having to replace the cabinet or kitchen!
Storage Tips
Group similar high grocery items so you can add more baskets.
Utilise slim-line tracks for narrow cabinets.
Use door attachments such as spice racks and teatowel rails
2. Under-sink storage
One of the most challenging areas when it comes to storage is under the kitchen or bathroom sink. Plumbing obstructions and the need to remove shelving can leave limited usable space. Without the right fittings, you often have restricted access which results in clutter. The installation of Tansel wireware utilises the space around the plumbing as well as the top half of the cabinet. Furthermore, there is still easy access to the plumbing.

3.Under-bench cabinets
Under-bench cabinets have a wide range of uses. Whether you're storing grocery items, wine, plates, mugs or whatever, installing pullouts will improve accessibility and increase practical storage space. Commonly, such cabinets have only one fixed shelf, so by removing it you can add three pull-out baskets, which make your family's life that much easier.

Tips For Choosing the Right Pull-Out
Save money on tradespeople by choosing mechanisms that are easy to install.
Ask about warranty and check the fine print to ensure you don't have to replace the product sooner than you think.
Choose quality materials, such as stainless steel, to prevent rust and save money in the long run.
Square baskets offer maximum storage space compared with angled-sided (inter-stacking baskets).
Tansel specialises in quality stainless-steel wireware to suit cabinets of almost every shape and size. Locally designed using Australian and imported materials, Tansel's products reflect the needs of the Australian market.