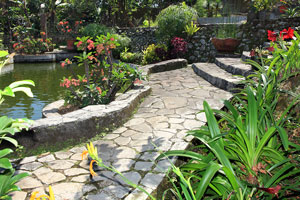 Trompe l'oiel artwork and fake ruins create a sense of whimsy in this delightful garden
Story: Donna MacPherson
Gardens have never been areas we have needed to take too seriously. Traditionally, we have introduced fountains and statuary, topiary, follies, cherubs and all kinds of elements of fantasy to our outdoor areas. The grand historic gardens of Europe are noted for their elements of illusion and whimsy, but adding some fun and fantasy is not impossible for even the smallest of domestic gardens.
The obvious way to introduce some fun to a garden is by introducing fantasy statuary. Fountains, birdbaths, gargoyles and such would all work well but there are other options to consider. What about sectioning off an area to create a separate or even a secret room? If you have a large area, your secret room could hide a fanciful croquet lawn or a patch of green turf for picnics and tea parties. You could construct a folly for no reason other than you like it and it looks good or you could bring a theme to your garden. I once visited a lady who had created a Shakespearian garden that featured statues of various characters such as Romeo and Juliet and the many plants mentioned in Shakespeare's works. There was honeysuckle, foxgloves, borage, columbines, tarragon, hyacinths, lavender, English primrose, sage, thyme, violets and pansies.
If Shakespeare isn't quite your thing, maybe you could take inspiration from other authors such as Lewis Carol and create an Alice in Wonderland garden with sculptures of characters and garden beds laid out in the various card suits — diamond, heart, spade or club.
For smaller gardens, the ultimate way to inject some fantasy is by tricking the eye through trompe l'oiel artwork. Trompe l'oiel is French for 'to fool the eye' and it has been used in gardens since ancient times. Examples still remain in Pompeii and artists have been using it to create three-dimensional spaces ever since. Trompe l'oiel hasn't been so popular in Australia, perhaps because our backyards were always large, open spaces. But trompe l'oiel is the perfect way to make a small yard or a courtyard appear larger and, if you want to add a little subterfuge to your garden or need to hide an ugly fence or view, this medium could be just what you have been looking for.
The owners of this truly delightful, Heritage-listed Edwardian house in Victoria have created a stunning garden that incorporates trompe l'oiel to introduce a touch of whimsy. It is the garden at Pennyroyal by the Bay B&B and was created by owners Tricia and David Ditterich several years ago. Tricia is a garden designer but she also loves to paint and has successfully used witty and serious trompe l'oiel to create the illusion of this being a much larger garden.
Long before Tricia reached for her paints, she set the groundwork by constructing the columns of fake ruins. These structures would add even more depth to the illusion once the murals were painted. She and husband David also planted the slower-growing shrubs and climbers so that the garden would have the illusion of age as soon as the murals were put in place. By combining recycled materials and clever plantings with her artwork, Tricia has created a garden of many moods for her B&B guests to enjoy.
If you're not handy with a paintbrush, perhaps you could invite local art students to work their magic or enlist the help of a professional artist to create a trompe l'oiel for your garden, or borrow just part of Tricia's idea and create a ruin or folly in your yard. After all, a little bit of fantasy can transport you from suburbia to the great gardens of the world.
Pennyroyal is located in Dromana, Victoria. For more information, visit the website: www.babs.com.au/pennyroyal/