A bedroom should be a place of retreat and repose; it should also be a true reflection of your personality.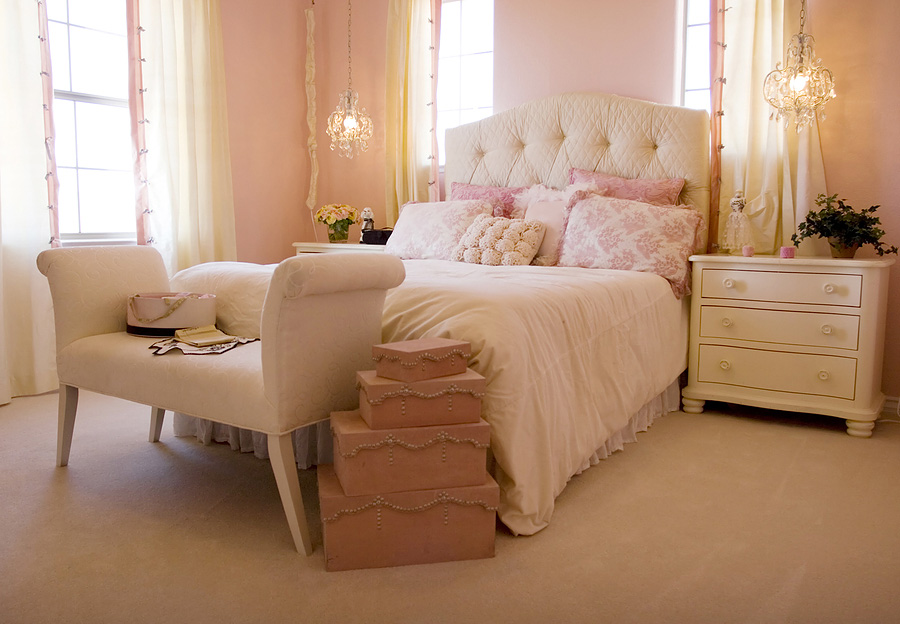 When it comes to bedrooms, all decorators agree; this should be the most private and comfortable part of the house, where one's decorating fancies can take flight. It is also the place where your most treasured and personal possessions can be safely displayed, away from the more public rooms of the house and away from the passing parades.
Part of the decorating process is to create a space that is user-friendly and practical. It's about combining style with comfort and nowhere is that more important than in the bedroom. It really doesn't matter whether you snuggle into a four-post bed at night or something far less grand; if you don't get a good night's sleep then you won't be in any frame of mind to enjoy your beautiful, freshly decorated bedroom.
Therefore, when shopping for a bed it's essential that you team it with a quality mattress. But while health experts tend to recommend harder mattresses because they help keep your spine in the correct position, what is comfortable for one might be a nightmare for another.
The only way to work out what kind of mattress is going to help you drift off to dreamland when you slip underneath your stylish new coverlet is to test out as many as you can. Lie there for a good 10 minutes, then try rolling over; if that requires too much effort, the mattress is not right for you.
Look for something that provides support and comfort. Again, we all have a different idea of what makes something comfortable. For some it's lots of padding over the springs while others hate the feeling of sinking into a highly padded surface. Consider different and innovative new materials, such as latex topped or memory foam mattresses; with technological developments, there has never before been so much choice available in bedding. 
It's recommended that sprung mattresses be replaced every 13 years (10 years for unsprung mattresses) so if you're planning to decorate your bedroom, it's the perfect time to consider whether it's time for out with the old and in with the new.
The next step is to load up your bed with luxurious bedlinens; crisp cotton sheets with a high thread count, fluffy down pillows and a new quilt or doona cover in a pattern or colour that complements your new decorating scheme. The selection of a sleeping pillow can be just as specific and always as important as your mattress; be sure to test as many pillows as possible while shopping, and ask experts for their opinion. Add a few decorative pillows, a nice throw and your bed is complete. Just remember that the colour scheme you choose for your bedlinen will set the mood for the whole room, so make sure you choose with care.
Having selected the bedlinen, you can then use this as a reference point for choosing curtain fabric, table toppers, lamp shades and rugs.
Aside from the bed, there are several other pieces of furniture you need to consider in your new decorating scheme. Bedside tables are a necessity for a lamp, clock and your latest novel, then there are dressers and even a wardrobe if you live in an older home without built-ins.
Comfort in the bedroom is always enhanced with the addition of a chair; ideal to add colour and pattern to an otherwise plain setting, especially if the chair is upholstered in a pretty floral or smart stripe. It also provides a spot to perch while dressing, somewhere to drape clothing, and the ideal place to retreat from the rest of the family with a good book.
Depending on your decorating theme, additional pieces may be required to set the look, such as a blanket box or old trunk in a country-style bedroom. In this case, the advantage is that these items can provide valuable additional storage.
Privacy is essential in a bedroom so you will need to pay extra care and attention to the window coverings, especially if the bedroom overlooks the street or a communal area such as the back garden. And depending on the orientation of the bedroom, you may need to consider how you will block out early-morning sun. In such a situation, a simple block-out blind tucked behind some luxurious-looking curtains is probably the easiest solution.
And from natural light to artificial light: You can use lighting to set the desired ambience, and while bright lighting is not what most of us want in a bedroom, keep in mind that a bedside lamp does need to provide sufficient light for you to be able to read without straining your eyes.
Of course, it's not just the master suite we need to consider in our decorating endeavours. Children's rooms need just as much care and attention; in fact, they can often require more thought and planning as they should be designed to 'grow' with their occupants.
A youngster's bedroom needs to be two things: a fresh, cosy place where he or she feels safe and protected, and also a flexible place, one with the inbuilt potential to change and evolve cosmetically as the occupant turns from infant to pupil. It also needs to accommodate a plethora of activities besides sleeping; such as toy room, cubby house, games and book library and general activity centre.
This ability to be able to evolve and change as the occupants grow is critical, as only cosmetic alterations should be needed for this. To avoid having to undertake a major redecorating project of your child's room every few years, avoid fussy nursery papers and fabrics and opt for a décor that is fairly neutral, with simple accessories which can be easily modified as the child grows.
And on a final note, we shouldn't forget the guests' room (or 'spare' bedroom as it is often known. This room often needs to do double duty as a sewing room, home office or somewhere to stow away such things as seasonal clothing, so while décor is important, things like a flexible layout, good storage and adaptable, modular furniture are probably more essential considerations.