Home is traditionally four walls and a roof… but what if it can be so much more?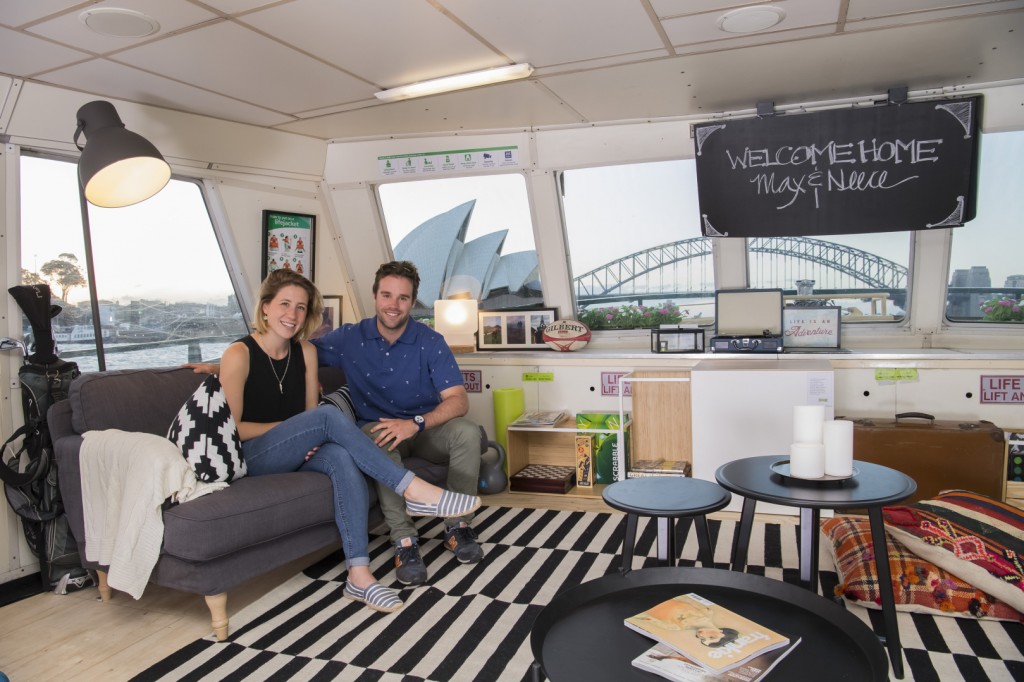 In a world first, IKEA has taken over an iconic Sydney ferry named Sirius, and transformed it into the functional and exceptionally beautiful IKEA Harbour Home, which set sail across Sydney Harbour yesterday.
Max Watson and his girlfriend Neece Carrington were the lucky winners of a competition run by IKEA, the prize of which being a night's stay on the Harbour Home. We were given the opportunity of a lifetime to board and explore it during an exclusive cruise prior to it being occupied by the prize winners, thanks to our friends at IKEA… and we were nothing less than blown away.
A personal touch
Designed over two weeks and assembled in just eight hours, and styled to align with IKEA's trademark Scandinavian minimalist aesthetic, the interior of this space was designed to be a sensory experience. Matching and clashing materials and textures were fused together to create an element of interest while giving what was previously a very ordinary ferry an extraordinary cozy feel.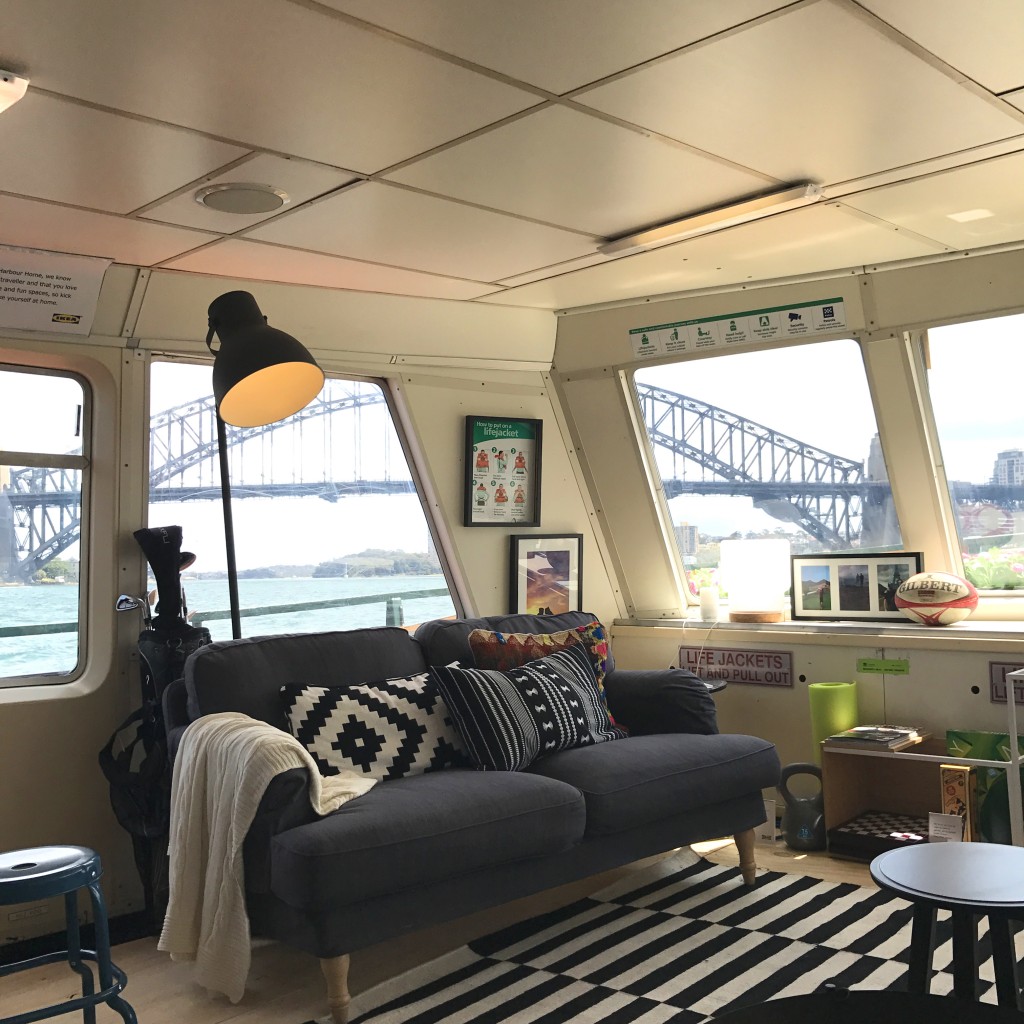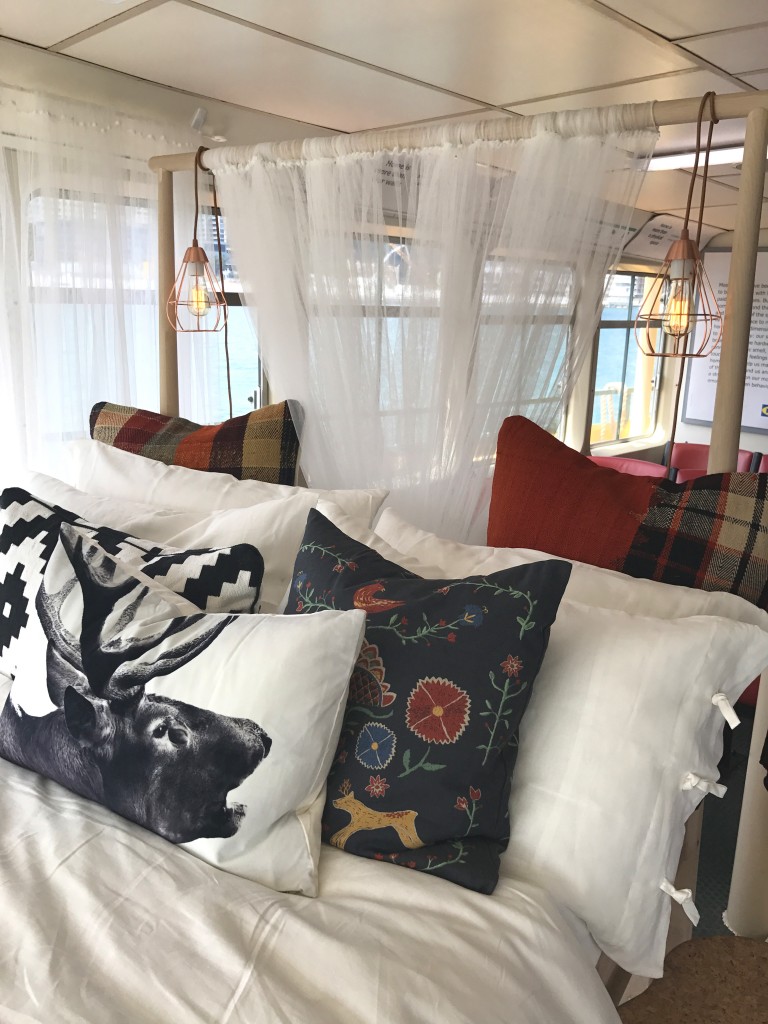 When speaking to Tiffany Buckins, Country Interior Design Manager at IKEA Australia, she confirmed that this was no ordinary experience. "We learned through our Life at Home report that it's really about a sensory experience," Tiffany said. "It's about that sense of touch, it's about using different textiles to really help create this warm, cozy, really nurturing environment."
The bedroom, living room and dining room were melded into one space in which the the winning couple can relax and take in the experience. Glimpses into their personalities could be seen scattered  across the space; there were scented candles lit, a George Ezra record playing on the vintage records player, sporting books, golf clubs and magazines styled around the space to make it feel like home.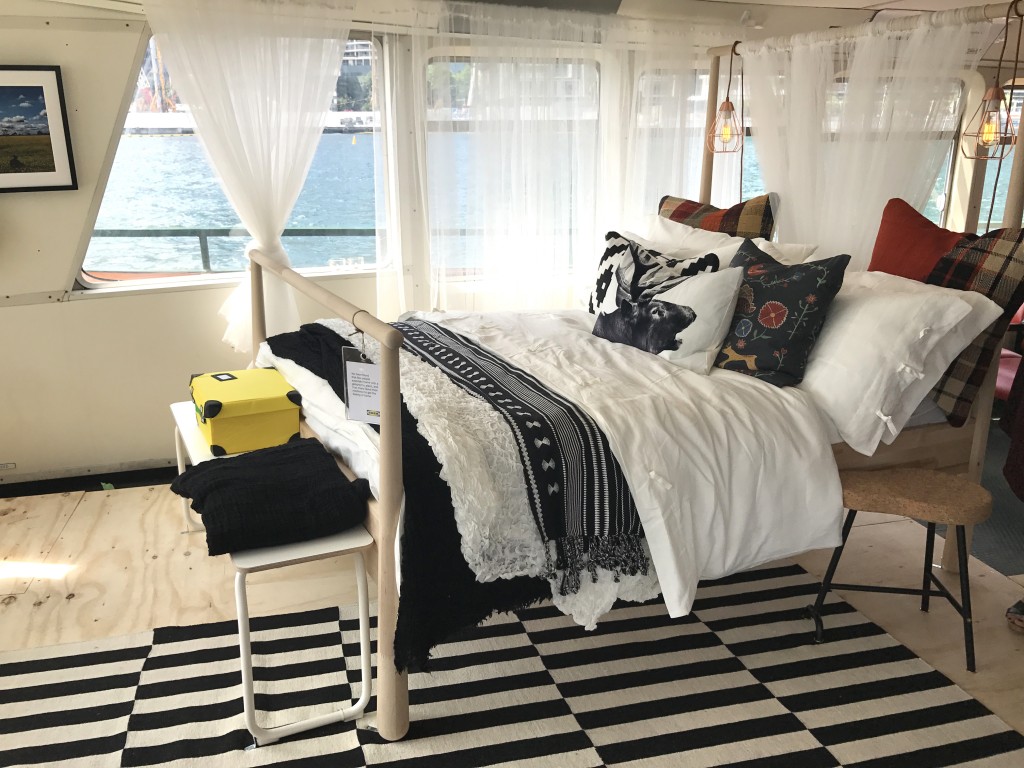 "We visted Max's home, to learn a little about his interests," said Tiffany, when asked about the personal touches, "and discovered that he's really into sports, that he really enjoys travel. We found out a little about his favourite music, his favourite scents and what he connects to personally, so that we can incorporate that into the space. It really helped to find out what it means to him to be at home.
Much more than just four walls
"When we think of the space at home, it is easy to just think of it as a physical area where we keep our things and go about our daily activities. In other words: four walls and a roof. While home is a personal haven where we can recline, reconnect and revitalise after a long day, the research reveals home is more than a physical and functional structure – it's a holistic experience."
The revolving, never-ending harbour views were one of the standout features of the Harbour Home, which was acknowledged in the way that all furniture was placed facing the views, so that the view could be enjoyed at all times. The two outdoor areas of the space were also styled in a way which  highlighted the views.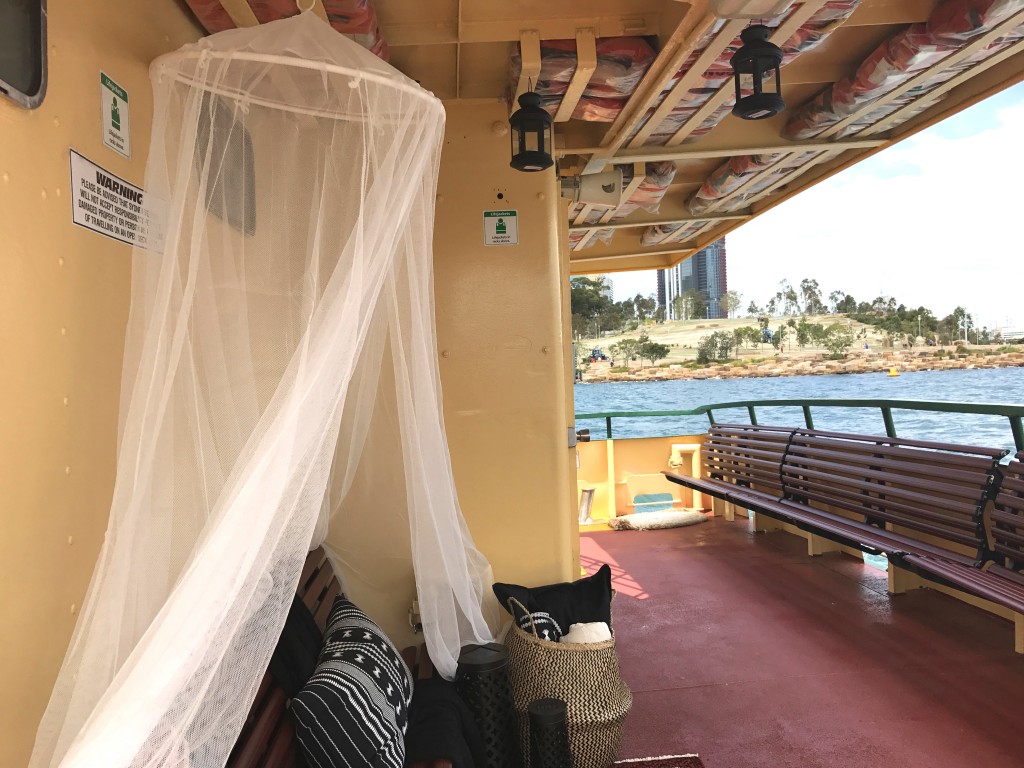 "We really tried to make sure that we didn't obstruct the views, so [the winners] get to fully enjoy the views of the harbour," Tiffany said. "It's really breaking down the boundaries of what we would typically describe as a home, so that it extends beyond four walls."
An experience of a lifetime

We spoke exclusively to Max Watson earlier this morning, who is stoked about the experience thus far. "I love the fact IKEA went to such lengths to create a space catered towards my lifestyle and hobbies," said Max. "The little details made it very special. I guess I didn't realise that home living is more than just a physical space, there are some many more associations with home and IKEA Australia really hit the nail on the head with this space for me!"
This project was embarked on as a result of the third IKEA Life at Home Report, which fund that one in three people believe the concept of home goes beyond four walls and that 36% say the surrounding neighbourhood is an extension to their home.
For more information: