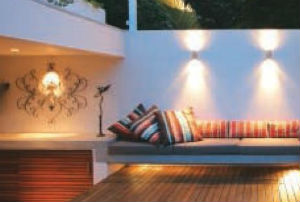 LED lighting is fast becoming the way of the future, and a very popular choice for outdoor rooms
The future of lighting
People are quickly learning about the advantages of installing light-emitting diodes (LEDs) in their homes. Their energy-efficiency and cost-effectiveness in the long term are making them an increasingly popular choice for external applications, especially in outdoor rooms.
As with any outdoor entertainment project, lighting should be considered early in the design phase, as including it then will maximise your options and allow you to install exactly what you need for your outdoor room. However, if you have already built your room, you can still incorporate LED lighting effectively.
Lighting is essential to your outdoor space because it will mean you can use the area no matter what time of day it is; the room will effectively become a place you can entertain or relax day and night.
Whether you have a large or small space, there's something to suit your area. From wall-mounted spot lights to reflective post lights, you can light up an outdoor room the size of a small courtyard or as big as a lounge room with LEDs and it's likely to cost you less on your quarterly electricity bill.
According to Petra Kleegraefe, design director of Architectural Lighting Design Pty Ltd in Sydney, LED lighting and its successor technologies will undoubtedly be the future of lighting. "Their main benefit, apart from energy saving, is their long lives, so they are great for applications where it is hard to access and replace the lamps," she explains. "I find with LEDs that you get what you pay for and good-quality, outdoor-rated LEDs with the colour characteristics needed to create the desired night-time mood can be expensive. In terms of light output, the current capabilities of LEDs mean they are presently much better for outdoor applications than they are for general indoor use."
Wall mounted LEDs
Wall-mounted LEDs are great for virtually any application. They can be installed and pointed straight in the direction that you need illuminated. Marine-grade stainless-steel options are perfect for outdoor use as they are durable and weatherproof. Install one next to a day bed or comfortable chair as a great reading light or on a wall near the barbecue pointed at the grill for extra light.
Another wall-mounted option is a wall washer. These contain many LEDs in a durable housing such as aluminium, which provides physical protection, and some incorporate a rim for mounting where brackets can be clamped on. These can also be tilted in various angles to light up different areas. Wall washers are typically used as building facade and landscape lighting, floodlighting and, as their name suggests, washing walls with light. Using coloured LEDs in wall washers is popular for those who want to turn a plain wall into a feature when night falls. They are available in a variety of sizes.
In-ground LEDs
For added interest in your outdoor room, in-ground LED tiles allow your floor to become the host of light. You can space the lights as design in your flooring at night and they come in different shapes, such as circular or square.
Light the way to your outdoor room with LED lights installed along a path. The beauty of in-ground or path lights is that they aren't restricted to one setting as they can be used as landscape lighting, in-ground lighting, underwater lighting, column lighting and also deck lighting. So no matter what your outdoor setting, you'll find one to suit.
Safety
Safety is one reason why people look into purchasing in-ground LED lights; if you have steps that lead into your outdoor room, for example, it's a good idea to light them up to ensure your family and any visitors don't trip or fall. They can be incorporated into decking and some are supplied with mounting canisters so they can be installed in poured concrete. These lights sit flush with your path or step to ensure a seamless aesthetic. If your outdoor room is elevated and you have hand rails or balustrades installed, you can buy miniature LED lights that can be mounted onto them as an added precaution.
Water feature and LED lighting
Add the element of light to a water feature, if you have one, to create a majestic sight at night. When using light in water, it is important you choose a high-quality product that is safe to install and maintain. Other than this, to achieve an effective result, the usual rules of good lighting come into play, such as considering where the water feature will be viewed from and avoiding uncomfortable glare. Adding light to water creates a peaceful and entrancing aesthetic and is used by many landscape designers to turn a water feature into a focal point that can be enjoyed both night and day. The beauty of LED lights is that they are readily available in a multitude of colours, so you'll find something to match the mood you're trying to create.
Creating ambience
Ambience is easily created in an outdoor room by using an LED lighting scheme with a dimmer. This way you can turn up the lighting when using your outdoor kitchen and when eating, and dim it when chatting over a glass of wine later. The moods you can create are endless and this option will allow you more versatility and control, effectively allowing you to create lighting scenes.
Weatherproof LED strip lighting can be used in many applications in your outdoor room. Add it under your bench for a glamorous effect or around the edges of your outdoor room's ceiling for an exciting look. For a party, you could opt for rope lighting on a chaser setting to really set the scene.
Of course, there are many different kinds of LED lights on spikes to place in and around the garden to highlight certain features and ensure the safety of family and visitors.
Thanks to the variety and constant introduction of new designs, the options for creating interesting lighting schemes in an outdoor room are limitless.