Lighting is not only an essential key to the day-to-day running of your dwelling – it's the icing on your home's proverbial cake. Have fun with exciting trends, colourful creations and glowing shapes.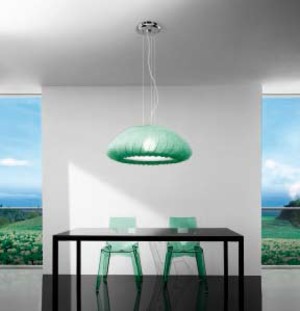 Light Lessons:
The role of lighting is interchangeable. In one instance it can be a tool that aids work, vision and function and, with the flick of a switch, it can suddenly alter a mood, transform a space and enhance an emotion. "There is more to light than illuminating a space!" says Emilia La Forgia from Artemide. She's quick to point out the importance of this idea through the company's motto – The Human Light. "Lighting affects the way we feel, our moods, and how we live in that particular space," she adds. Illumination is eye candy for the soul and an outlet to express your personality. It's also a day-to-day living necessity and, because of this, it's important to know where to start when planning your home's glowing scheme.
Light the way:
Consider the space you are lighting carefully. This is the main point both Damon Torsten Nash from About Space and Emilia preach to their clients. "You have to ask yourself what's going to be happening in this particular area," says Damon Torsten Nash from About Space. "For a kitchen or study you may want to consider something more practical that will create a lot of ambient as well as directional illumination, whereas for a leisure zone, such as the lounge or bedroom, you can play with softer, more atmospheric and decorative lighting." Lighting should never be an afterthought. It's important to plan it the way you choose to live your life and it should always be one of the first elements in design consideration. "Well-chosen fixtures will highlight all architectural detail and bring out the best in every project," says Damon. "It will make your environment work for you and, not to mention, hide a multitude of sins elsewhere."
Trend watch:
What's hot at the moment? LED "Every design now incorporates LED and it's not just for architectural fittings but also decorative," says Emilia. LED lighting is versatile and durable and includes an array of benefits such as cool lighting and longevity. Big is back Designers and homeowners have shunned the ubiquitous recessed downlight and are now embracing a bold approach to lighting. "With retro fashions from the '50s through to the '70s enjoying a resurgence in the world of interior décor, we're discovering that we don't have to be shy when it comes to lighting any more," confesses Damon.
Green Goodness:
The range of eco-lighting solutions on the market is expanding on an almost daily basis due to society's ever-growing green conscience. What's not to love about ecolighting? "It comes with low energy, low cost, longer lifespan and keeps the power bills down," says Damon. The only downside? Genuinely interesting eco-friendly lighting designs are only just beginning to filter through the industry but, as more and more creative designers jump on board, this issue will soon be a thing of the past.
Glow on the horizon:
Energy-saving features are always on the minds of designers and home owners but the beauty of the lighting industry is that it's not easy to predict where the future lies. "It's a never-ending cycle of minimalism versus flamboyance, and each will have its day, and quite often — simultaneously," says Damon. "The use of LED lamps in decorative, architectural and, of course, outdoor fittings will be more prevalent in days to come," adds Emilia.
Bright ideas – Illuminating a small room:
A small room doesn't have to simply survive on a single, central ceiling fitting. Think about how you accent walls and alcoves using cleverly planned wall, floor and table lighting. Don't crowd the space with a large suspension fitting. Wall uplights are always a great choice and the light they emit feels dispersed and not 'closed'.
Light up a large space:
Make a statement. Use eye-catching lights as large as the space can handle. And don't be afraid to use a series of two or three statement lights in the same room. Pendants and wall lights are the best options to take advantage of high ceilings and large rooms. Downlights in a large room are inappropriate.
In the studio:
In 2004, a visit to London's Tate Modern art gallery carved Jeremy Cole's future in the world of designing. It was here, he spied an image of a near translucent ceramic vessel, and was instantly inspired to explore the relationship between ceramics and light. Predominantly self-taught, Jeremy has been courted by design companies such as Royal Copenhagen and Swarovski, but chose the path of the artisan. Today, his florainspired collections are appreciated the world over. "Nature is dear to my heart and its beauty phenomenal; to dedicate my life to encapsulating its beauty is a privilege and joy," he says. His designs exude contemporary style and timeless beauty for the eye to feast on.