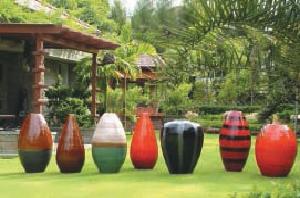 Exquisite handcrafted ceramic pots to suit contemporary and classic settings
Innovation, dedication and a passion for setting a new standard in large ceramics are what sets S'Wonderful and its impressive collection of handcrafted glazed pots apart.

"We looked at what pots were available in Australia and decided it was time to take a fresh new look at pottery. As a result, S'Wonderful was born," says company owner, Terry Wescombe.
"Our pots are aimed at those who have a keen appreciation for the skill and time it takes to create these examples of ceramic beauty. Each pot can take 10 to 12 weeks to make, depending on how humid the conditions are. This is compared to the five days it takes to make many of the pots you will find in the suburbs.
"S'Wonderful pots are made by craftsmen who learned their skills from their fathers, who in turn learned from their fathers, the knowledge passed down like a prized family recipe. To watch the clay baking to 'biscuit' in the big kiln and then, over time, see the colours and glazes slowly added is an amazing process. And when the kiln doors open that final time to reveal a stunning glazed ceramic … well, it's absolutely breathtaking."
S'Wonderful is part of Pumpmates Australasia, which was established in 2004 to import high-quality air-conditioning and refrigeration pumps. The company quickly expanded to include water feature pumps, water features and, now, a fine ceramics collection.
If all you need is a reservoir for your own water feature, S'Wonderful makes classic and contemporary reservoirs to suit any setting, and if you need a pump, their selection is vast. S'Wonderful also makes stainless-steel spillways so you can create your own water wall and if you want to light up your water feature S'Wonderful can provide dual-purpose "in and out of water" halogen or LED lights.
Also, don't forget to check out their Buddha Water Wall, which comes complete with all the tubing and connections installed. All you need to do is fix it to your courtyard wall and enjoy the tranquil sound of cascading water.
"And if you have your own design in mind," adds Terry, "S'Wonderful can make ceramics to suit your individual needs.