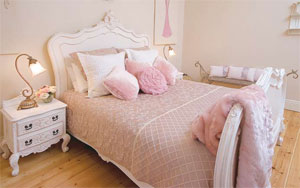 At the end of a long day, the bedroom is a place of anticipation. 
"Sleep is the best meditation." ~Dalai Lama
How many of us spend our waking hours eagerly looking forward to the time of day when we are allowed to just drop everything and relax, rest our weary heads on a nice, soft pillow and be truly selfish for that short period of time before sleep sets in? The bedroom is the place you can dream of the future, reflect on moments past, flick through the pages of an enchanting novel or simply spend some time speaking with your loved one — all those things that seem to consistently get second place during the day when competing against cleaning or cooking, working or weeding.
However, this room of relaxation and rejuvenation is often overlooked when the rest of the house gets a new look or style. After all, when you have family and friends over they will see your lounge room, kitchen, bathroom and verandah, but how many of them will set foot in your bedroom? This private haven can seem to be of lesser importance than any of the more public areas of your home, but that doesn't mean it's not worth freshening up. If you're anything like the majority, it's time for you to revive your bedroom.
Making over your bedroom doesn't necessarily mean completing a full-scale renovation. One of the true joys of updating this room is that there are no major fixtures to organise and no pipes or electrical appliances that need to be considered when you are deciding on the layout — all that needs to be considered, really, is the bed. And as most beds need to be placed in the centre of the room for easy access, it means that the pleasure is in the details — those little extras that can change the overall feel of the room.
The bedside table is also a piece of furniture that has a designated spot allocated for it. Obviously, this item must go next to the bed, but you can change the look and style of these pieces to add some shine to your bedroom. If you need to store certain medicinal or personal items near you while you sleep, why not invest in a new set of tables with some functional, sturdy drawers? If you like a romantic look in the bedroom, invest in a set of rustic-looking drawers with an aged surface that will go perfectly with a Victorian fringed lamp for that vintage style. Alternatively, if you'd like to inject a feeling of elegance and beauty to your bedroom, use smaller round tables with ornately carved legs to ensure that when you hop into bed at night you feel like royalty as you switch off the light.
Light certainly plays a big part in the bedroom, with everyone having different levels of tolerance when it comes to how much or how little they are prepared to let in. Yet lighting is not just functional — it can be a great way to brighten the look of your room, too. If you have white walls and furniture, purchase some brightly coloured lamps to really set your bedroom off — they will give the room a lift and help you inject some modern style without losing that comforting feel. You can complement this look further by picking out your lamp colour and echoing it in your bed linen in a subtle manner.
If this minimalist style isn't your usual approach, why not choose a more romantic theme? A classic table lamp with frosted glass will give a clean light and add a delicate touch. Match this lamp with a beautiful floral arrangement,team a pink embroidered quilt and some plump cushions and then match it all with a cosy throw rug for a look that is undeniably feminine and inviting.
If your husband objects to such blatant girly style, opt for a neutral bedroom look. Add some beige to your boudoir and you will not only have a room fit for a queen, but fit for a king as well. Beige complemented with gold really gives the bedroom a touch of class that has a unisex appeal. Gold fixtures on your bedhead and gold embellishments on your lamps and photo frames lift your room from boring to brilliant! This is a colour combination that just can't lose. If you like a bolder look, a feature wall in your bedroom can transform the feel from staid to striking in no time. Pick a wall and paint it green, red or orange — a deep hue that you love. One colour that doesn't seem to translate as well to the bedroom is blue; with its role as a common shade in bathrooms nationwide, adding it to the bedroom can often affect your subconscious thoughts in a negative manner. Feature walls can be brilliantly enhanced by adding some brightly coloured pillows and linen to your bed. This ensures the colours in the room are well-balanced and that the feature wall doesn't overpower the room.
Whether you paint your walls or simply focus on the accessories, the bedroom is a fun and often easy area to refresh. If only it was easier to find the time to spend in it!