Not all of us live at ground level. Here are some up and coming grand designs for living the high life.
1.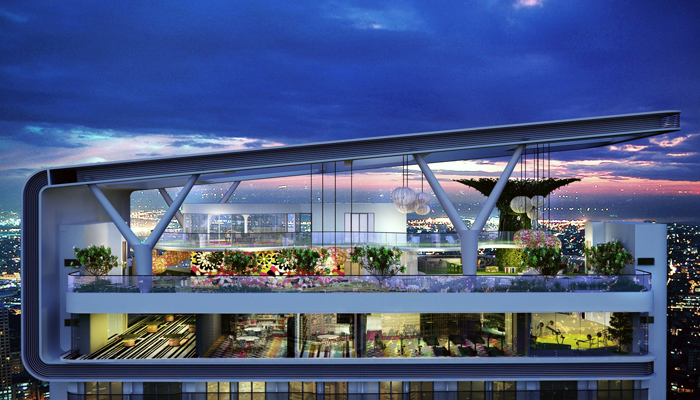 1 and 2. MissoniHome
The first residential building in the world that will bear the creative and colourful mark of MissoniHome will rise in Manila. Missoni, founded in 1953 as a knitwear label in Italy by Ottavio and Rosita Missoni, grew into a fashion empire run by three generations of the Missoni family. Globally recognised for its creative use of patterns and prints, Missoni earned the acclaim of the fashion world throughout the decades for elevating knitwear to an artistic form and for its inventiveness and consistently progressive style. The 52-storey Acqua Livingstone building is the fourth of six condominium towers in the Acqua Private Residences project, developed in the Philippine capital by Century Properties Group Inc. The Acqua Livingstone tower will immerse residents in the rich and colourful experience of a MissoniHome-designed space, which has only been seen elsewhere in the Missoni-branded hotels in Edinburgh and Kuwait. acqua-livingstone.com
2.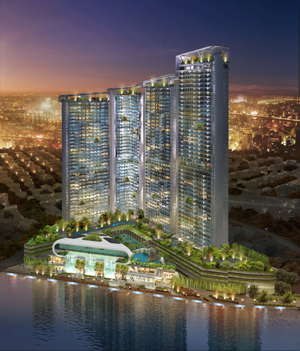 3. Down the avenue
The Yarra River and Chapel Street intersect at one of Melbourne's most prominent locations: the site of Fridcorp's latest project, Avenue. South Yarra, known for its distinct mix of elegance and trendiness, was the inspiration for Fridcorp's collaborative team. Designed by Elenberg Fraser with interiors by Hecker Guthrie, the building is like a sculpture expressed in soft, pillowing curtain walls that create elongated bay windows affording views up and down the river corridor and across the skyline. Avenue is set for completion in the first half of 2014.
"Rising gracefully from this prominent location, this reflective, sinuous architecture wraps around all surfaces to create a sculptural form," says Callum Fraser of Elenberg Fraser. "Avenue apartments will be exclusive private environments with expansive outlooks." fridcorp.com.au
3.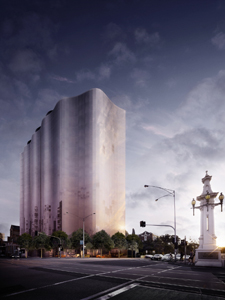 4 and 5. Design excellence
Chinatown will boast two of Sydney's most architecturally acclaimed buildings: Frank Gehry's avant-garde creation for the UTS Business School and, across the road, a bold $280 million residential and retail edifice called The Quay. The design by WMK Architecture was selected by a panel of experts and granted 10 per cent bonus floor space by the City Of Sydney Council because of its environmental initiatives, design excellence and clever response to reactivating public spaces. The Quay will have two sleek metallic towers — one will have 17 levels and the other 16 storeys — each with a bejewelled private foyer befitting a six-star hotel. It's at 61–79 Quay Street, diagonally opposite Gehry's much-anticipated Dr Chau Chak Wing Building. Both developments should be completed by early 2014. thequay.com.au
4.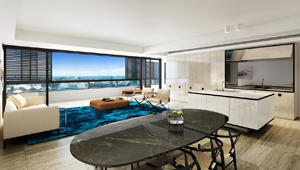 5.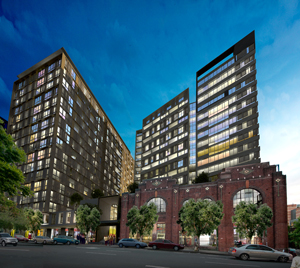 6. Australia Towers
Sydney Olympic Park is a vibrant suburb with a range of hotels, Australia's largest entertainment centre, more than 30 restaurants, cafes, bars and specialty retailers. Apartments in stage one of Australia Towers were snapped up quickly, with buyers coming from most parts of Sydney. ATII will have 267 apartments, ranging in size from one bedroom to four bedrooms, on Australia Avenue. The curvy 25-storey tower is being jointly developed by Ecove and SOPA (Sydney Olympic Park Authority). Construction is scheduled to start mid-year, with completion expected by early 2014. A further 1.4 million square metres of construction is planned to cater for a forecasted population of 50,000 by the year 2030.
"Rather than the post-Olympics 'hangover' some doomsayers predicted, Sydney Olympic Park has gone from strength to strength and has developed into a sophisticated commercial, retail, medical and education centre," said David Chittenden, General Manager of Colliers International. "People appreciate the lifestyle and work advantages that Sydney Olympic Park offers and are taking advantage of the sporting and entertainment facilities." australiatowers.com
6.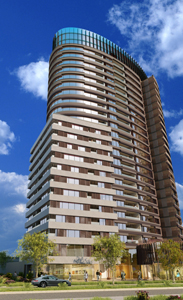 By James Cleland
From Grand Designs Australia magazine Vol. 1 No. 2