Whether you have an integrated kitchen and laundry or dedicated room, creating functional storage is easy. Expert Tanya Selever, from Tansel Stainless Steel Wireware, shares her top-five storage secrets that will help you get the most out of your laundry space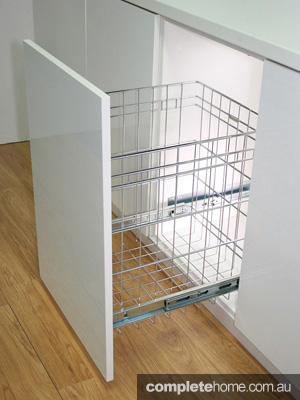 1. Maximise small spaces
A tilt door, side-mounted or bottom-mounted basket will enable you to utilise more of your available laundry and narrow cabinet space, especially in cabinets with plumbing obstructions. These baskets are perfect for small spaces that cannot accommodate tracks and slide-out mechanisms.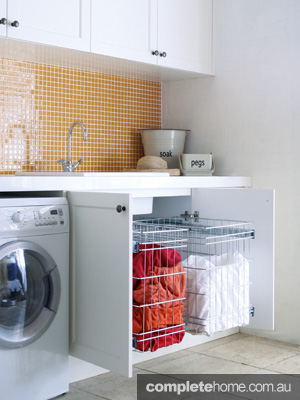 2. Sort it out
If you have lots of space yet find your laundry is overrun by the family washing, sort it out by using double laundry baskets — one for colours, one for whites. One of the most popular pull-out laundry baskets is Tansel's large 500W x 500H x 485D (121L). Laundry baskets can also be placed into bedrooms and bathrooms to keep spaces tidy and reduce overflow in laundries.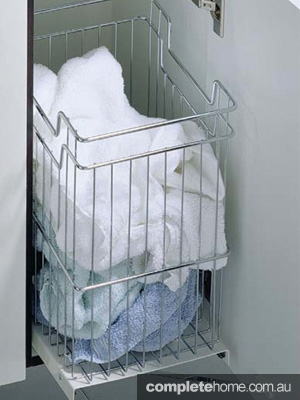 3. Use practical solutions
The humble free-standing laundry basket is by far the least expensive solution but, if you require a hidden slide-out solution, some of these products can also optimise space and reduce clutter:
Drawers: There are loads of drawer systems ranging from budget-friendly to soft and selfclosing. Look for a laundry basket that can be inserted into the drawer to give you maximum functionality and concealment.
Hinged doors: Although it's a two-step operation (open door, slide basket out), hinged doors are extremely economical and flexible. Baskets can also be fitted around existing plumbing.
Tilt door: There are best for smaller spaces with poor access but there are limited size options available.
No door: If concealment is not a concern, this solution offers maximum functionality without extra cost for doors.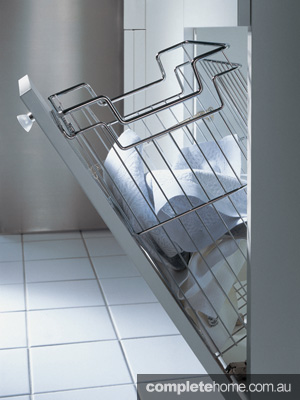 4. Plan for durability
Some storage materials are more durable and, in the long-term, more cost effective as they do not require constant replacing.
Here is a helpful guide:
Stainless steel: The most durable but can be more expensive.
Chrome-plated steel: Less expensive but not as durable as stainless.
Powder-coated: More economical but limited lifespan.
5. Understand the risks
As your laundry is a wet area, certain storage materials may deteriorate quicker than others. Be prepared if you choose fabric or canvas bags, which are economical and a good option but only if the bag continues to be available for replacement after a few years.
Melamine or high-moisture-resistant board can be customised but don't breathe and are prone to swelling if exposed to moisture.
About Tanya Selever
Managing director and product designer of Tansel Stainless Steel Wireware, Tanya's "think-outside-the-square" approach to storage makes her one of our favourite go-to girls. Email your storage questions to tanya@tansel.com.au
FOR MORE INFORMATION
Tansel Kitchen Systems & Solutions
Phone 02 9440 9800
Email info@tansel.com.au
Website tansel.com.au
Originally from Kitchens and Bathrooms Quarterly magazine, Volume 21 Issue 4