"I'm not afraid to build now. I think after doing this massive reno, I can jump into anything." – Guy Sebastian
The Kitchens & Bathrooms Quarterly magazine team caught up with ARIA award-winner Guy Sebastian to hear about his recent holiday home renovation.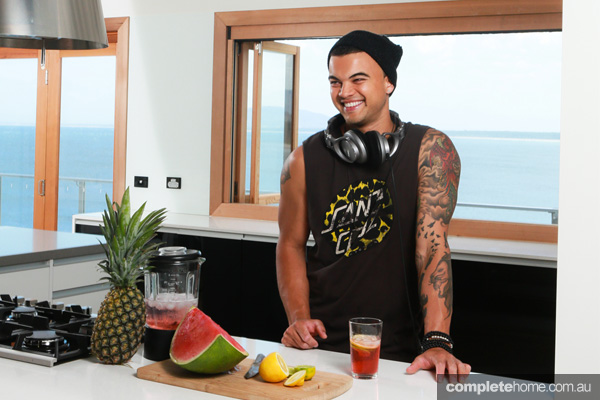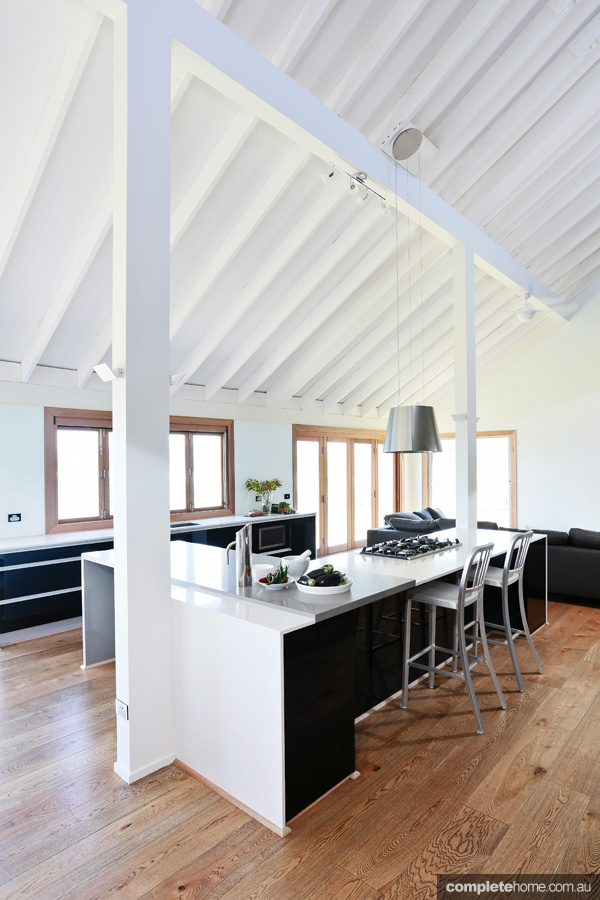 Kitchen by Freedom Kitchens, Windows by Jeld-Wen.
Guy Sebastian bio
• 42 platinum and three gold music certifications
• 17 ARIA awards
• X-Factor Judge and first winner on Australian Idol
• Married to stylist Jules Egan
• Proud dad to baby Hudson James Sebastian
Guy and Jules Sebastian got down and dirty when they knocked down walls, ripped out floors and completely renovated their new holiday home on the NSW South Coast. "I have all these pictures of me with a sledge hammer," says Guy. "I started thinking I'll probably just do a new kitchen, or I might update one or two of the bathrooms. It ended up being every square inch of the house!
"Being on the coast, we made the house all about the view. When you walk in, you see the blue water immediately. When you're not facing the view, you've got this intense black gloss reflecting the view back to you," says Guy.
So what's this muso Dad's secret to successful home renovation?
"The kitchen design was tough and I was lucky to work with a talented designer at Freedom Kitchens. I told her exactly what I wanted and all of the problems that I'd encountered with the existing layout. I did some 'ghetto drawings' with a lead pencil, drew up all my measurements, and gave her the dimensions. It was insane – I would draw with my lead pencil, then take a photo with my phone and send it to her, saying 'This is what I want'. She would come up with these 3D pictures of the room, and I'm like 'Oh my god, I'm not sending you any more drawings!' I felt like such a douche — but I was really proud that I had contributed to the whole process."
Jules' background in fashion design and styling helped her decorate and coordinate her home with Guy to transform it into a chic and relaxed space.
"Being a fashion stylist has influenced the design and decoration in my home. I feel like my personal style is like the iconic Coco Chanel quote, 'before you go out, always take something off'. My style is very simple. I like comfort, clean lines, grey, no clutter," says Jules.
Aside from the family's Christmas feast to 'warm' their new holiday home, how does Guy find coastal cooking? Turns out he's a fabulous cook.
"Guy sees a meal and pulls it together. I'll go to the pantry and see beans on toast!" says Jules.
"I love cooking," says Guy. "And I love the kitchen. It's amazing to cook in. We have this really cool spice drawer. You pull it out, and you see everything in your drawer. Hettich designed it. The corner drawers are really cool too — it's like a swivel thing, the shelves all flip out!
"For the benchtop, we chose really nice Caesarstone and had the bench cut into an L-shape. The main part where the stove is located is an off-white, and there's an almost-concrete colour as well. I chose all the colours. At the time, Jules was busy in babyland!"
Skyrocketing careers, parenthood and renovating the great Australian dream. One can only imagine what's next for this inspiring, talented duo.
By Karen Miles & Suzy Michael
Photography by Elizabeth Allnutt
From Kitchens & Bathrooms Quarterly magazine Vol. 20 No. 3
Kitchen design by Freedom Kitchens