Want to build your dream bathroom but don't have the right space? Saniflo's state-of-the-art macerator pumps are the perfect plumbing solution.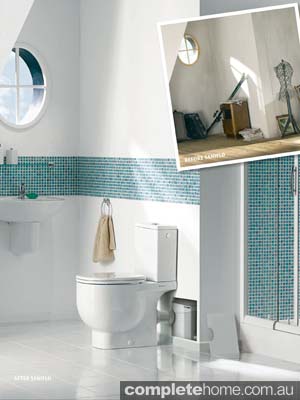 In many homes, superbly designed bathrooms now adjoin alfresco dining areas, granny flats and guest suites, even in garages or "man caves". Plumbing challenges, however, can often get in the way of builders or renovators achieving their dream design outcome. You may have been told that your dream bathroom is too far from the plumbing mains. Perhaps you've planned a bathroom that's below the level of the mains, or maybe the task of achieving a traditional plumbing outcome is too destructive, complex or expensive?
Saniflo has a sophisticated, state-of-the-art plumbing solution that allows you to plan your new bathroom in locations too hard or expensive to plumb with traditional techniques. The company's quiet, state-of-the-art, concealable macerator pump systems can transport waste water up to five metres vertically or up to 100 metres horizontally — easily reaching your nearest plumbing mains. And because it enables the use of small-diameter PVC waste pipes (just 20mm in diameter), it minimises the amount of disruption to existing structures.
Saniflo macerator pumps have been used extensively throughout Europe since 1958. They're superbly reliable, quiet and can be easily concealed within wall cavities or in cabinets. The products come with a two-year warranty and can operate with water temperatures of up to 40˚C.
Both in terms of design and cost, it makes your dream of that extra ensuite, alfresco, swimming pool or visitor bathroom achievable.
FOR MORE INFORMATION
Saniflo
Phone 1300 554 779
Website saniflo.com.au
From Kitchens and Bathrooms Quarterly magazine Vol.20 No.2