Featured on the LifeStyle Channel's Grand Designs Australia, Annandale Urban house captures the essence of light, bright and modern terrace living.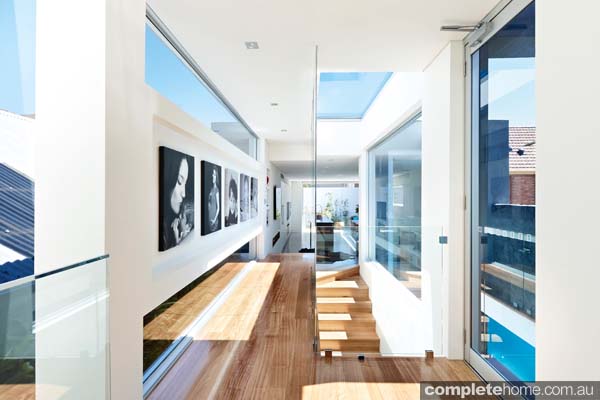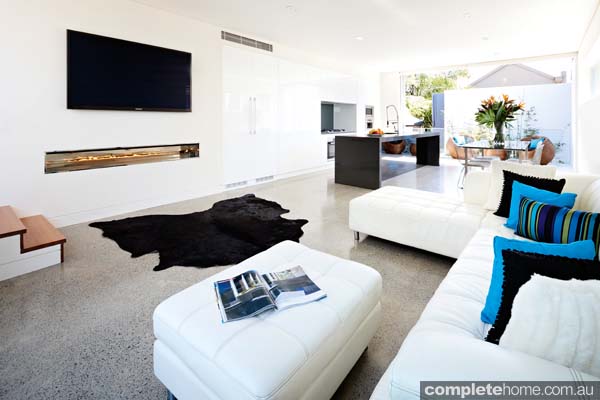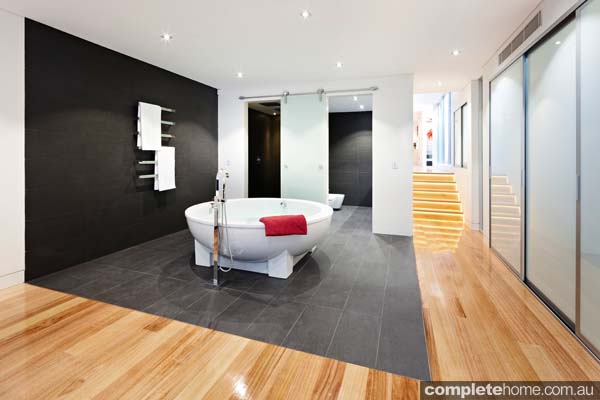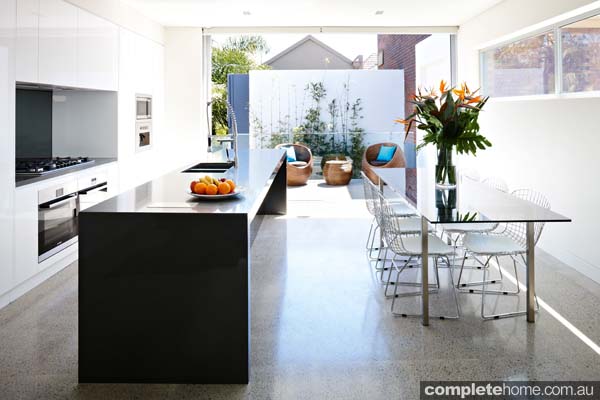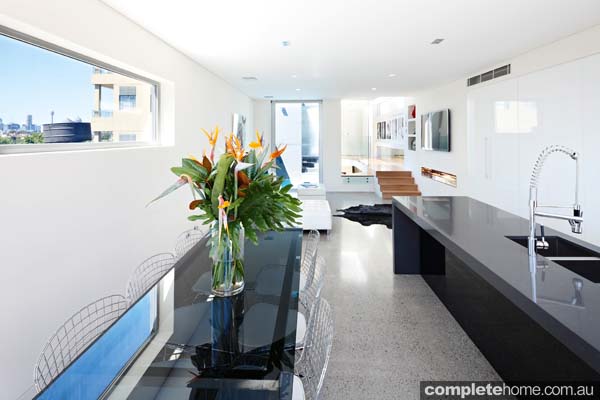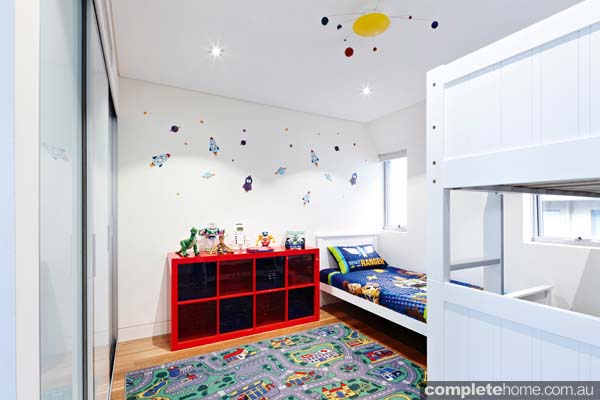 GRAND DESIGNS AUSTRALIA Episode 6 Series 3
HOUSE Annandale Urban house
LOCATION Annandale, Sydney
COST $1,300,000
DATE COMPLETED October 2012
The rush that comes with inner city living has been seducing hearts and minds for decades. From London to New York, this vibrant and fast-paced lifestyle can be seen in the crammed streets, pubs and restaurants, creating a buzz that only a city dweller can understand. For Annandale residents, Rees and Brett, it was a case of they had the land and now they needed the home.
Located in Sydney's inner west, Annandale's roots go back to the arrival of the First Fleet. Remnants of its colonial past can be seen in the various buildings that give character to the laneways and streets, forever intertwining its previous life with that of its modern inhabitants.
Sandwiched by two streets named after the original land owner, Major George Johnston, Rees and Brett's home effortlessly blends into its more traditional surrounds. The dark, albeit contemporary, exterior is the perfect accompaniment to the rugged and worn textures of the neighbouring dwellings.
"On both sides are two very large warehouses and I didn't want it to be this little pokey house in the middle," says Rees. "It was about creating a façade that had an element of mystery and people would walk past and think to themselves, 'What's in there?'"
What's in there is a home that is as surprisingly light as it is big. A white-filled entrance that evokes images of a certain spiritual stairway stretches above, before leading you to the atrium, where a 550-plant vertical garden and water pond greet you. From there, the home leads off to the hotel-inspired master bedroom and guestroom, before drawing your gaze upwards to the bright sun-drenched pool, children's bedroom and living areas.
Rewind the clock eight years, though, before a stone had even been laid and the undeveloped six-metre-wide block was already proving a challenge. From the heritage-listed buildings either side to the dodgy foundations and what seemed like a lifetime of waiting for frustrating reports and council approvals, the dream home Rees and Brett wished for was devouring not only time but money. Nevertheless, that was what they signed up for when they bought the existing building and vacant plot from friends.
"There's no land available in Annandale," explains Brett, "so this was an opportunity to buy a place we could move into if we wanted and be able to build something new as well."
Wanting to build between heritage-listed buildings, Rees and Brett knew how hard getting plans approved by the council would be. And not just any council, but the notoriously fickle Leichardt Council. With 2000 days spent getting plans and amendments approved, or "eight years of my life", as Brett puts it, the stress of the process took its toll.
"I know how council works and we could put four things on one section 96 and they would knock you back on three but approve one," explains Brett. "So we would put one in, get that approved, then put another one in and we started doing it prior to when we started building because we knew how slow they were."
"It's a stupid way to do it because it was costly to us," says Rees. "Every time you lodge one of those applications it's $2000 and then there is the time frame and then the idiot that manages it for you."
Still playing planning ping-pong with the council, the couple didn't need any more delays on what had already become an extensive build. Then the heavens opened. Rees and Brett's decision to build in the summer of 2011/12 saw them negotiating the wettest summer Sydney had ever experienced. With 96 days of rain and hundreds of millimetres of water, the site shut down numerous times, delaying the build and once again eating into pockets.
"I thought, 'Well, we're building over the summer, great time of year', and that was part of the planning," reflects Brett. "I never thought weather would be a hold-up, as I've never been in Sydney and experienced a summer like that."
Working in such a tight space, though, was nothing new to Rees and Brett, who have both lived in and renovated terrace houses before. Having this experience meant they both had an understanding of space and light, but maximising both was going to be the real test, and the final design for the home cleverly achieved a perfect equilibrium.
"It's always interested me, the use of space, and this was the ultimate challenge for me — how to use this space," says Brett. "I wanted to prove that it's amazing what you can build on a tiny block of land and make it liveable."
With a glass roof, the upstairs quarters of the home didn't need too much help in the lighting department; it was downstairs where Rees and Brett had to use all their design nous to ensure the area wouldn't become a dark recess. The result is truly arresting. Large and luxurious, the master bedroom has benefitted the most from Rees and Brett's "light treatment". Through a clever light-funnelling back patio, the room has become a favourite space for themselves and their three boys, Chandler and twins Blake and Joel.
As it's a house with various staircases, levels and shiny surfaces, Rees and Brett are amazed at how well the children have eased into their new home. Filled with white walls and glass panels that are begging to be covered in grubby fingerprints, the home has become the children's new playground.
"This is their home, so they should be able to explore and play," says Rees. "I think Chandler understands it better than the twins do because they are younger."
"We showed Rees' mother through the house and Chandler was giving her the tour," adds Brett. "He's obviously watched us do it and he's saying, 'This is the pool and this is how you get into the pool.' It was quite funny."
Walking through the various voids and rooms, you can't help noticing the home possesses an element of surprise at every turn. From the kaleidoscopic light effects to the bold burst of blue in the pool, the home also retains a keen sense of privacy and quietness. "I think that's a bit of a surprise," says Brett. "People think that because its inner city it's going to be noisy."
With their plans to capitalise on the unused roof space by turning it into a terrace, it's apparent that Rees and Brett's passion for the project hasn't dwindled; if anything it has only increased.
"You can buy a house, but someone else has designed it," says Brett. "To be able to design a house the way you want is much nicer than buying somebody else's work."
Rees and Brett's love of their home is apparent in the outcome. Their home brings together and solidifies both its historical surrounds and modern architectural styles. This is what a successful modern interpretation of terrace living looks like: light, bright and full of style.
Annandale Urban house project team:
ARCHITECT Self designed (bramsay1970@hotmail.com)
BUILDER R + M Builders Pty Ltd (randmbuilders.com.au)
DRAFTSPERSON Right Angle Drafting (rightangledrafting.com.au)
QUANTITY SURVEYOR Michael Dakhoul (mmdcc.com.au)
STRUCTURE
Plunge pool R + M Builders Pty Ltd (randmbuilders.com.au) Windows and doors Airlite (airlite.com.au) Glass balustrade and glass walls Frameless Glazing Pty Ltd (framelessglazing.com.au)
FIXTURES & FITTINGS
Vertical garden Green Wall Australia (greenwallaustralia.com.au) Fireplace Flameboyant Illusion 1800 gas fireplace (regency-fire.com.au) Kitchen/joinery All Smart Kitchens and Custom Joinery (allsmartkitchens.com.au) Wardrobes Stegbar (stegbar.com.au) Tapware/white ware Harvey Norman (harveynorman.com.au)
FURNITURE & FURNISHINGS
Bathtub (master bedroom) Hoesch Dreamscape bath from Domayne Alexandria (domayneonline.com.au) Appliances Harvey Norman (harveynorman.com.au) Children's beds Wayfair (wayfair.com.au) Children's storage cubes IKEA (ikea.com.au) Dining chairs Matt Blatt (mattblatt.com.au) Study chairs and lamps Milan Direct (milandirect.com.au) Outdoor Setting (master bedroom) Wayfair (wayfair.com.au) Desk/chair in guest room IKEA (ikea.com.au)
SERVICES
Plumbing Refresh Plumbing Services (refreshplumbing.com.au) and Sydney Basin Plumbing (sydneybasinplumbing.com.au) Electrical/lighting BAC Electrical (bacelectrical.com.au) Fire-rated glazing Nilfire Pty Ltd (nilfire.com.au)
By Tessa Hoult
Photography by Rhiannon Slatter
From Grand Designs Australia magazine Vol. 2 No. 2