Timber veneer, white gloss surfaces and stainless steel come together in this clean and contemporary kitchen design from Alltype Kitchens.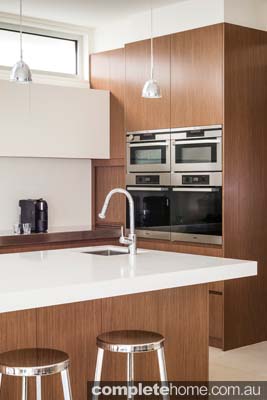 "The owners of this striking kitchen knew exactly what they wanted – a clear and contemporary kitchen design. They researched their materials and drew a draft of their dream kitchen plan. The sizable open-plan hinterland behind the generous island provides functionality and aesthetically good looks.  The owners loved the glossiness of veneer, the cleanliness of stainless steel and the durability of stone. The striking contrast between the chocolate wood grain-look doors and stark whiteness of the gloss creates elegance and a sense of open space. Playing with horizontal lines creates an illusion of enhanced space. After browsing through a wide range of colours, we designed the kitchen to suit their needs and lifestyle by making it functional and tasteful. The kitchen colour schemes have proved a touch of intrigue never goes unnoticed." Designer: Asher Kaicer for Alltype Kitchens, alltypektchens.com.au
EXPERT TIP: Horizontal cabinetry on the top increases storage and makes the kitchen appear spacious.
WE LOVE: The contrast of the three key benchtop materials – Caesarstone, stainless steel and veneer.
Alltype Kitchens project details:
Cabinetry Emerald veneer – even mink
Internal Hardware Blum soft self-close drawers
Benchtop Full timber veneer – even mink 30% gloss finish
Island Benchtop Caesarstone – snow
Cooktop Stainless steel
Handles Finger-pull
Refrigerator Integrated Liebherr fridge
Alltype Kitchens showroom:
5 Griffith Street, Knoxville Vic
(03) 9763 1408
"Avant-Garde" from Kitchens & Bathrooms Quarterly magazine Vol. 20 No. 2