In the most hotly contested challenge in the series to date, The Block Sky High revealed the five most spacious and luxe Freedom Kitchens ever produced on the program.
It was Trixie & Johnno who ultimately topped leader board to reign supreme, scoring an enviable 28.5 out of 30 with their clever design, appealing colour palette and great use of space.
"We are so excited to win our first challenge. The kitchen is the heart of the home and we put every effort into designing a practical layout with a colour scheme that would impress the judges and appeal to buyers," said Trixie.
Consulting with Freedom Kitchens was key to maximising space and understanding the latest trends. "For anyone renovating on a budget, my biggest advice would be to seek advice from the professionals! They helped us with creative ideas to give the kitchen wow factor such as the island bench with extended table to create an entertainment hub."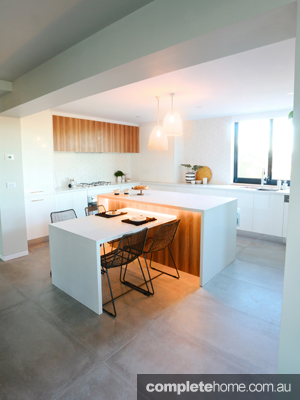 Trixie & Johnno: Organic Chic
The winning Freedom Kitchen proves stunning and practical can go hand in hand. With a functional flow, masses of storage and an innovative eat-in dining bench, this kitchen ticks all the must-have boxes. The cocktail bar and study nook complete this luxury kitchen.
Judge's verdict? Designed exactly for the way people live their lives – perfect for the penthouse! Score: 28.5/30
Trixie and Johnno featured cabinetry in Newbury Satin Heartwood Laminex and Alaskan Gloss Crème Brulee; Caesarstone Benchtops in Ocean Foam with 40mm edge.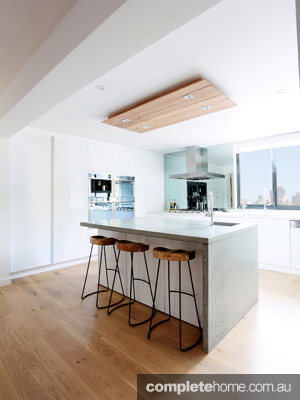 Alisa & Lysandra: Minimalist
The mix of materials is right on trend, creating a kitchen with interest and wow factor. The extra wide island bench with added storage is a clever addition and ideal as a multi-use work space. A butler's pantry housing small appliances is key to maintaining the streamlined and crisp look.
Judge's verdict? White with a contemporary twist. Simply stunning! Score: 28/30
Alisa and Lysandra featured cabinetry in Alaskan Gloss White; Caesarstone benchtops in Frosty Carrina with a 40mm edge.
Bec & George: Modern Glam
All the hallmarks of luxury and practicality are featured in this bright, open kitchen – from the extensive Caesarstone bench space to the ample storage, open shelving and glamorous mirror splashback. The lavish bar and butler's pantry are an entertainer's delight.
Judge's verdict? This is the ultimate feel good, entertainers kitchen. Score: 27/30

Bec and George featured Alaskan Gloss Silver Metallic and Alaskan Gloss Royal Oyster cabinetry; Caesarstone Benchtops in Frosty Carrina with a 40mm edge.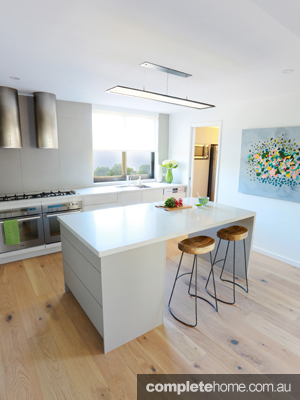 Madi & Jarrod: Contemporary Classic
The clever use of two-tone cabinetry in this large open plan kitchen breaks up the weight of cabinetry, whilst under-cabinet LED strip lighting and beautiful artwork complement the subtle modern colour palette. The cleverly designed butler's pantry helps keep clutter out of site.
Judge's verdict? This kitchen has a human connection and buyers will fall in love with it. Score: 26.5/30
Madi and Jarrod featured Alaskan Gloss cabinetry in Royal Oyster as well as Baye Riven from the Impressions range; Caesarstone Benchtops in London Grey  with 40mm edge.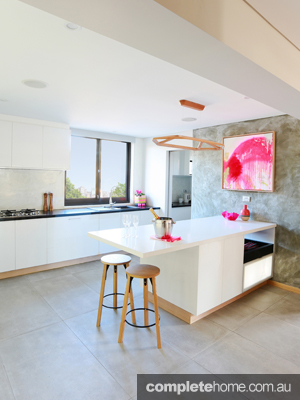 Kim & Matt: Modern Industrial
Feature back lit cabinetry creating intriguing silhouettes, together with the geometric overhead pendant lighting bring in an air of artistic cool to this designer kitchen. A well thought out pantry and stunning floor to ceiling in-built wine rack simply add to the wow factor.
Judge's verdict? Design centric buyers will pay top dollar for this kitchen. Score: 25/30
Kim & Matt featured Alaskan Gloss cabinetry in Pearl Metallic plus backlit Aluminium frame perspex doors; Caesarstone benchtops in Jet Black and Snow with 40mm edge.
These high spec dream Freedom Kitchen designs revealed on The Block Sky High can be viewed at freedomkitchens.com.au. Call 1800 113 733 for your in-home design appointment and you could soon have the best kitchen on your block.