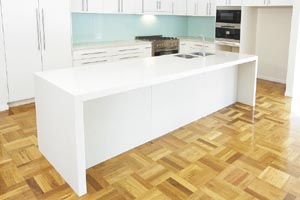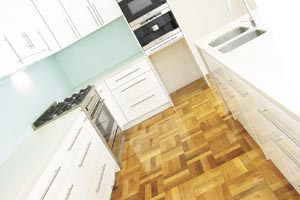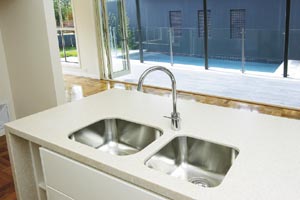 Cooking can be taxing, especially after a hard day at work. This kitchen, designed by Interior Designer Cassandra Fehervary from Design Company No 62 was built by Daniel's Kitchens and features Staron solid surface benchtops, fabricated by Multiform Benchtops. It shows that with a clever layout, beautiful Staron benchtops, some ingenious accessories and state-of-the-art appliances, the edge can be taken off the daily cooking cycle and the kitchen becomes an enjoyable place to be in.
Looking over the outdoor entertainment area and open-plan layout, the kitchen is perfect for large-scale gatherings and for keeping a watchful eye on the activities of children playing outdoors. The seamless flow between indoors and out is aided by bi-fold doors and floor-to-ceiling windows.
The contemporary, minimalist style and stainless-steel appliances give the kitchen a timeless appeal. Meanwhile, the mass of storage means that nothing needs to be left on the countertops, ensuring the room maintains its uncluttered, tidy look.
For ease of use, cabinets have been implemented in the highest areas of the room to store least-used items. As is now popular practice in kitchen design, drawers have been used for storage in the lower areas. This saves the user from aches and pains due to reaching, pulling and lifting heavy, awkward utensils.
Much thought was put into the structure and location of each area of the kitchen. From the preparation areas to the drinks and coffee-making zone to the cooking area, all sections and appliances have been positioned for ease of use.
Durable materials have been used throughout; the most striking being the hard-wearing waterfall island bench made of Staron surfaces by Samsung.
Light, bright and elegant, this kitchen is an inviting place that has exceeded all considerations and brief requirements.
For more information
Photography by Taylor Made Digital