Howards Storage World's organisation expert, Cathy Player, shares her top five tips for keeping the chaos out of your kitchen.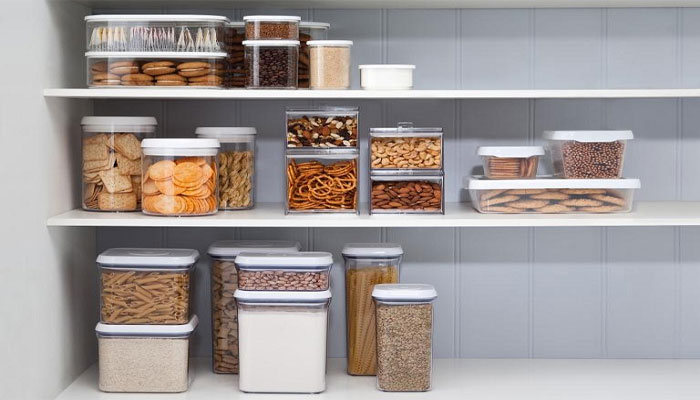 Oxo Pop containers with vacuum seal lids, from Howards Storage World. www.hsw.com.au
1. Reduce and cull
Stop and evaluate your kitchen. If there are some items that you have not used in the past year, chances are you're not going to use them in the year ahead. Give non-essential items to relatives and friends or donate them to charity and you'll have more space for day-to-day essentials.
2. Storage is key
Maximise storage in your kitchen with a modular storage system. These are a supreme solution for troublesome kitchen areas and can be customised to fit any space — from your walk-in pantry or a simple cupboard to an underutilised wall.
3. Maximise kitchen bench space
The kitchen bench can be a clutter trap. Keep it clear by targeting items that can be better stored elsewhere. Think about storing your knives, utensils, paper towel, cling wrap, spices and even washing-up liquids off the bench. This will not only look neater but allow you to use the space for preparing and cooking meals, as intended.
4. Rid your fridge of the black hole
If you want to save money by reducing waste, reorganise your fridge. Specifically target the back-of-shelf black hole by adding removable fridge baskets and making sure everything is stored in groups. This makes it easier to find your favourite ingredients in a hurry and reduces the risk of ingredients being forgotten, reaching their expiry dates and having to be thrown away.
5. Simplify your pantry
Make your pantry a place to be proud of. Simplify your pantry by breaking it into four main areas: food storage, bulk food storage, condiments, cans and tins, and bottles and spices. Use labels to help you keep track of expiry dates and buy quality, stackable containers that save space and ensure your food stays fresh.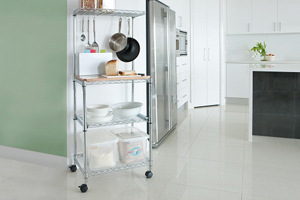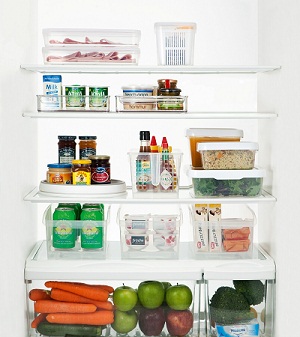 Kitchen Rack (left) and Fridge Baskets (right) from Howards Storage World. www.hsw.com.au
From Kitchens & Bathrooms Quarterly magazine Vol. 19 No. 3