Dreaming of a brand new kitchen? The latest drool-worthy kitchen design ideas are sure to get your renovation juices flowing.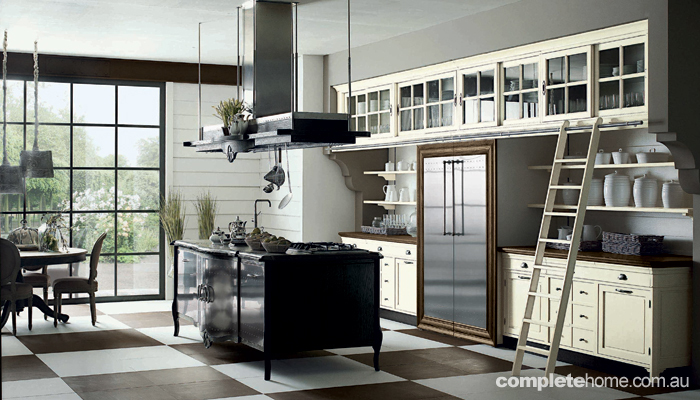 1. Texture                          
Texture can add contrast and interest to your kitchen surfaces — think of it in both tactile and visual terms. The texture of some materials becomes apparent when you feel it, while others have strong patterns or designs that create visual interest.
High-gloss lacquers remain popular choices and we are seeing an increased shift towards matt lacquers. "We are moving away from the polyurethane doors that have been dominant for a number of years. Combine this matt texture with open-grain veneers and the result is a practical and luxuriously tactile combination," Colin Wright of Porcelanosa Studio explains.
For high visual impact, cheque flooring combined with specially designed handles in Britannia metal and a steel-framed pantry section create a unique textural combination in this kitchen from Marchi Group. www.marchicucine.it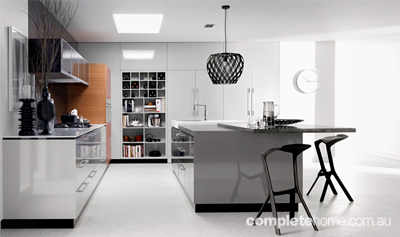 2. Colour
Coloured and textured splashbacks remain popular, but strong base colours are vital to create the right mix. "White and grey tones are set to prove important colours, no doubt due to how easy they work with myriad different veneer options," explains Colin.
Laminex Design Centre Manager, Lorraine Brigdale, agrees: "Superb colour schemes are evolving as a result of the greyscale trend. Grey is not seen as drab any more, rather we now know how to blend an endless variety of grey tones into elegant, sophisticated interiors that become a canvas for the addition of exciting vibrant colour accents."
White has always been and always will be a popular base choice — one you can't go wrong with. "The white palette has always been extremely popular for kitchen benchtops, especially for customers wanting to achieve a fresh, clean, modern look that will remain timeless, featuring clean lines and simple edge details," Andre Dixon, Sales and Marketing Manager at Caesarstone explains.
The grey Laminex silk-finish benchtop provides the base, while varying shades of grey are used to further accentuate a calm and serene feel. www.laminex.com.au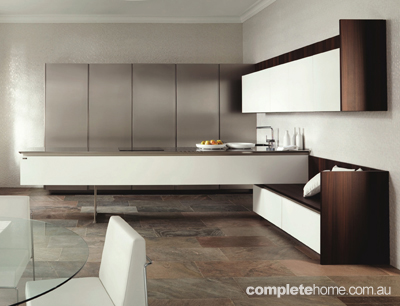 3. Functionality
Clever design characteristics are continually being implemented to increase the functionality of the kitchen space. Colin has noticed that various manufacturers are creating subtle overhangs, bridges and open spaces within their designs. "This is a clever design element that maintains benchtop space yet increases perceived floor space by allowing the flooring to run through and underneath, which is particularly useful in small open-plan areas," he explains.
This G950 kitchen by GamaDecor for Porcelanosa illustrates how floating units can increase the perception of floor space. www.porcelanosastudio.com.au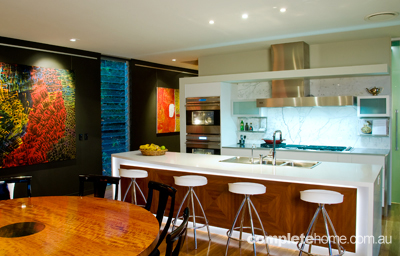 4. Assimilation
The kitchen is becoming more and more integrated into the home. Kitchen designs today are free-flowing and centred, encouraging interaction between household members. "This integration is seen in the increased inclusion of open shelves within kitchen designs, an area into which accessories can be dovetailed into adjoining areas and where social zones are defined," Colin says.
The kitchen is experiencing a transformation and the look is going to stay. "The look is taking off now as the lines between kitchen and living rooms blur," Valda Frewen of Wholesale Kitchens explains.
This newly redesigned kitchen by Di Henshall Interior Design activates the use of space through the use of clean lines and a striking colour palette. www.dihenshall.com.au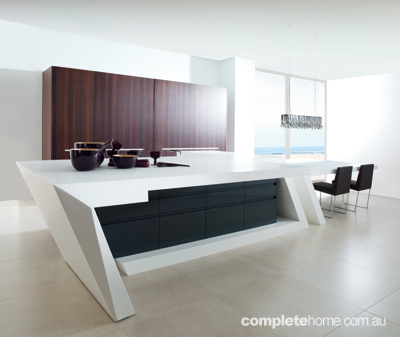 5. Geometry
Kitchen renovations are becoming more interesting with the interplay between heights and depths. These new dimensions not only create interesting designs but also focus on making kitchens more ergonomically practical.
"This was a feature introduced by German manufacturers years ago but through the availability and popularity of various kitchen components is becoming more widely used in Australia," explains Colin.
This G575 kitchen by GamaDecor for Porcelanosa is a stunning example of the interplay between dimensions. www.porcelanosastudio.com.au
By Tatyana Leonov
From Renovate magazine Vol. 8 No. 2