Miguel "the chef" and Barry "the chippie" are two of our favourite presenters on Ch 10's The Living Room and together their love of good food and kitchen design is infectious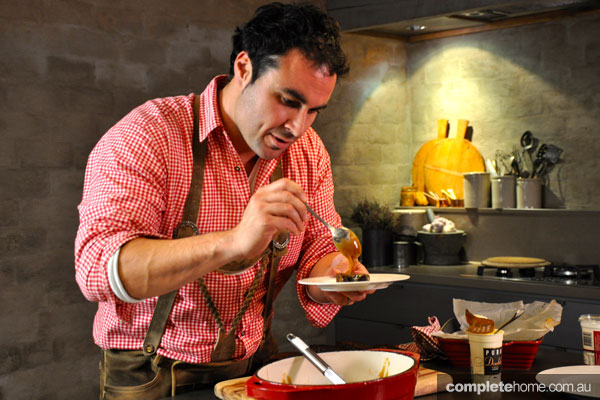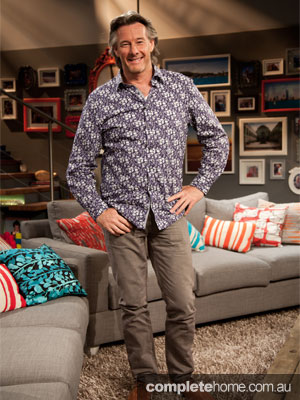 Barry, what is your idea of a dream kitchen?
Barry: Where the owners feel at ease and are comfortable to work, create and invite guests. And one they can be proud of that reflects their personality and also a design that stands the test of time.
Favourite kitchen reno from The Living Room?
Barry: By far it was the Minto Heights Kitchen renovation for owners Yvette and Patrick. It was a renovation for a large, close-knit family, who use their kitchen a lot. It was truly the centre of their lives and an important room. I enjoyed getting to know them so that I could create something to service the family and provide a special space that reflected who they are and the way they wanted to live.
The finished design included a large kitchen island bench where two materials – wood and stone – met. It was a nice connection between the sharper modern materials of the new kitchen and the warmth of timber that existed in other areas of their semi-rural home. I made sure it was big enough for their four kids to sit around and hang out while Yvette cooked.
I also incorporated open shelving and joinery that flowed into the nearby family room. I really like using part of the kitchen almost as furniture.
Best kitchen design tips?
Barry:
The kitchen is a central hub of any home so you have to recognise the flow of movement through or around it. When you position your cabinets and work spaces, don't inhibit that flow of human movement.
Don't over scale the cabinets and appliances. Make sure they have a relation to the living space.
Workspace lighting must be functional. Position these lights so that a person's body does not create shadows in the workspace. Additional decorative lighting can be used to add personality and set a mood.
Miguel, why did you choose this dish to share with our readers?
Miguel: I chose sticky date pudding as its one of the most iconic desserts. And the way I make it is back to basics without a food processor – I'd like you to get touchy-feely with your food!
What are some important tips for preparing this dish?
Miguel:
Use fresh dates rather than dry ones but if you can't find fresh ones, you can soak the dry dates in hot water until they soften up before you make the purée.
Cooking time is important – the oven must be hot before you put the cake inside the oven.
The butterscotch sauce is the perfect marriage for the sticky date pudding – never serve it without a sauce.
It's important to gently fold the cake mix so you don't kill the air in the mix. The gentler you are, the fluffier your cake will be.
What do you love most about your work?
Miguel: The pleasure of sharing my cooking in everybody's Living Room every Friday night and the chance to share cooking in such a different way on our show.
"See cooking as a fun activity…cooking is seriously funny!" Miguel
What is your idea of a dream kitchen?
Miguel:
Where I can interact with my guests at the same time that I'm cooking them a meal.
Easy access to utensils and equipment/appliances.
Lots of storage for pantry items and equipment. This allows me to spend more time cooking and not looking for the items.
Favourite kitchen appliances?
Miguel: My KitchenAid Stand Mixer, Thermo Chef, paella burner, a really good hand blender, a good set of non-stick pans and a FANTASTIC DISHWASHER.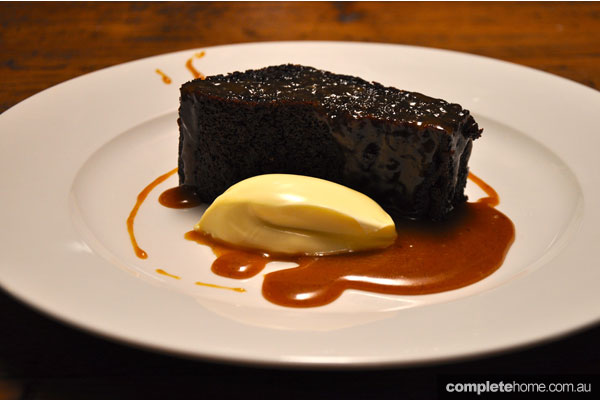 STICKY DATE PUDDING
(Serves 8)
INGREDIENTS – PUDDING
240g fresh dates, pitted
2 tsp bicarbonate of soda
90g unsalted butter, soft
160g castor sugar
2 large free-range eggs
165g self-raising flour
pinch ground cinnamon
¼ nutmeg, freshly grated
1 tbsp malt
2 tbsp cream fresh
1 tbsp double cream
METHOD
Pre-heat oven to 175˚C. Put dates in bowl with the bicarbonate of soda and cover with 200ml boiling water. Allow to stand for five minutes until soften and then drain. Blend in a food processor until puréed. Meanwhile, whisk butter and sugar until pale. Add eggs, flour, cinnamon, nutmeg and malt and mix well together. Fold in with a plastic spatula; cream fresh, double cream and puréed dates. Pour into an ovenproof dish and bake for 30 minutes.
INGREDIENTS – BUTTERSCOTCH SAUCE
50g salted butter
180g brown sugar
70ml heavy cream
80ml heavy cream
1 vanilla bean, scraped
2 tsp butterscotch schnapps
METHOD
In a wide saucepan, melt butter, brown sugar and 70ml heavy cream and whisk heavily until smooth. Simmer for two minutes without stirring, add vanilla bean and remove from heat. Stir in 80ml heavy cream. Allow to cool. Serve.
Serve pudding with hot butterscotch sauce and vanilla ice cream.
From Kitchens & Bathrooms Quarterly magazine Vol. 20 No. 3