Gone are the days of the simple backyard pool — the latest swimming pools designs are geared towards creating a versatile space for leisure and entertaining.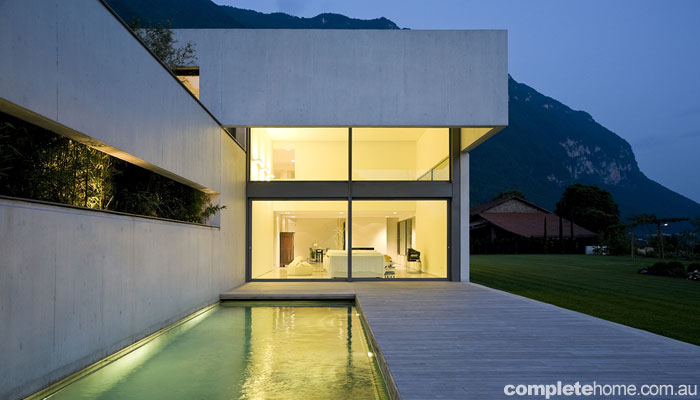 In Australia, our mild climate has always ensured that the swimming pool is the focus of our lifestyles at home. More recently, the trend of the swimming pool incorporating alfresco areas, outdoor rooms and external kitchenettes has reinforced this Australian icon as the centre for all our relaxation, leisure and entertaining activities.
Generally, there is a growing trend for automation in swimming pools, increased safety for children and pets, environmental considerations, use of recent equipment improvements and maximising the alternative functions of the pool area to incorporate year-round use.
1. The shape of things to come
Gone are the days of the only choice in pools being a freeform pebble pool in either a kidney or peanut shape. Design options now range from traditional formal pools, through Asian fusion style utilising aspects of freeform and hard-edge shapes, to contemporary designs with a blend of simple, clean-lined geometric profiles, to natural freeform pools, plunge pools, swim spas, lap pools and hybrids of any of the above. The options may also be integrated with a spa or homeowners can choose a free-standing spa by itself.
John Storch, principal of the award-winning A Total Concept Landscape Architects and Swimming Pool Designers, notes, "Overall, there is a trend for simplification occurring. Pool design is becoming less complicated, utilising clean lines and monochromatic colours. People are looking for the 'wow' factor in the finer detail: chunky square edges in the paving to create floating shadowlines around swimming pools, using some unusual-coloured micrograin interiors and creating entertaining and relaxation areas around pools with paving alternatives."
2. Size matters
With the trends towards higher-density living, tougher authority development controls, private exterior spaces are becoming smaller and more people are expecting these areas to be utilised in many different ways, so plunge pools, lap pools and spas are being designed to allow more room for outdoor living areas.
A plunge pool, spa or swim spa may be best suited to small external spaces. A plunge pool affords a cool place for a dip in summer and may be cost-efficiently heated for extended winter use. Plunge pools are typically smaller than 6m × 4m, may incorporate swim jets for exercise purposes (often called a swim spa) and often are designed to look like water features. Benches may be fitted to the entire internal perimeter of plunge pools for shallow-water use by younger children or socialising for teenagers.
Spas may be incorporated into the swimming pool or constructed as stand-alone features. As a cost-efficient option, there are numerous quality prefabricated homes and fibreglass spas that can simply be placed to create a central entertaining area in a tropical atmosphere or dropped straight into a timber deck.
Often, where a spa is incorporated into the swimming pool, the two can be designed at the same level so the pool and spa are visually read as one rather than two separate structures. Alternatively, the spa may be elevated above the swimming pool to create a cascade feature from the spa to the pool.
3. Inside out
Increasingly, there is integration of swimming pools with outdoor entertaining areas. Kitchenettes reinforce our love of the outdoors and combining them with outdoor rooms, alfresco areas and swimming pools simply makes sense in Australia. This has led to the inclusion of outdoor living areas as alfresco settings, outdoor rooms and external kitchenettes, which are becoming a must-have feature.
The gardens and pool areas of our homes are our own private spaces, so really any design may work — there are no rigid rules. Have fun with your pool design and remember that the pool is being built for your family, so if you want the silver interior lining, windows in the sides and a banana float, go for it.
Written in collaboration with A Total Concept Landscape Architects and Swimming Pool Designers. A Total Concept is an established award-winning practice specialising in the integration of outdoor spaces incorporating beautiful and functional swimming pools, gardens and cabanas for projects ranging from simple family homes to elaborate residential properties and boutique and resort-style developments. View projects by A Total Concept here or visit www.atotalconcept.com.au
Image by zveiger/bigstock.com
From Poolside magazine No. 40