What's the best way to describe celebrity chef Darren Simpson's kitchen? Not so much a kitchen, more like a view with a kitchen attached.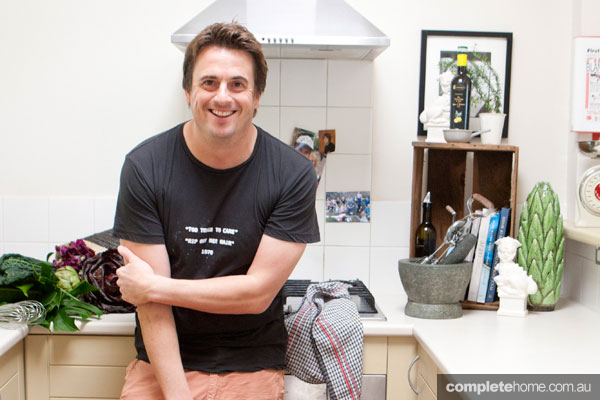 ABOUT DARREN SIMPSON
An Irish lad named UK's Young Chef of the Year at 21
Worked in countless Michelin-starred restaurants across Europe
Head chef at Sir Terence Conran's Sartoria in Savile Row, London, and Sydney's Aqua Luna Bar and Restaurant
Created the award-winning Italian restaurant, La Sala
Celebs it up on Sunrise, My Restaurant Rules, and the Best in Australia TV series
Hidden high and away in the hills of Sydney's northern beaches, overlooking sparkling Pittwater, is a modern two-storey beach "shack" and the unassuming kitchen Darren calls home. "I like the basics, nothing that's too overindulgent. It's not like I'm going to the moon if I'm making a risotto," says Darren. Truffle risotto that is, or cheese on toast, albeit with the best gruyere Darren can get his hands on and a freshly baked baguette. His approach to this cheesy classic captures the Darren we love and a TV chef who likes to keep it simple.
"I'm big on functionality," says Darren, "I've got stunning water views from my kitchen, so all I need is the perfect kit of appliances, a decent gas cooker, double sink, storage, and bench space. "I like an efficient work space and appliances that are powerful and easy to clean, or self-cleaning. That's my idea of a dream kitchen," says Darren.
"The tools that get the most use in my kitchen at home are my KitchenAid, which takes a real beating; mortar and pestle; and my nan's old-fashioned beater. Now that's an appliance that was built to last. "I also love cooking with the kids. I was lying in bed one morning and thought I could smell the gas on, so I went running upstairs to the kitchen expecting a fire and there was my son, frying up an egg for his breakfast."
It's clear that Darren's home with his young family is about relaxation, the great Aussie outdoors, and fresh cooking. In fact, take a snap poll and you'll likely find Darren…
–          Whipping up a dinner for Irish friends of boiled bacon, champ (mashed potato with scallions), parsley sauce, and roasted parsnips with honey and rosemary
–          Spear fishing with his two boys and being chased by Wobbegongs ("I don't care what they say, a wobbegong is still a shark.")
–          Grilling just-caught snapper with an Asian salad and lemon zest
–          Kicking the wind on his windsurfer
–          Barbecuing over a pit he dug out himself in the backyard "…because if you're going to barbecue, you should use wood and fire for flavour, otherwise you may as well be in a kitchen."
So what's up next for this award-winning chef?  "I get off on the hospitality side of being a chef. A lot of good chefs have lost what hospitality is all about," explains Darren. "For me, it's all about the customer, not what's on the plate or your ego." A telling sign perhaps of Darren's next big project, which is totally on the hush for now, however, this cheeky Irish chef has promised to reveal all soon.
Photography by Sue Stubbs 
Styling by Jane Frosh
From Kitchens & Bathrooms Quarterly magazine Vol. 19 No. 4