Moving beyond the magazine, cookbooks, recipes and kitchenware, Donna Hay 
opens up to Karen Miles about what inspired her love for cooking, classic design, and why her cupcakes are just so delicious.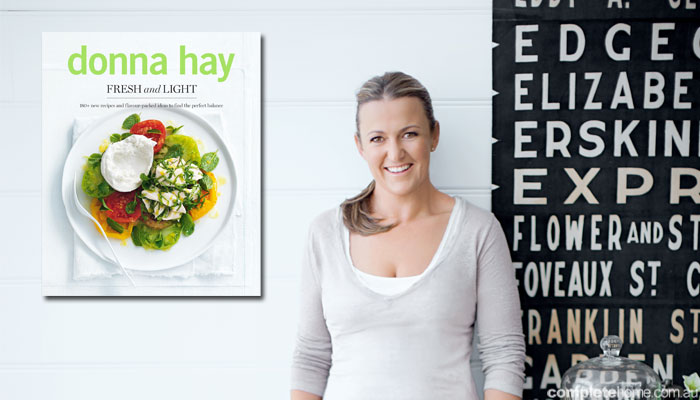 By Karen Miles, Editor of Kitchens & Bathrooms Quarterly magazine
Photography by William Meppem
ABOUT DONNA HAY
Donna Hay has been cooking since the age of eight.
She's an 18-times award-winning author.
Her working life began as a food writer and stylist, then food editor of Marie Claire.
Living in Sydney, Donna is a mother of two boys and wife to husband, Bill.
Visit her vintage-inspired General Store at 40 Holdsworth Street, Woollahra NSW
Karen: I recently visited your General Store and completely fell in love. It reminded me of baking days at my Nan's home when I was little. What was your inspiration?
Donna: As a little girl, I loved playing shop. I'd beg my sisters to be my customers or let me be the customer. So when the opportunity arose to "play shop" as a grown-up, I couldn't resist. The store actually came about on the back of our readers constantly asking where they could find some of the items used in our photo shoots. So rather than list everything as "stylist's own", I decided to give people access to some of the great finds they see in the magazine. Overall, the interior design of the store is about presenting every item in a chic and desirable way. It includes elements like little curio box shelves to display product. It's a beautiful old sandstone building with a white and chocolate colour palette. I put a kitchen in the store so we could bake some of the products from the food range — and who can resist walking into a store that smells of baked treats?
Karen: Without doubt, your salted caramel cupcake is the best I've ever tasted — what's your secret?
Donna: My grandmother taught me very early on that baking is as much a science as a passion. So make sure you follow the recipe, don't improvise, and adhere to cooking times and temperatures! My other tip is bake with love – cakes don't work if you bake angry!
Karen: What is the inspiration for the signature blue in your branding?
Donna: It's the combination of a blue sky full of ideas and the ocean that I have loved being near every day of my life. And from the technical side, most food has yellow hues, so a blue plate or background actually balances the image.
Karen: Your approach to food and products is not only beautiful but very accessible to the everyday, inspired home chef.
Donna: I have always been very proud to call myself a home cook and my approach has always been that I create products and recipes as much for myself as everyone else. I know how hard it is to find inspiration for school lunches and weeknight dinners and fit a busy work life around it. So making everything beautiful but approachable is top of mind for me. I'm also passionate about shortcuts that give people confidence in the kitchen so they can prepare a meal in less time with pantry staples and fresh supermarket ingredients.
Karen: What would be your dream meal?
Donna: Any meal that is shared with family or friends and ends with ice-cream is a winner for me.
Karen: And your idea of a dream kitchen?
Donna: I love big, wide benches and lots of shelving and cabinets to tuck things away, with custom spots to put all the essentials. I keep my kitchen benches very clear, so it's like a blank canvas every time I cook.
Karen: What's the one kitchen appliance you can't live without?
Donna: I must admit it's now my iPad, not technically a kitchen appliance, but it has changed the way I cook. The ability to follow recipes and swipe through pages from the screen has changed the way I approach cooking and added a whole new dimension to my kitchen experience.
Karen: How did your collaboration with Royal Doulton come about?
Donna: I had the good fortune of working with David Jones on a self-titled range for their stores. When Royal Doulton were seeking opportunities to work with new food personalities, I was lucky to be introduced to their team based on the success of the earlier range. I then had the experience of working with their design team to develop my ideas and work with them as the product took shape, the colours were confirmed and the range launched across the world.
Karen: What's next for you in 2013?
Donna: There is always excitement ahead; it keeps us all on our toes. My new book has me sharing a fresh approach to my cooking and I'm excited to say there are some very exciting developments in the digital and online space. Stay tuned!
From Kitchens & Bathrooms Quarterly magazine Vol. 20 No. 1