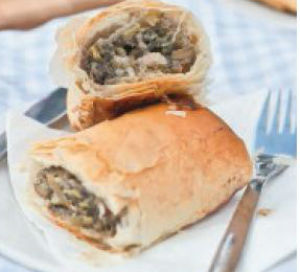 Kitchen wench, Ellie Won, shares her tips for good food and good times in this, the season for socialising.
The thing that I always inevitably ask around this time of year is, "Where has the year gone?" It seems like only yesterday I was ushering in the new year with my loved ones, yet it's now been almost a whole year since then and so much has happened. There have been laughs and tears and, of course, a lot of this has revolved around food. Food has always been a big part of my world.
From the moment I could sit upright, I accompanied my mother in the kitchen. Eagerly handing her tools as she needed them, it wasn't long before I became her trusted sous-chef and she started to teach me about the world of flavours. And just as the cooking was always a social occasion for us, the eating has been much the same. It was a daily ritual for the family to gather around the dinner table and share our experiences of the day — discussing everything from the news to the merits of a good knockknock joke. Even now, I associate good food with good times.
There is something about gathering with a group of loved ones around a table and sharing a meal which creates a sort of warm intimacy that is difficult to recreate in any other manner. You crack open a bottle of wine, toast the evening, and then the chaos begins as arms reach across the table to try each other's food and animated voices grow louder as the conversation flows from one topic to another. Of course, if there's too much wine, some of the frantic gesturing that accompanies these conversations can result in a spill or two, but that usually gives more cause for laughter than annoyance in these situations.
One of the best things about this time of the year is that the warm weather is just so favourable for socialising with friends and sharing a bite to eat. On warm nights, it's easier to ask a friend over for a barbecue, with everyone bringing a contribution to share in the balmy evening breeze, than it is to spend an hour or two slaving over a stove in a stuffy kitchen. And of course, there are the many opportunities for picnics.
Just a little effort in the kitchen along with a few cold cuts and an easy salad or two, then you're ready to pack it all in a basket to keep you sustained for a long day of lounging about in a park or on the beach.
The best thing about picnic food is that it's very much a hands-on affair. Despite our ability to send a man to the moon, the modern plastic knife is never going to cut more than a piece of lettuce so the easiest things to take along are always foods that can be eaten with your hands (or minimal cutlery). For me, this usually means wrapping things in pastry.
Much like a covered pie, these tidbits in individual serves are easy to dish out and enjoy, and there's usually a few crumbs for the everhungry seagulls! For that reason, this edition's recipe from me is for these ridiculously easy chicken, feta and silverbeet filo pastry rolls. Hearty enough to fuel a busy day of sunbathing without making you feel heavy and bloated, they are the perfect summery picnic treat
Chicken, feta and silverbeet filo rolls
Ingredients
4 large chicken thighs, trimmed and diced
2 large leeks
400g mushrooms, cleaned and diced
400g silverbeet (can be replaced with spinach)
200g feta, drained and crumbled
200g cottage cheese
3 large eggs
1 pack filo pastry
½ cup olive oil or melted butter
Method
1. Trim the leeks and cut them in half, making sure to rinse all the dirt out from between the layers. Give them a quick drain, then slice them up into 1cm pieces.
2. Cut the silverbeet stems from the leaves and roughly dice both, making sure to keep the stems and the leaves separate.
3. Heat a little olive oil in a wok or large frying pan, then sauté the chicken till nicely browned. Add the leek and diced silverbeet stems and sauté till softened.
4. As the silverbeet will release a lot of water, drain the mixture well in a fine sieve, then place in a bowl and mix with the feta, cottage cheese, eggs and diced raw mushroom. Season with salt and pepper and set aside for now.
5. Take three sheets of filo pastry and brush the first two sheets sparingly with olive oil or melted butter and stack them on top of each other. Place about 2/3 cup of the chicken mixture along one of the short ends of the pastry, fold the sides over and then loosely roll up to resemble a sausage roll.
6. Brush the top of the finished roll with olive oil or melted butter then repeat till you have run out of filling or pastry (any leftover filling can be stored in the fridge for up to three days).
7. Preheat the oven to 180°C and then bake for 20-30 minutes, or until the pastries have puffed up and are golden brown all over.