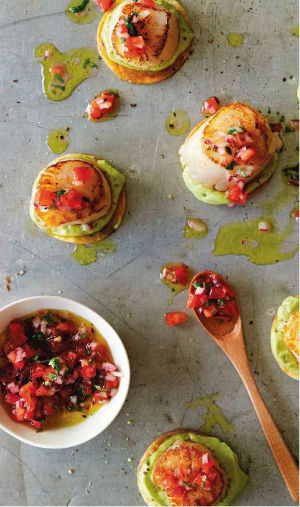 We talk to award-winning chef, restaurateur, television presenter and (his personal favourite) fisherman Pete Evans and cook up his deliciously fresh 
Scallop Tostadas with Smoked Avocado & Salsa Fresco recipe.
Bio
Pete's award-winning restaurants include Hugos Manly, Hugos Bar & Pizza and Hugos Lounge in Sydney and the Pantry in Brighton, Victoria. His television work has included Channel Nine's daily food show Fresh, the series Fish, 60 episodes of Home for the Lifestyle Channel and the documentary, Cooking for our Princess Mary in addition to My Kitchen Rules. Pete has released several successful cookbooks all published by Murdoch Books. Melbourne-born Pete now lives in Sydney's Bondi with his partner Astrid and their daughters, Chilli and Indii. 
During his high school years, spent in Queensland, Pete worked in fast food establishments such as McDonald's and Sizzlers so he could learn the importance of earning money and also to "grow up" and pull his weight. It was in those early years that he learnt to really enjoy the process behind a restaurant business: the systems, the organisation, the teamwork and ultimately the service industry. When Pete didn't get into university it was actually a blessing in disguise; instead, he considered getting into a trade and reapplying for uni later. Looking at all the trades available — plumber, mechanic, electrician etc — the one that made the most sense to Pete was cooking. At least he and his family would eat well. When you're as busy as Pete, you need to live and eat well to keep up the energy levels required to run a little food empire.
Who were your influences? 
The people who inspire me are the people who have a goal and achieve it and don't settle for second best — the people who are driven and actually love what they do. I cannot stand people who whinge or are lazy. It is simply a matter of choice: you either choose to settle for less or you choose to fight and push yourself to succeed.
Which city/country do you like most? Where have you travelled to practise? 
I just returned from a cooking and surfing/ diving/fishing trip to a spot called Nihiwatu in Sumba and it is the most amazing place on earth. The people who run the resort there are doing it to enrich the lives of the people of Sumba. It's amazing and I urge everyone to check it out at www.sumbafoundation.org and help in any way possible. Seriously, to understand how lucky we are in Australia and how much we can help people less fortunate, this is an amazing place.
What makes your restaurants unique? 
We serve simple, honest, tasty food and great pizza. I have been in business with my partners for over 18 years. I guess that also makes us unique.
Your favourite utensil and why?
A good, sturdy pair of tongs. Every chef needs them. I hate those flimsy ones — they need to be tough.
What is your view on organic vs non-organic and fast food? 
I like to eat healthily and organic is proven to be the best for you and for the environment. Not everyone can afford to eat organic as it does tend to be quite expensive, so hopefully as time goes on, organic food will become even more accessible to all Australians. Having said that, I still eat non-organic and sometimes fast food. Everything in moderation — that's the key.
Your advice to those who have never ventured into the kitchen to explore? 
Have a go! Cooking good food is so easy and practice will make you a cook with every meal.
Signature dish? 
That would be chilli mud crab washed down with a cold beer.
Who is the most important erson you have cooked for? 
With Hugo's Catering we have worked with a lot of high-profile people, such as Prince Frederick and Princess Mary, Bono and U2 — and even Oprah last year; but the most important people I cook for are my kids.
Your television career … how did it begin? 
I had been working on television for eight years before My Kitchen Rules came along. I had completed over 500 episodes from four different TV series in that time. My Kitchen Rules is a lot of fun but I miss not actually cooking on TV. Being a judge is great but I get a lot of excitement out of teaching people how to cook great, simple, delicious meals.
After the success of the first series how is the second series is going? 
Everyone is really excited and very happy with this year's show. We have discovered some fantastic home cooks and some great characters.
What does the show offer viewers? 
Inspiration, culture, recipes …? It simply shows people that it's easy to create an instant restaurant in your home — sometimes!.
Will there be a third series? 
I don't know. I hope so. It's a fun show to make. The ratings have been fantastic.
Your current/future ventures? 
I'm about to head to the United States where they are launching my fourth cookbook, My Grill. I'm really excited about the opportunities that may arise from that launch.
Recipe
Scallop Tostadas With Smoked Avocado & Salsa Fresco  

Makes 24
3 flour tortillas

olive oil

2 avocados

80g sour cream

juice of 4 limes

Tabasco sauce

24 sea scallops

Salsa Fresco

2 roma (plum) tomatoes

¼ red onion, finely chopped

80ml extra virgin olive oil

1 handful of coriander leaves, finely chopped 
1. Preheat the oven to 160°C. 
2. Cut the tortillas into 4cm round shapes or similar-sized wedges and place on baking tray. Drizzle with a little olive oil and sea salt, bake in the oven for 8–10 minutes or until crisp and golden. 
3. Preheat a barbecue grill to medium–high. Cut the avocados into halves, remove the stones and cook flesh side down for 2–3 minutes. Remove from the skin and blend with the sour cream in a food processor. Add the juice of 1 lime and season with salt, pepper and a dash of Tabasco sauce. 
4. To make the salsa, core the tomatoes, cut them into quarters and deseed. Using a sharp knife, finely dice the flesh and mix with the onion, oil, coriander and the remaining lime juice. Season with salt and pepper. 
5. Increase the barbecue heat to high. Lightly sear the scallops on a lightly oiled hotplate. 
6. To construct, place a teaspoon of avocado mix on the tortilla then a scallop and finally the salsa. 
Note: If you don't have tortillas to use as the base you can just use a baguette sliced thinly and toasted in the oven until golden.