These induction cooktops are perfect for contemporary kitchens, and will double as a stylish design element
AEG Induction Cooktop HK673520FB
One of the best on the market, these induction cooktops offers the you the freedom to cook with multiple pots of varying sizes. Meanwhile the bridging function allows cookware to be placed across paired zones – which share the same temperature and timer capability.
Even better, when not in use, the ceramic glass is a beautiful pure black surface with streamlined bevelled edge. When operated, the surface illuminates to reveal red LED backlit controls and the OptiZone cooking surfaces.
Combining flair, finesse and functionality into one built-in, top-mount appliance, these sleek ceramic cooktops from Smeg will match any kitchen style with their black finish and 12mm bevelled edge.
At 90cm wide, you have plenty of space to prepare everyday meals for family and friends, through to highly-involved dinner party creations with several hobs on the go and where timing and precision are paramount. With this in mind, the cooktop has five induction cooking zones, two of which feature Smeg's Surface Share technology.
The Surface Share zones are the largest available on any current cooktop and they're rectangular in shape, ensuring that every part of the zone – right up to the edge – is usable, without any cold spots. You can use pans of different shapes – long, large, irregular or rectangular; and any number of pans on the single shared surface.
Siemens Induction Cooktop EH675MV17E
No longer a futuristic rarity, induction cooking has become well established as the must-have cooking technology for passionate chefs across the world. It's reliable, quick and precise heat-ups come with the added benefits of superior efficiency and excellent safety – and Siemens delivers these attributes in style with these 60cm cooktops.
The appliance provides the flexibility afforded by two innovative "flexInduction" cooking zones, which gives you the freedom to place cookware wherever you want – a tremendous feature when preparing complicated meals with plenty of pots and pans involved. Sleek touch controls emphasise the streamlined appeal of the unit, while providing control of 17 heat settings and the powerBoost-function: offering 50% more power for shorter heating times. Meanwhile features such as auto switch-off, residual heat indicators and the child lock bring the safety that completes an outstanding cooking package.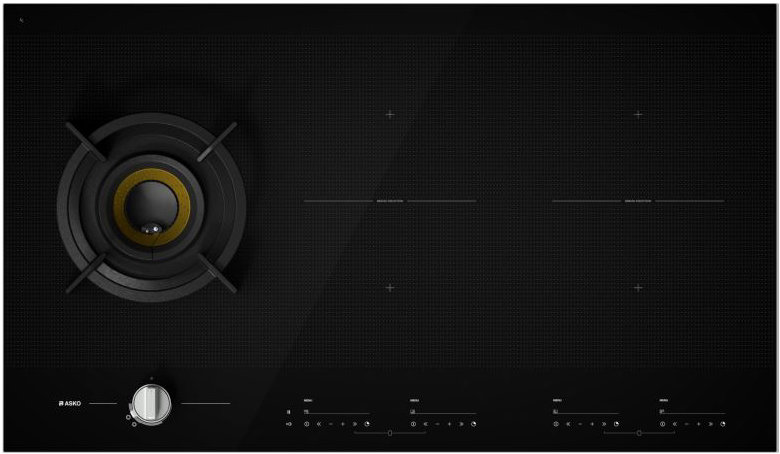 Adding a contemporary twist to the home, ASKO kitchen and laundry products are uniquely Swedish, combining sleek minimalist design and quality manufacturing – along with outstanding innovation.
This stovetop exemplifies their design ingenuity, combining gas and induction cooking capabilities in the one unit. A world-class appliance, it is considered one of ASKO's flagship appliances and has been honoured with a 2015 Good Design Award.
Sleekly designed in 6mm ceramic glass, it features Asko's "Fusion Volcano" wok burner, delivering the power of gas to your stir-fries, while flexible Bridge Induction technology gives you the ability to combine cooking zones for larger pots and pans. In short, it's an appliance providing incredible convenience and functionality.
For more information