Australia's top chefs and stylemakers share their must-have kitchen appliances.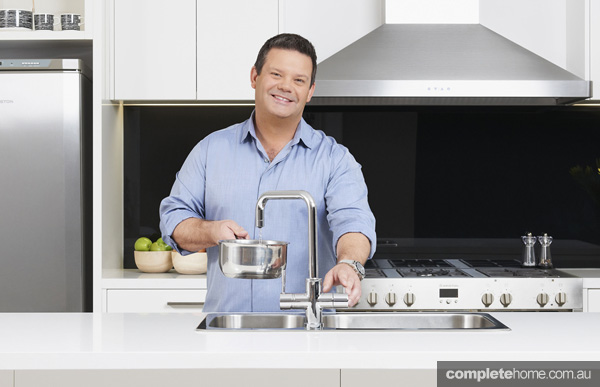 GARY MEHIGAN –  MasterChef Australia judge
"I have a BRITA 3-Way Water Filter Dispenser that provides both filtered and normal hot and cold water in the one system. It's smart looking and compact underneath the bench. I'm obsessed, like most Australians, with my coffee. I adore the whole process of grinding the beans and texturing the milk to silky perfection. Sometimes I even get it right. Now I'm a stickler for beautiful drinking water in my coffee."
PETER MADDISON – Architect & Host of Grand Designs Australia
"My Wega commercial grade cappuccino machine. It has a stainless-steel finish and a gold King Neptune statue, complete with 'crown jewels' on show. Although it takes up critical bench space, it's a hub for social activity in our kitchen. For the first five years of ownership, my children wouldn't let me have the King Neptune on display, because they considered him a bit gross. You'll be pleased to know that he's now back, resplendent in his rightful position."
JEN BISHOP – Author of Interiors Addict blog
"As a Pom, I never stop drinking tea, so my kettle gets a lot of use. I love the De'Longhi Icona Vintage range and have the kettle, toaster and coffee machine (in cream) in my kitchen. They're stylish and more subtle than bright coloured appliances."
MIGUEL MAESTRE – Chef and co-host on The Living Room
"My KitchenAid. I make fresh pasta, pizza dough, cakes and ice-creams. It's so versatile and amazing. It looks great in my kitchen and never breaks. It's a great cooking tool."
LUKE MANGAN – Chef & Owner of Glass Brasserie & Salt Grill
"My blender is a must-have. I use it all year round; it has been given quite a workout over the years. I'm a huge fan of making my own homemade soups and purees in winter, and in summer I love blending up my breakfast smoothies – my favourite is banana, yoghurt and honey… a perfect way to use your overripe bananas."
CLEA GARRICK – Designer for fashion label Limedrop
"The cut sandwich toaster! I whip up a batch of pancake mix, half fill the hot toaster, add a little jam then cover with a little more mix, close and voila — sweet pancake toasties!"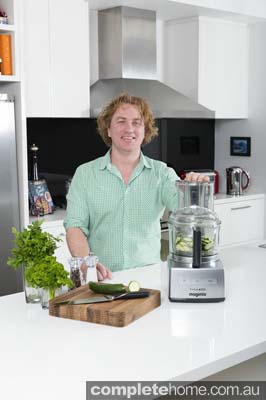 ADRIAN RICHARDSON – Owner of La Luna Bistro & author of Meat
"When I'm in my kitchen at my restaurant La Luna Bistro, I use a Robot Coupe, but when I'm at home cooking for my family I use the domestic version Magimix and Bamix, same reliability, easy to use and looks great in my kitchen."
JASON GRANT – Interior designer & author of A Place to Call Home
"The De'Longhi Icona Vintage toaster in Anita (sky blue) adds a fun colour pop to my morning routine and I'm a big fan of all shades of blue. I love to add colour in my everyday — it can make even the most mundane a little more marvellous."
What's your favourite kitchen appliance? Tell us on facebook.
From Kitchens & Bathrooms Quarterly magazine Vol. 20 No. 3