We present a step-by-step guide to sealing and maintaining natural stone in your home
Natural Stone Sealers
In simple words, there are two types of sealing available for natural stone.
Penetrating sealer
Coating sealer
Penetrating sealer:
Basically, this type of sealing buys you insurance time to clean spills up before it stains the stone. Penetrating sealers do not alter the appearance or gloss level of the stone.
A penetrating sealer will get into the micro pores of the stone to reduce the ability of contaminants to adhere to the stone. They are not a coating which sits on top of the stone surface.
This type of sealer gives your stone protection against water and oil marks. Although, penetrating sealers will not protect marble from acid etching (dull spots) as this process is a reaction between the acidic products and the very top surface of the stone.
Penetrating sealer is not very costly and is usually included in the price of fabrication.We would recommend resealing the stone every 8-12 months. The process of sealing is straightforward and can usually be handled by a homeowner as part of normal home maintenance. Sealing a kitchen counter top will take about 30 minutes.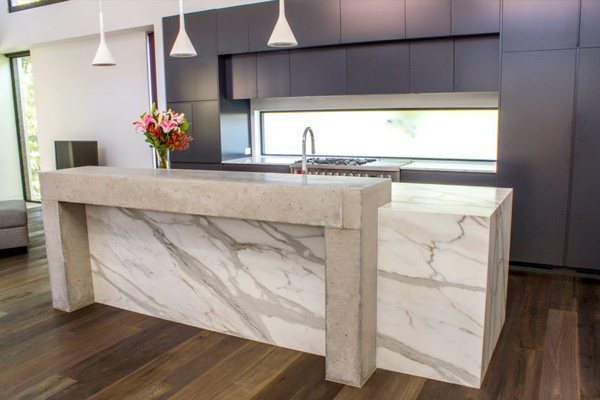 Coating sealer:
Coating type sealers are also available (e.g. Clearstone , Dry Treat's Vitremela) which will protect the marble from etching as well as staining, but does add significant cost to stone top installations. This type of coating sealer usually comes with a 10-year warranty and would need to be applied by a licensed applicator.
Coating sealer allows the freedom of choice to use marble, limestone, travertine, and other stones for their beauty and luxurious characteristics. It is ideal for kitchen bench tops.
Clearstone is the brand of coating sealer that we would recommend. Available from a Matt to a Full Gloss Finish, CLEARSTONE™ makes your stone surfaces easy to clean & maintain.
There's now no restriction when choosing natural stone for tops, CLEARSTONE™ can transform it into a trouble free work surface. CLEARSTONE™… The ultimate in stone protection.
To know more about this type of sealer or to obtain a quote please feel free to contact us.
For more info please watch this video.
Stone Maintenance: 
Proper care and maintenance will ensure your natural stone retains its beautiful appearance. Please read the following important information:
1. CLEANING:  Only use a mild cleanser (mild soap is good) as harsh chemical cleansers can eventually breakdown the sealer. Sure Seal (our recommended sealer) makes a product for cleaning natural stone.
2. ACIDS AND NATURAL STONES:Products such as wine, fruit and fruit juice, milk (lactic acid), coffee and teas, household cleaners, dishwasher powder, laundry powders ALL contain either natural acids or harsh chemicals that will eat away at natural stone AND the sealers that are used to protect them. Whenever spills occur – wipe them up. If any product that contains acid or harsh chemicals is left on a sealed natural stone it will eventually eat away the sealer and affect the stone. This is only for stones sealed with a penetrating sealers. Stones that have been coated with a resin will not stain when in contact with acids.
Always use coasters under glasses to prevent unseen spills from remaining on the stone. As long as you follow these simple steps your natural stone will stay looking beautiful for years.
3. PROTECTING FROM HEAT: Never place a hot dish directly from an oven onto the natural stone – always use protective mats or trivets. This also protects the stone from chipping that could occur.
4.STAIN REMOVAL:  For stain removal obviously the first step is to identify the stain. Here are some handy do's and don'ts:
DO Wipe up spill immediately
DO Try to identify what caused the stain
DO Use a mild detergent or soap first to try and remove the stain
DO Call for professional advice if you are not sure what to do
DON'T Use vinegar, lemon juice or other acid based cleaners on natural stone. Be aware of "Natural" and "Organic" products – always read the labels.
DON'T Use cleaners that contain acid. Read product labels carefully of any bathroom or grout cleaners
DON'T Use abrasive cleaners or scourer pads or household grade steel
DON'T Ever mix chemicals together. Some combinations could create a toxic gas.
For more information