When it comes creating your dream kitchen, doors hold the key to a stylish and practical design that will stand the test of time. That's why Finer Timber Doors uses its unique craftsmanship to provide bespoke joinery guaranteed to deliver the ultimate first impression — time and time again.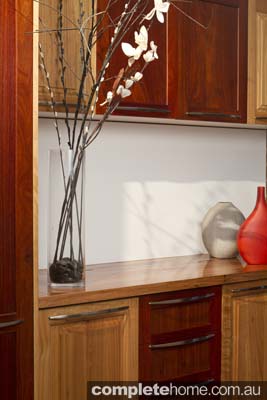 Established in 1994, Finer Timber Doors is an Australian family business with a passion for individual design and a dedication to precision. Doors and benchtops are made to fit your exacting personal needs and room specifications, with a variety of quality timbers, finishes and colour choices to choose from for a truly bespoke kitchen. Everything is manufactured by experienced cabinetmakers in the Victoria workshop, using a proven combination of time-honoured techniques and state-of-the-art equipment. Incorporating the latest designs and trends, Finer Timber Doors helps you open the door to individual style. Whether you are after a distinctive modern look, a more traditional feel or something in between, Finer Timber Doors will create custom joinery that both indulges your personality and meets the everyday needs of your space.
At Finer Timber Doors, attention to detail is not a compromise. The staff pride themselves on listening to every customer's needs and guiding them with expertise and advice. All this helps achieve something truly inspiring: beautiful spaces containing the finest timber doors that provide a lasting impression for generations to come.
FOR MORE INFORMATION
Finer Timber Doors Factory 1-2/2 Nicole Cl, Bayswater North Vic; Open Mon–Thu 8.30am-5pm, Fri 8.30am-2pm
Email enquiries@finertimberdoors.com.au
Phone 03 9761 6939
Website finertimberdoors.com.au
Originally from Kitchens and Bathrooms Quarterly magazine, Volume 21.1