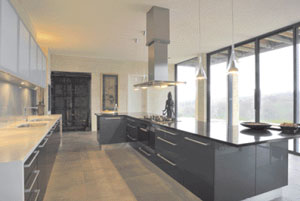 The more the merrier at this showstopper.
The owners of this magnificent kitchen were excited by the prospect of being able to host small functions and events within the space and so Jag Kitchens created a design tailored to catering and entertaining.
Careful consideration was given to ensuring there was ample bench and seating space available and to blend the kitchen with the existing home. Constructed from Mount Gambian limestone, it presented the ultimate blank canvas and was ripe for a dynamic mix of colours and textures.
The flat-panel cabinets are finished in a combination of metallic Bermuda Green and Indian Rosewood designer veneer and are the perfect complement to the Chariot Green natural granite island benchtop. This cocktail of colour is pared back by the use of essa stone in Purity on the rear bench and the silver splashback for a sophisticated appearance.
Cleaning up afterwards is quick and easy, as ample storage has been provided. Situated beneath the island bench and throughout are soft-close drawers able to accommodate pots, pans and more. With everything packed away, the room is free of clutter, leaving the dresser located on the set-back wall clear for displays and the kitchen ready to do it all over again.