Planning a kitchen can be a daunting task, especially when you consider how many individual items your kitchen actually holds. But with guidance from Alicia Draper of Blum – the kitchen hardware specialists – planning your kitchen can be a cinch.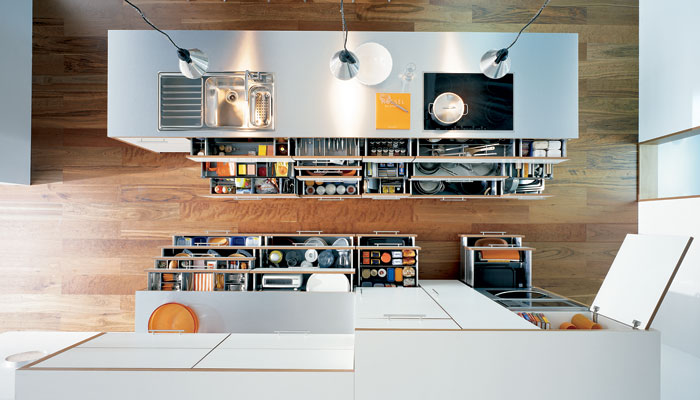 By Alicia Draper
1. Functionality:  Functionality is just as, if not more, important than a kitchen's façade. When planning a new kitchen, think about how long you are going to be working in it. The average age of a kitchen is 20 years. Over this time your body will change through ageing, injury or even pregnancy and these factors can alter your ability to interact with and use your kitchen.
2. Design: Before you decide on a kitchen design, think about how you will use your kitchen. What are the processes and movements involved when you cook a meal? Can a four-step process be reduced to two steps? Simply by storing kitchen items in the area where they are to be used can significantly reduce kitchen traffic, which also impacts on the amount of time spent in the kitchen.
3. Access: Place frequently used items in optimal areas of access. Items you use on a daily basis should be stored in the top two drawers in base cabinets or on the bottom shelf in overheads. Think of what items you use daily, such as your cutlery, mugs and drinking glasses — are they easy to reach?
4. Storage: Drawers in base cabinets are becoming standard in modern kitchen design. Not only do they provide more storage space, they also eliminate excess bending and straining. And drawers are no longer limited to standard applications; they are also available as sink and corner solutions that utilise even more space.
5. Organisation: Internal drawer organisation is very important. You may have a beautiful kitchen, designed with a workflow in mind and all items located where required, but if there isn't any internal organisation finding items can be a frustrating exercise. Safety is also a factor; rummaging through a utensil drawer containing knifes is not ideal.
Visit www.dynamicspace.com for more information.
Click here to view Blum's efficient kitchen layouts.
From Kitchens & Bathrooms Quarterly magazine Vol. 19 No. 2