This unique heritage style kitchen, from Jag Kitchens, boasts exquisite features such as decorative tapware, glass cabinetry and a large jarrah benchtop island.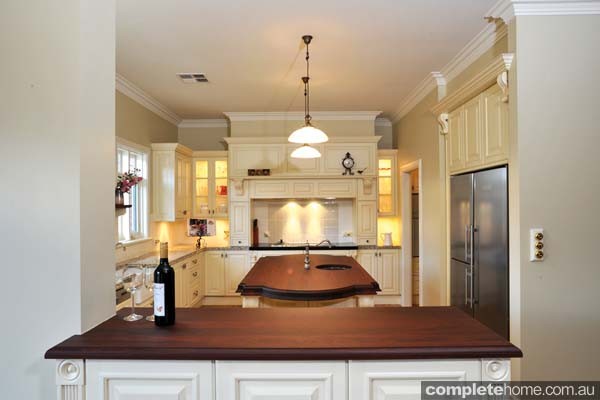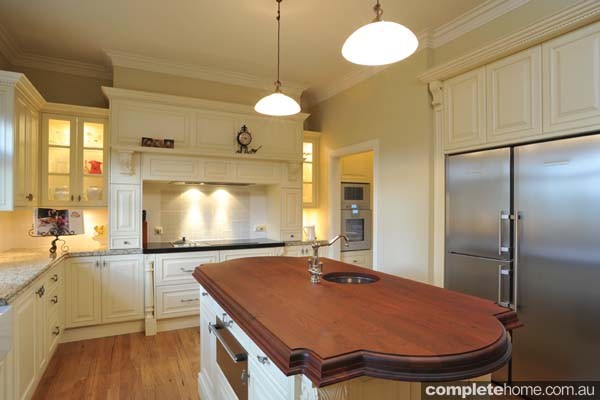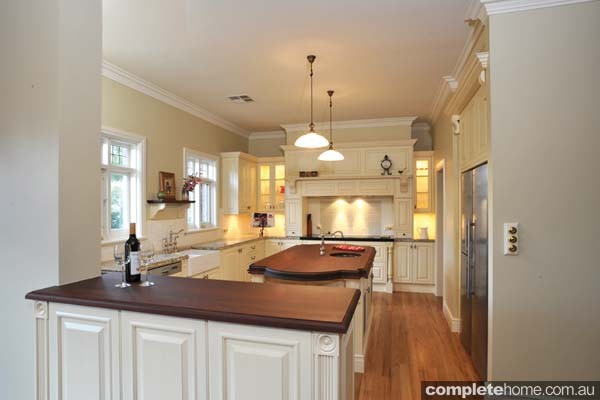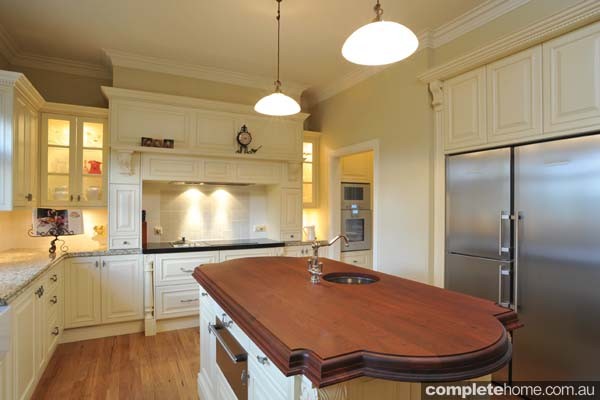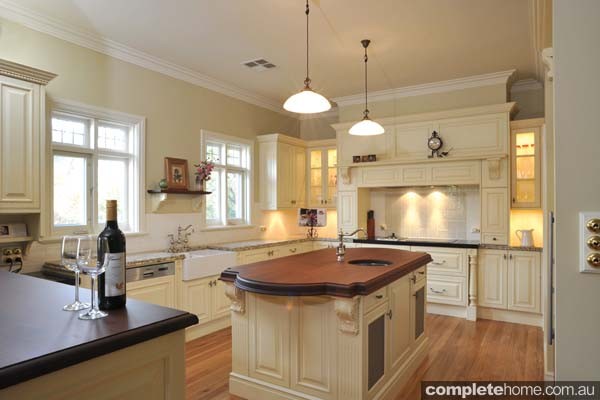 "This warm and inviting kitchen offers elegance and eclectic appeal with its many exquisite features. Intricate details such as dentil work, decorative tapware and traditional handles create a distinguished and refined space. The subtle cream colour scheme used throughout the room complements the solid timber flooring and accentuates the granite benchtops and upper glass cabinetry. Delicate pendant lighting provides a direct light source for food preparation by illuminating the large jarrah benchtop island. The layout is functional with an area designated for coffee-making and a tucked away breakfast nook. The combination of different bench surfaces along with the stunning mantle and other decorative touches are what give this kitchen its unique heritage style."
Designer: Felicity Hobbs for Jag Kitchens
Jag Kitchens project details:
jagkitchens.com.au
Cabinet doors Hindmarsh antique wash
Internal hardware Hettich and Häfele
Benchtop 50mm black granite, Santa Cecilia granite and jarrah
Floor Solid timber
Panels Hindmarsh antique wash
Mouldings Dentil
Handles Traditional
Lighting Low voltage halogen pendants
Oven Gaggenau Bozzo
Cooktop Siemens
Rangehood Qasair
Dishwasher Siemens
Refrigerator Liebherr
Sink Double butler farmhouse
Taps Perrin & Rowe
Jag Kitchens showroom:
25 Anzac Hwy, Keswick WA
(08) 8371 1420
EXPERT TIP: Using a light neutral colour palette accentuates natural surfaces such as wood and granite.
WE LOVE: The intricate detail on the elaborate mantelpiece.
"Timeless Charm" from Kitchens & Bathrooms Quarterly magazine Vol.20 No.3