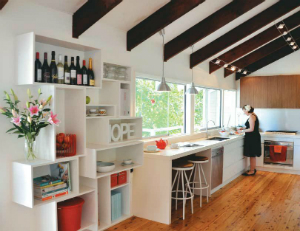 Loftus resident Zosia Ericksson watched her dream kitchen come to life, thanks to an online competition to win a top-to-bottom $20,000 kitchen makeover, courtesy of Laminex. 
With her half-renovated house already a building site, Zosia thought it would be years before she'd be able to transform her 1970s kitchen into an inspired gourmet space. Luckily for Zosia, her sister-in-law, Ellie Ericksson, was already on the case and had entered the Laminex competition online to win a $20,000 kitchen makeover on her behalf.
Zosia was surprised and thrilled to get some much-needed help on the home she dubs a "work in progress".
"We were elbow deep into the process of renovating our four-bedroom house and in desperate need of a new kitchen, so the prize from Laminex came at the perfect time! From start to finish, it gave us everything we needed to turn our existing kitchen into a space that we could call our own," Zosia says.
With a folder bursting with magazine clippings of the latest trends, styles and interior ideas, Zosia knew the exact look and feel she wanted to achieve with her brand-new Laminex kitchen.
A one-on-one consultation with Laminex Design Centre manager, Lorraine Brigdale, transformed the Erickssons' "old and dated" kitchen into a "modernist, with a touch of Scandinavian" masterpiece.
Lorraine says Zosia was well prepared for the initial meeting and had a clear idea of the look she wanted to achieve in the space. "The Erickssons' home was a delight to visit. Zosia's savvy design personality was well represented within their house and created a modern look, tempered with a slight Scandinavian crispness," Lorraine says.Zosia thoroughly enjoyed the process of sitting down with Lorraine and says the experience was "priceless".
"It was great having an expert to bounce ideas around with, gain advice and chat with about design and living spaces. Lorraine gave us ideas, not only for the kitchen design, but the rest of our house as well," Zosia says.
The first port of call was to address the issue of space in the kitchen. And according to Lorraine, nothing maximises a kitchen space quite like shelving.
Taking inspiration from a kitchen seen in Eurocucina — the international kitchen and furniture exhibition held in Milan — a shelving space was designed to display accents of colour, bringing to life the neutral palette of the kitchen, and allowing it to seamlessly flow into the living area.
"The shelves have been built to provide the extra space the Erickssons desired, allowing colour to be added to the living space without being overbearing. This is achieved with accent colours that bring the adjacent living areas together with the kitchen, meaning the colour used for utensils or accessories is reflected across various locations in the extended living space," Lorraine says.
The shelving was teamed with cupboards in Laminex Finished Timber Veneers in Sublime Walnut, chosen as a deliberate reference to the original character of the 1970s house, but with a sleek and modern twist.
As with any cleverly designed kitchen, a fresh, clean and simple colour palette was key. Laminex Metaline Splashback in Silver Stream Perle adds a subtle grey to complement the crisp White Velvet and Parchment cupboard doors, which were custom designed with finger grooves instead of door handles.
"We wanted to keep everything sleek and clean, and we were able to achieve this with the innovative design direction and products from Laminex," Zosia says.
The Erickssons are "over the moon" with their new kitchen — an inspirational and unique space with all the convenience and functionality of innovative design.
"Our new kitchen has transformed our home … with the added benefit that my husband is spending more time in there!" Zosia says.
Laminex marketing manager, Jared Dinneen, says Laminex wanted to give consumers the chance to create a kitchen that was not only functional, but inspirational.
"Today, the kitchen is the hub of the home, where a great deal of family activity is centred around. It's essential to have a space that is uniquely yours, and we're thrilled to help the Erickssons create their dream kitchen," Jared says