Contemporary, cost-effective and quick to build —these prefabricated homes are nothing short of fabulous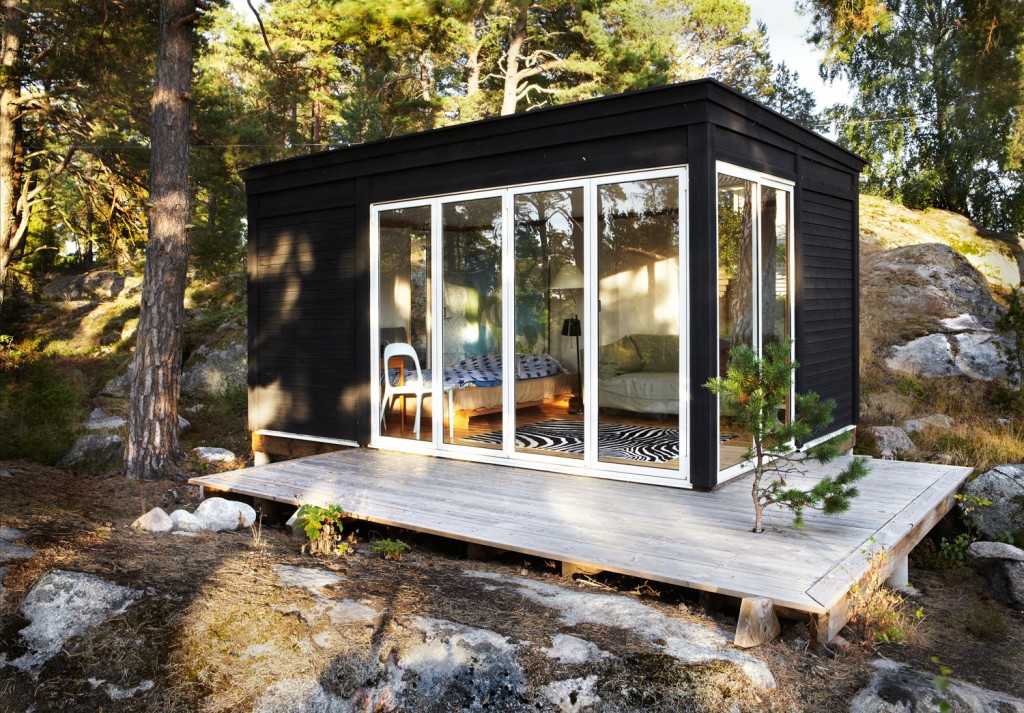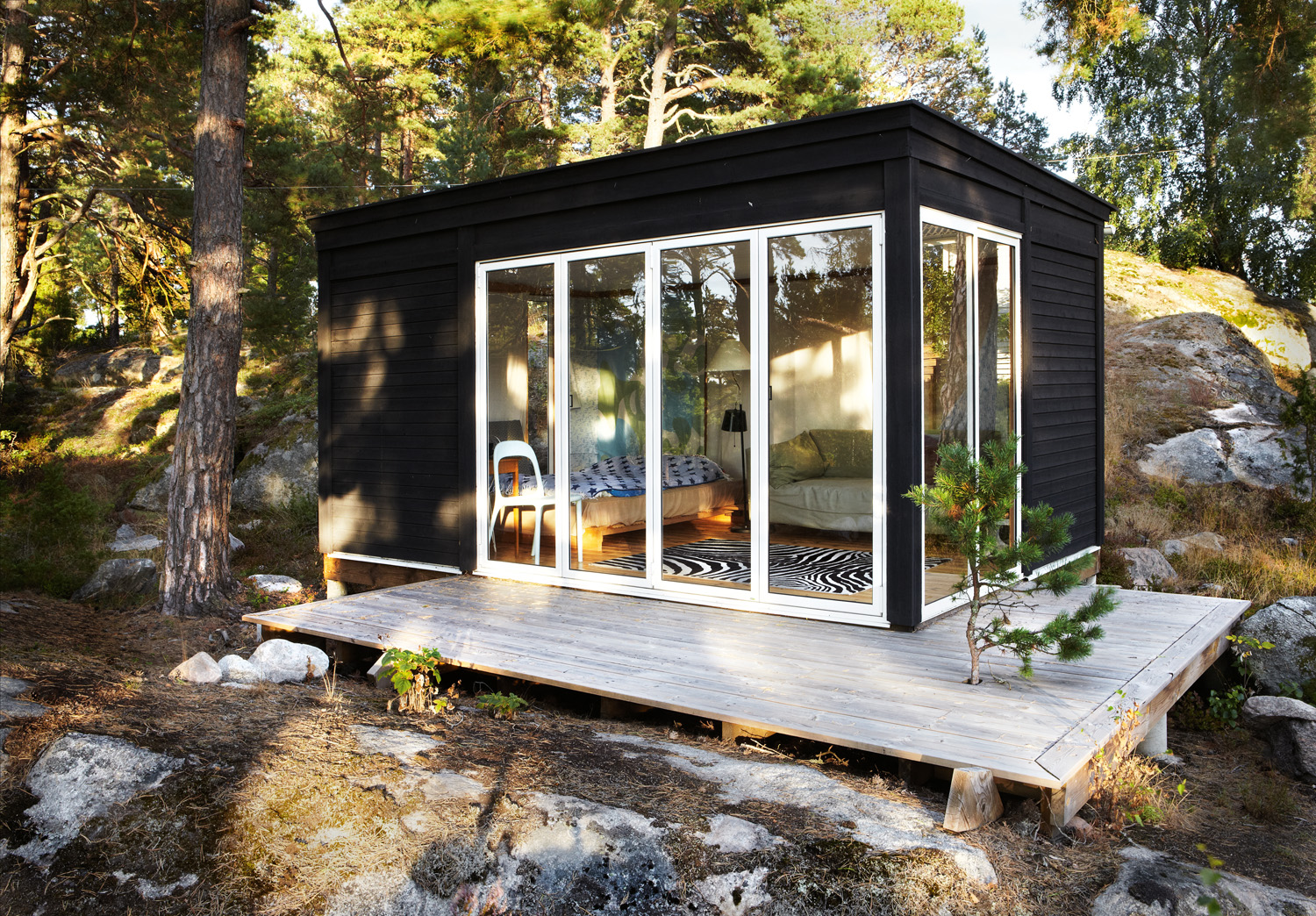 1. Harmony space by Kenjo
Harmony by KENJO System AB, in Sweden, is built entirely from Swedish spruce, a local and renewable resource. Foldable glass sliding door systems set in aluminum profiles reinforce Kent Johansson's design intent of an openness in look, feel and use, whether for offices, saunas, pool houses, or perhaps a floating guest house or thinking room. The options are unlimited as the module system uses different-sized glulam frames, different wall sections and roofs. Energy-efficient, customisable, connectable and extendable, Harmony is attracting global interest. There's a choice of DIY assembly on delivery; supply fully assembled; or built on site by Kenjo carpenters.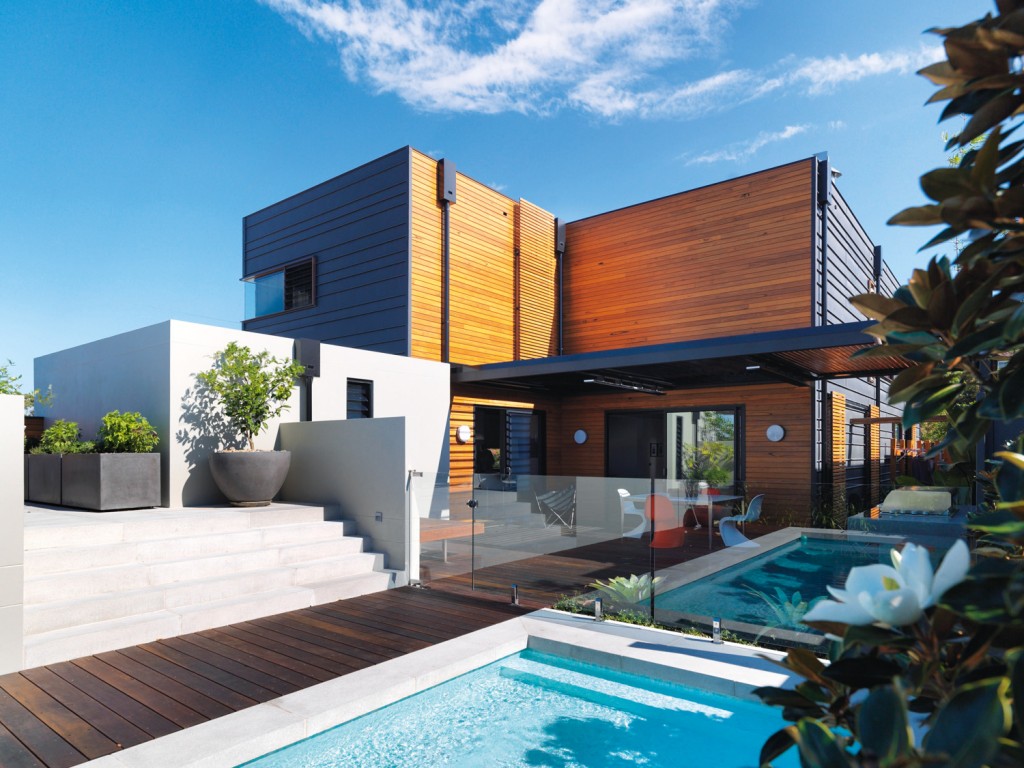 2. The Mod house by Prebuilt
Take a look inside this Grand Designs Australia home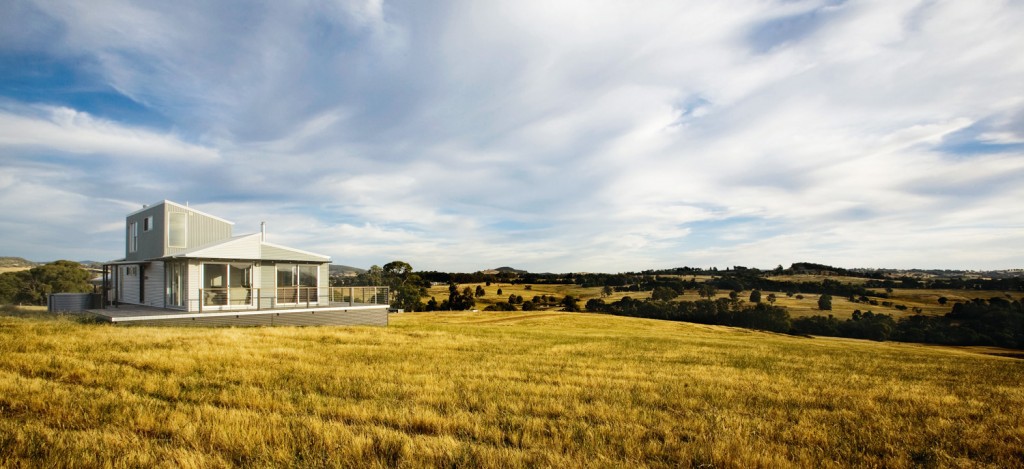 3. Freedom house by Prebuilt
PREBUILT is a design collaboration between the Kilsyth (Melbourne)-based company's in-house design team, external architects and interior designers. Each of the six houses in the range can be oriented to maximise natural light and cross ventilation, coupled with double glazing and high insulation as standard. Structures are constructed from locally sourced products and materials so factory waste is minimised. Prebuilt designs are transported Australia-wide as whole modules complete with kitchens, bathrooms and joinery, fully plumbed and wired, ready to connect directly to services. Set aside eight to 12 weeks build time post planning approval from your local council.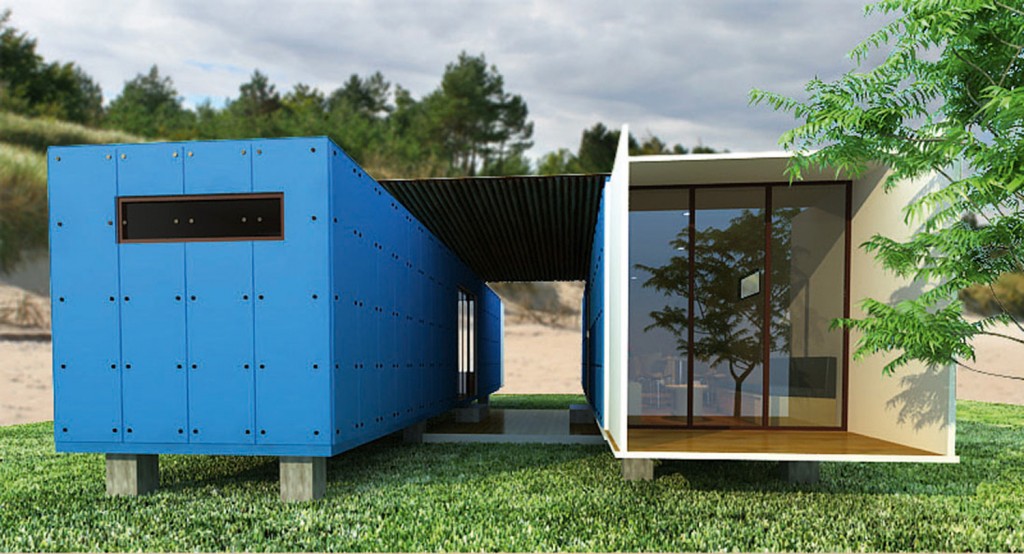 4. Container Homes project
CONTAINER HOMES has an easy solution to prefabs: pre-packaged is best. Available in two sizes, Container Homes offers shipping container spaces that are ready to be lived in almost immediately after they arrive on site; only the plumbing and electricity need to be hooked up. Each home comes cyclone- and storm-proof, and has solar power for lighting. These containers don't miss out on anything and each has its own kitchen and designated living spaces, and come filled with furniture.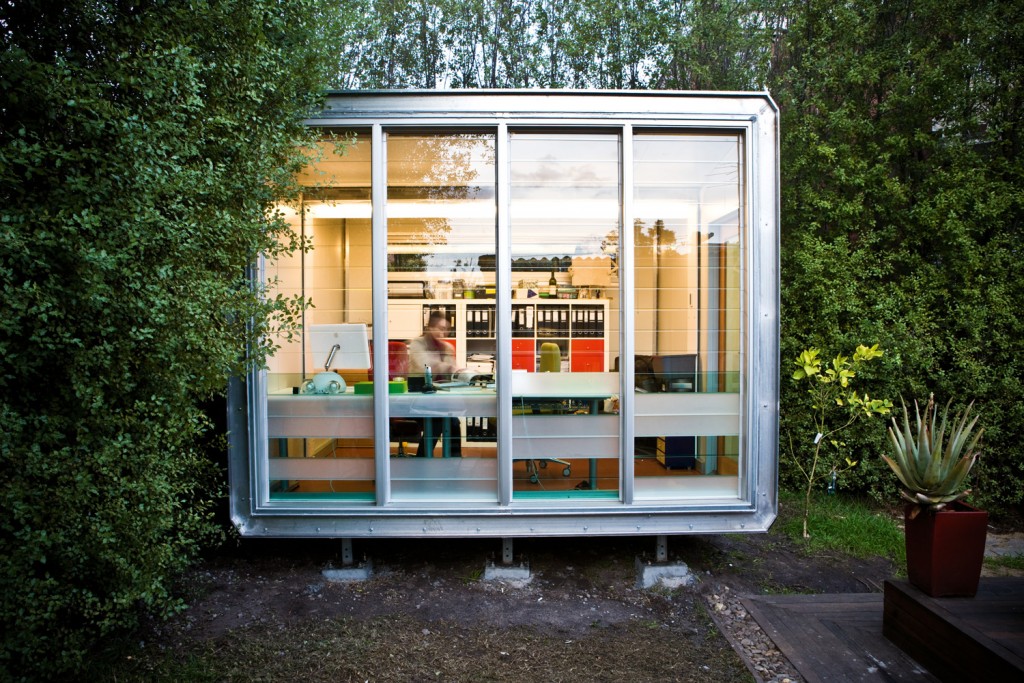 5. Transportable Space (TS1) external office by Pluscreate
TRANSPORTABLE SPACE is available in five different sizes (10sqm to 32sqm). Designed and manufactured by Pluscreate in Melbourne, modules are delivered flat-packed around eight weeks after design sign-off. Parts can be carried through a standard doorway and assembled without tradespeople. Height-adjustable legs avoid the need for excavation. The butterfly roof with box gutter provides excellent water catchment for water tanks, and there is a choice of window and door placement with optional skylights and decks. Its well-insulated PIR wall panels and steel components are recyclable. Available Australia-wide and cyclone-rated, application is unlimited.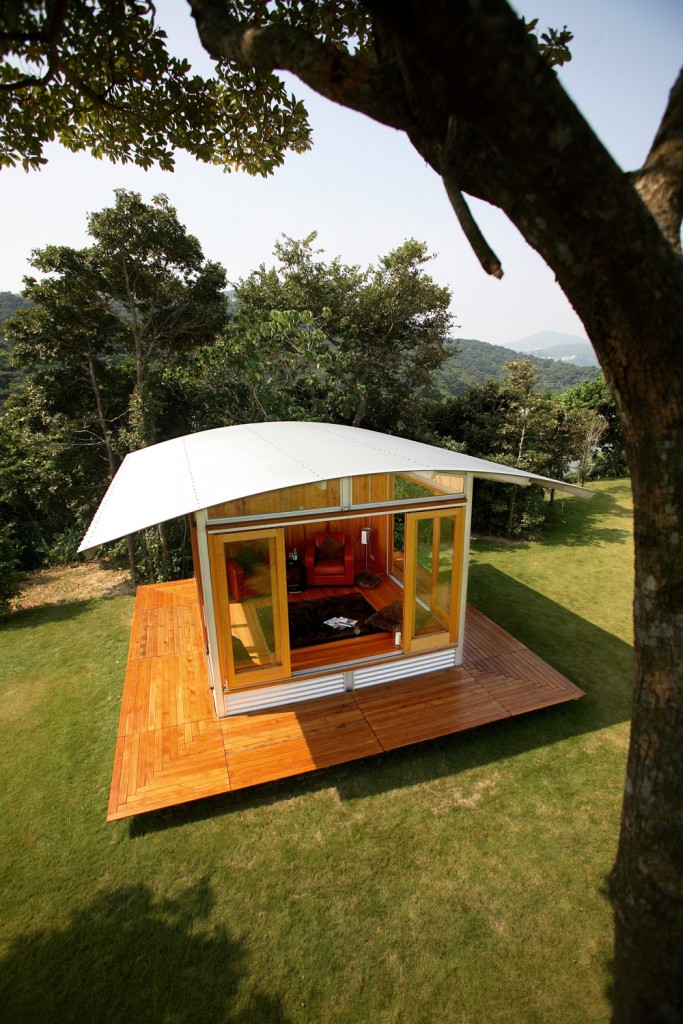 6. Hong Kong garden pavilion e.pod by Ecoshelta
ECOSHELTA is made from marine-grade structural aluminium alloy framing that is stronger but lighter than steel. Designed by architect Stephen Sainsbury and manufactured by Wonders Building Company Pty Ltd, Ecoshelta has been used for backyard studios, holiday or residential homes, emergency relief housing, remote-area research stations, walking lodges, ecotourism resorts, ultra-remote housing, and cliff-face construction during the past 20 years. Sustainable design measures include an EcoCost environmental impact evaluation system analysis; a high level of wool insulation for all floors, walls and ceiling panels; plantation timber, recycled PET composite timber substitutes or ECOply and passive solar and natural ventilation design. Ecoshelta is fully modular, extremely strong and robust.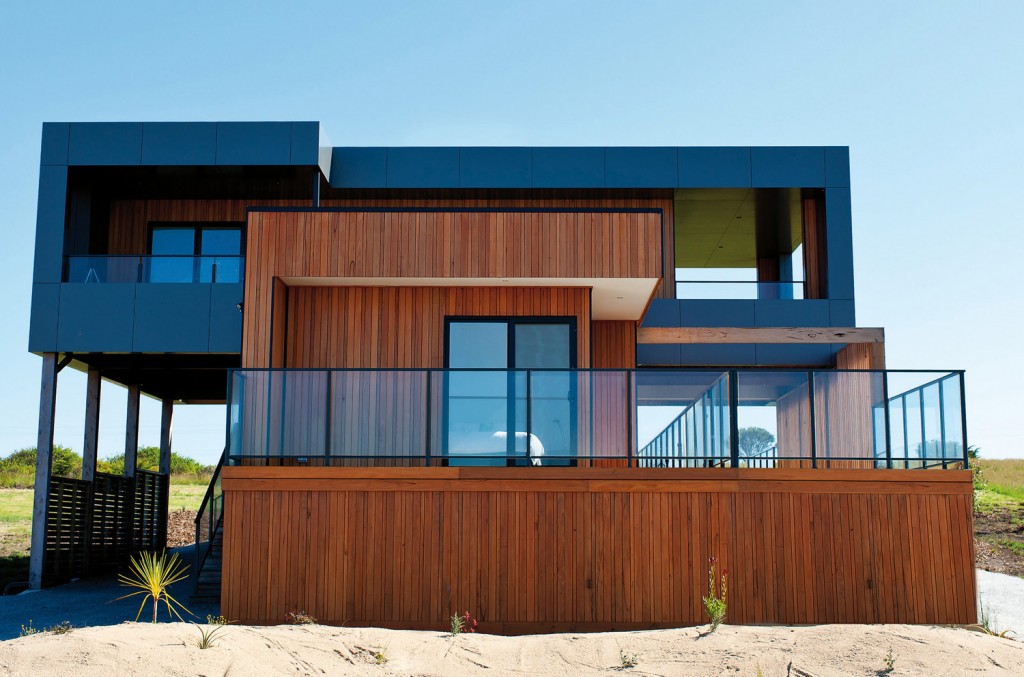 7. San Remo house by Ecoliv
ECOLIV buildings, designed by Beaumont Concepts, are modular prefabricated homes constructed in the company's sustainable factory in Wonthaggi, Victoria. Ecoliv has a range of standard module configurations or custom designs, available Australia-wide, to suit various site and living requirements. Standard inclusions in the seven-star-rated design is a 10,000-litre rainwater tank, 1.72kW solar power unit, solar hot water, energy-efficient lighting, electricity usage meter, water-saving plumbing, double-glazed windows, sustainably sourced timbers, cladding and joinery finished with Australian-made VOC-free Ecolour paint. Ecoliv isn't just prefabricated, it is totally focused on sustainable prefabricated homes from conception to construction. With lightweight construction and a small environmental footprint, each home is delivered on site within 14 weeks.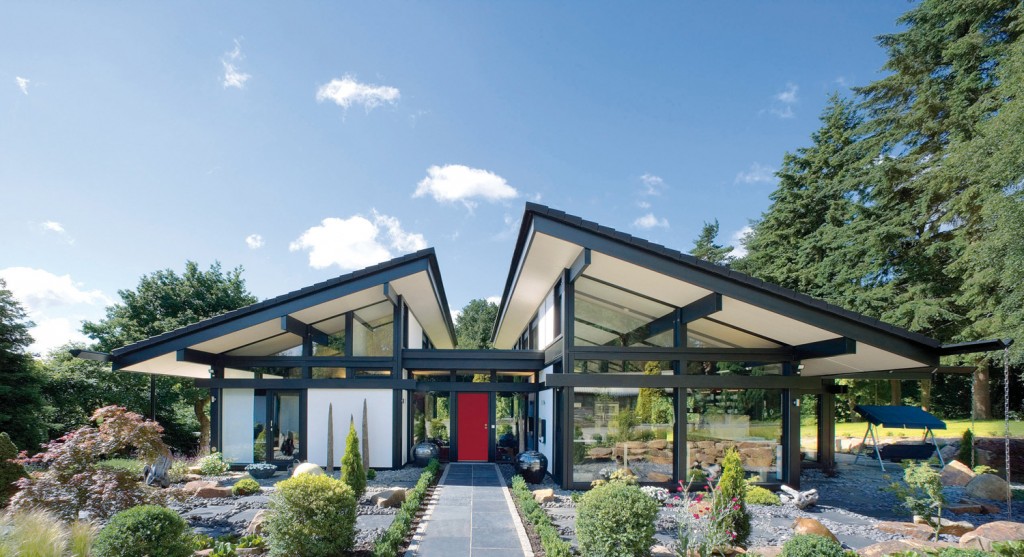 8. Bungalow-style house by Huf Haus
HUF HAUS, headquartered in Germany, has been involved in the design and manufacture of prefabricated houses since the 1960s. Defining the HUF HAUS brand today is the visible timber frame, use of a highly-efficient thermal insulation layer, frameless floor-to-ceiling glazing (triple-glazed), rooms flooded with natural light, spacious living, and enduring clarity of form. Components of a HUF HAUS emerge from a state-of-the-art production line and are assembled to create very individual house designs. Semi-automated prefabrication and pre-assembly of the components results in a quality standard regarded as superior to manual on-site assembly.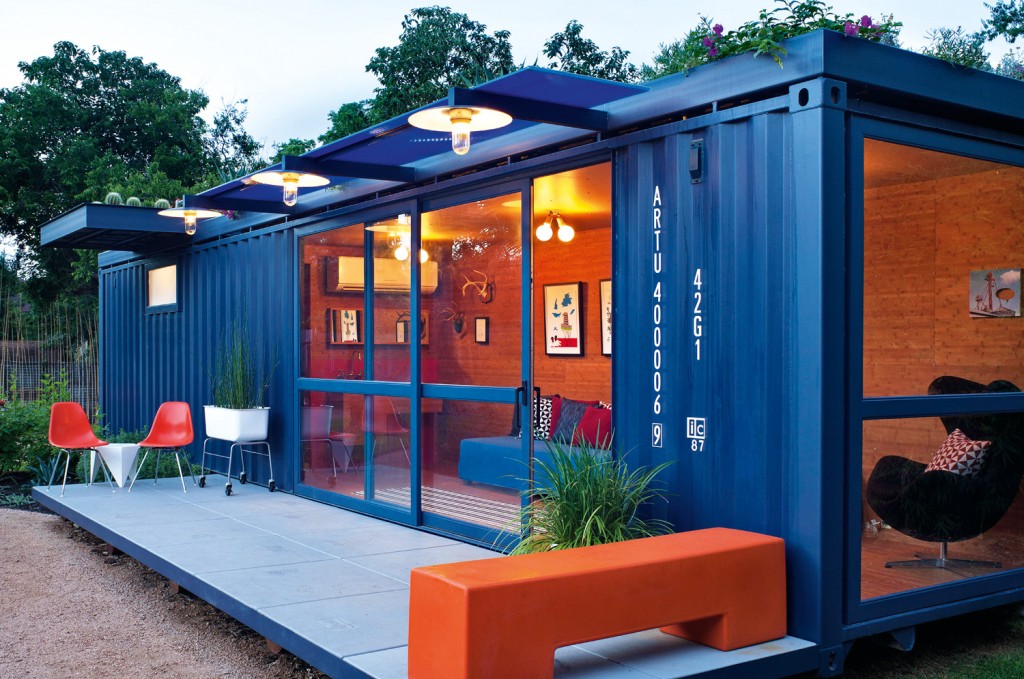 9. Container guest house by Poteet Architects
POTEET ARCHITECTS jumped at the chance when its client asked for a guesthouse made from an old shipping container. Fitted with a custom-designed bathroom, the container was transformed into a second living space that doubles as an art studio and garden storage. One of the key elements of the project was to use as many sustainable resources as possible. The interior was sprayed with foam for insulation and then lined with bamboo plywood. The container "floats" on top of a foundation of recycled telephone poles and the deck is made from HVAC equipment pads, created from recycled plastic bottles.
Photography by Chris Cooper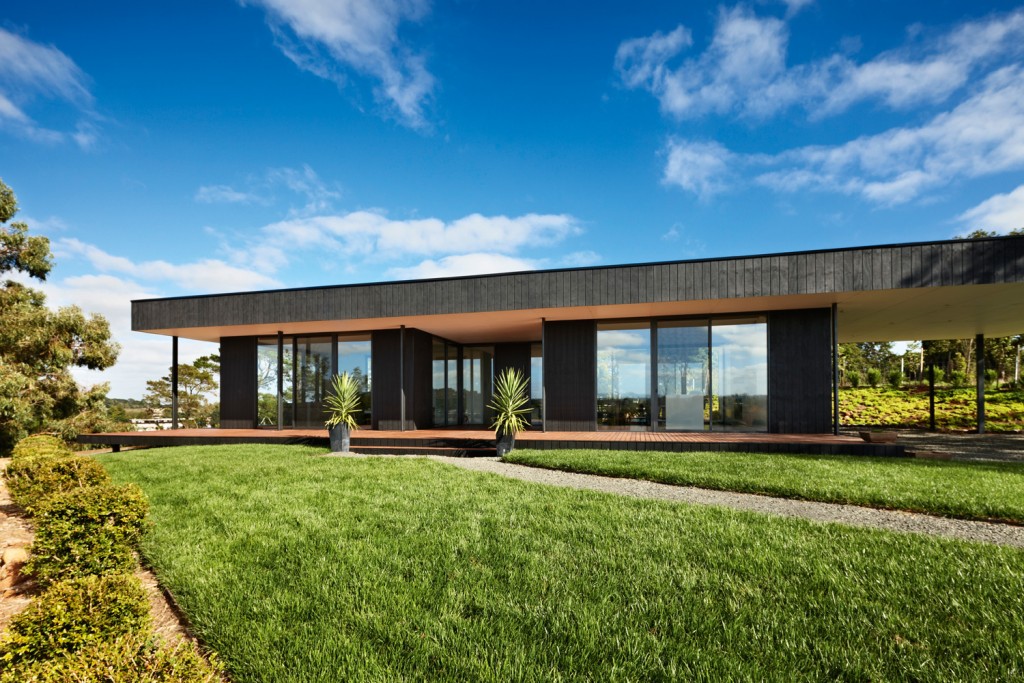 10. Kyneton residence by Intermode
Take a look inside this Grand Designs Australia home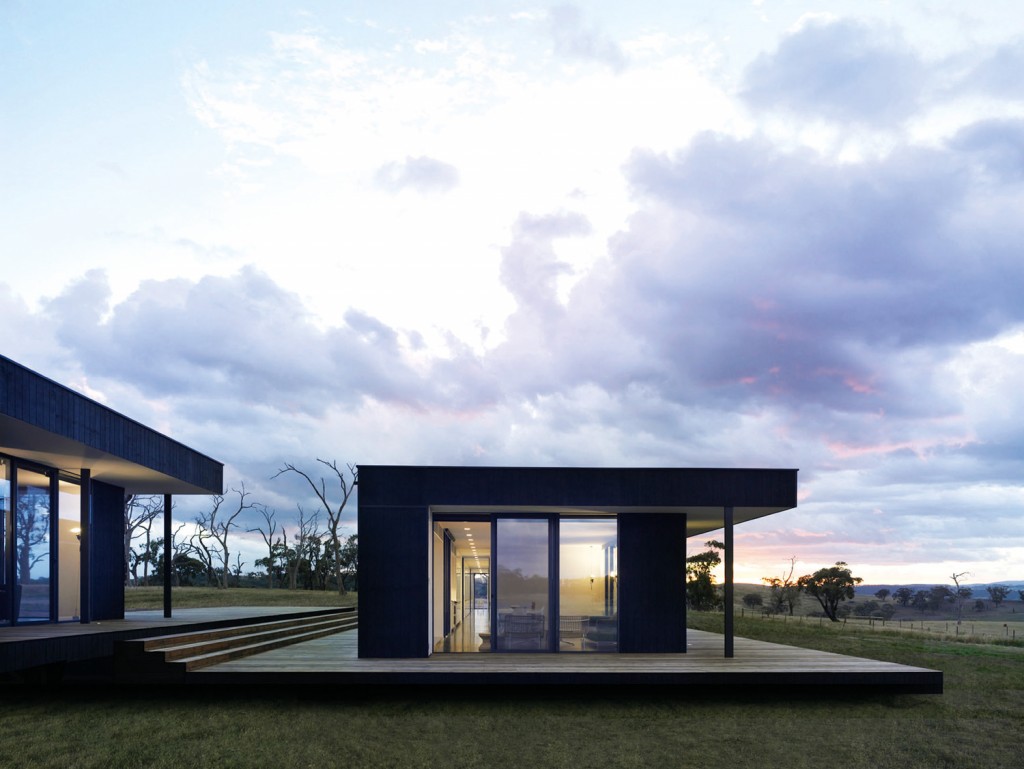 11. Kilmore residence by Intermode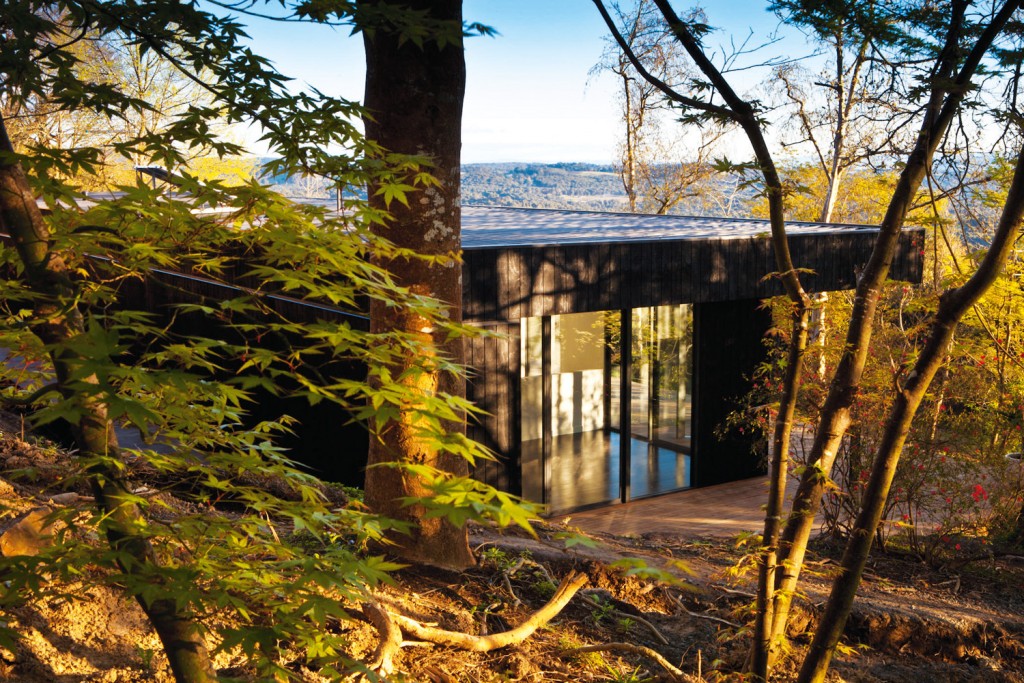 12. Emerald residence by Intermode
INTERMODE homes are at the higher end of the modular sector in Australia. A 1.2m x 1.2m grid is used to customise each home design to suit the individual needs of a client and their site. Designs maximise passive solar performance and feature eaves, concrete floors for thermal mass, full height, double glazing, along with recycled or renewable plantation timber. The residence arrives on site as components during a 20-week program, and local labour means no long-haul transportation. Scalable to suit rural and coastal houses, winery accommodation or resorts. Voted #1 Grand Designs Australia home, second series.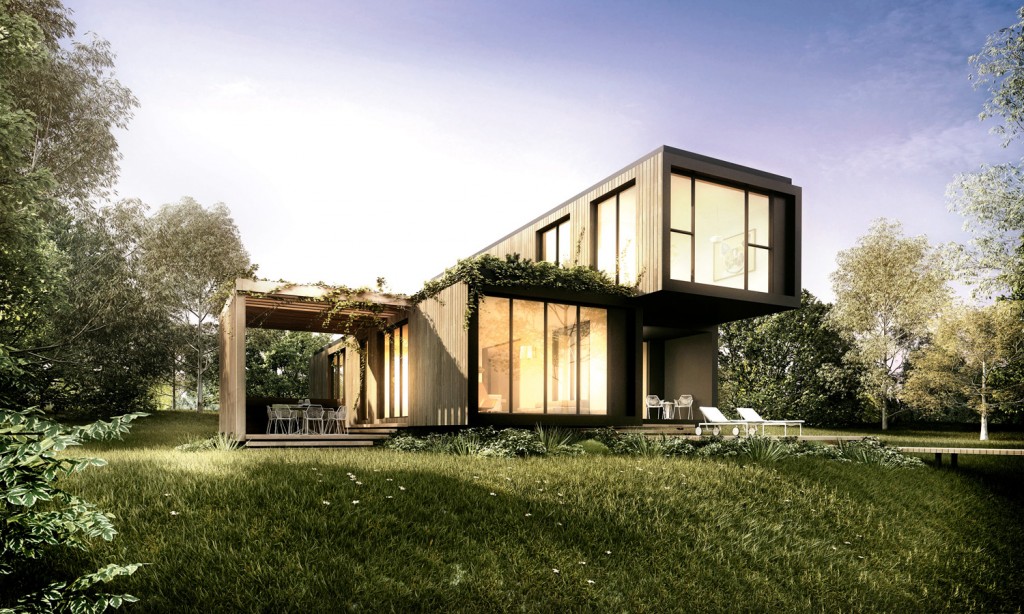 13. Residential house by KLIK
KLIK is designed by Elenberg Fraser architects and manufactured by Unitised Building Australia in Melbourne. Its aim is to provide developers and architects with a tool to help them realise their prefabricated goals. Best suited to multi-residential developments, the Klik product range is available Australia-wide and includes low- to mid-rise residential, super towers and hotels, as well as housing. The complete package, Klik is a pre-engineered, pre-designed and pre-assembled solution. It takes 20 days on average per module, from design sign-off to completion of the module in the factory. Klik offers a raft of green benefits, including reduced material requirements and increased material recyclability. There's less wastage, water usage, transport energy
and embodied energy over the lifecycle of the building, and a reduced carbon footprint.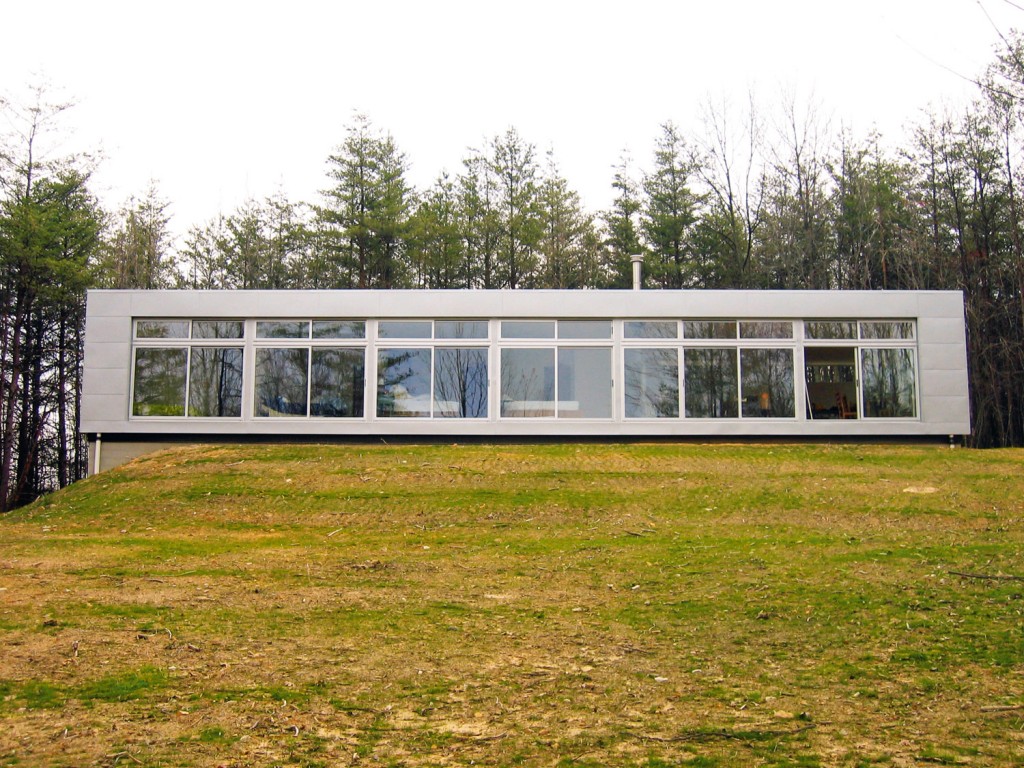 14. LV Series house in West Virginia by Rocio Romero
LV SERIES, designed and manufactured by Rocio Romero, includes the LV, LVL, LVM and LVG, as well as exclusive add-on modules which are custom connections and include the LVC (courtyard), the LVT (tower), and the LV2 (two storey). They feature prefabricated systems and deep wall and roof cavities containing high levels of insulation to achieve very high R-values. They are bathed in natural light and well ventilated, and water catchment systems can be integrated with ease. A design service is available to assist customisation, whether that's reconfiguring an interior layout or combining and stacking LV models. Initially conceived for vacation homes, the LV Series is used as a permanent abode for many. Supplied flat-packed, the LV Series can be shipped to Australia.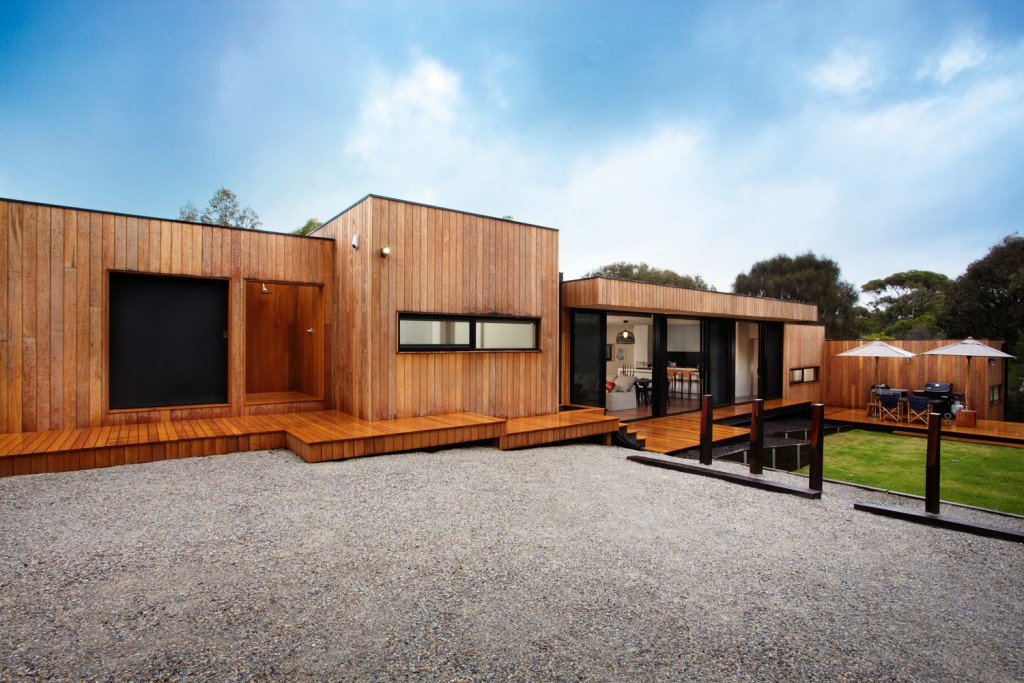 15. Aireys Inlet project by Modscape
MODSCAPE modules arrive on site, fully completed with the lot. That includes flooring, painting, tiling, appliances, window furnishings, decks, lighting, heating and cooling, joinery and shelving. They are designed and manufactured by Modscape in Brooklyn, Melbourne, with an emphasis on architecture and sustainability to create a holistic solution for any site or application. Modules are individually customised to suit the site, space and design requirements of each client. Features include recycled or reconstituted materials, high thermal-rating insulation, solar hot water, double-glazed windows and doors, and LED lighting. Modscape's architect-designed, prefabricated modular building solutions offer unlimited scope and possibility for design outcomes. The average timeframe, from design sign-off to obtaining the building permit and, finally, fruition, is 12 weeks.
By Marg Hearn and Jessica Milsome
From Home Design magazine, Volume 16 Number 3