With advice from Valley Kit Homes, you can achieve your ideal home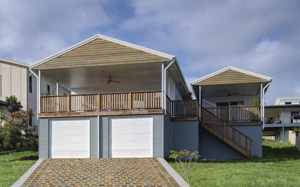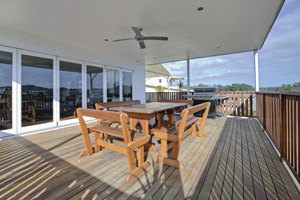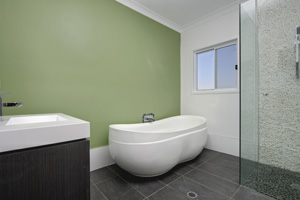 After spending four years in the United Kingdom, Deb and Tristan Wetherelt wanted a change of scenery from the cold, structured and sometimes sandwiched one they had been living in so they turned to Australia for a seachange.
They wanted to live surrounded by nature and soon found the perfect spot in New South Wales, and so the dream began. Tristan began working out a mock plan of all the different aspects they wanted to incorporate into their home.
Not long after they decided that they needed to consult with a company that could help them with construction, as well as make suggestions to better their plan and improve their design. For this they turned to Valley Kit Homes and their team of expert designers and builders.
The block of land the clients wanted to work with was not the easiest location as it had rock floors, which made it hard to build on as they wanted to keep the natural feel of the surrounding rocks and not dig it out completely.
"Being owner-builders was a challenge within itself but with help from Valley Kit Homes, it made things much easier" said Deb.
The home is timber-framed and built on 57 steel posts, and clad with Primeline Heritage weatherboard. Using natural products such as real timber, stone and metal was something the homeowners were passionate about, as they wanted to bring their surroundings into the home.
The kitchen has solid oak worktops with simple plain white-gloss doors on all units, punctuated with stainless-steel framework and appliances to keep things simple and stylish. A large five-burner free-standing gas stove and traditional English farmhouse Belfast sink have been used to add a bit of character to the home.
To keep the tiling consistent in the home, the tiles in the kitchen, bathroom and ensuite consist of a mix of slate and white gloss, with stone and pebble finishes only changing style and shape.
Lighting was important, especially when it came to zoning the large open-plan living area. The owners used groups of sectional downlights, independently controlled so certain areas can be lit up, helping to divide the room. Over the large breakfast bar, two dome lights were used to break up the use of downlighting and give the area a more intimate feel.
The owners' favourite part of the home are the bi-fold doors that lead to the verandah decking, allowing them to enjoy their new surrounds.
"I think that coming from a trade background, building my own home was something I always dreamed about doing," says Tristan. "Valley Kit Homes helped turn this dream into a reality. They gave us quality guidance and were so flexible at each stage of the project. They use quality materials and suppliers, and their delivery at every point was precise. We loved every aspect of building our first home and we can honestly say the team at Valley Kit Homes made the whole process that much easier."