Nestled in the heart of the Blue Mountains, this home truly reflects the homeowner's likes and lifestyle.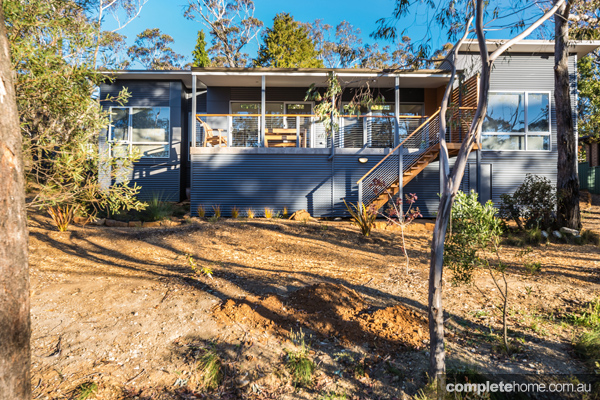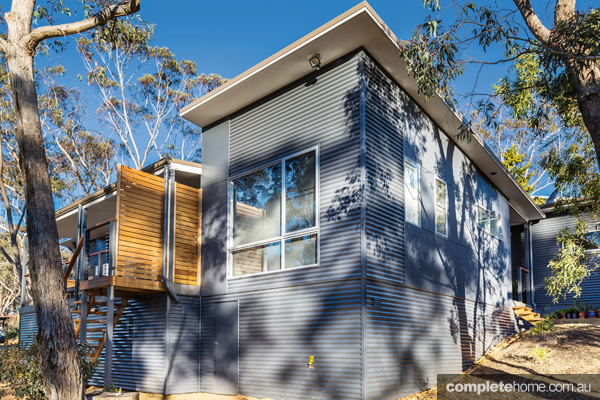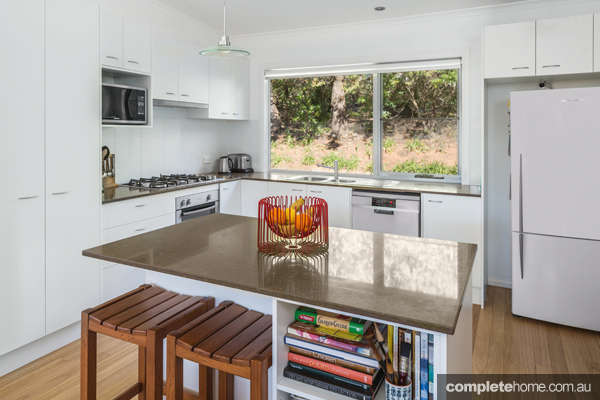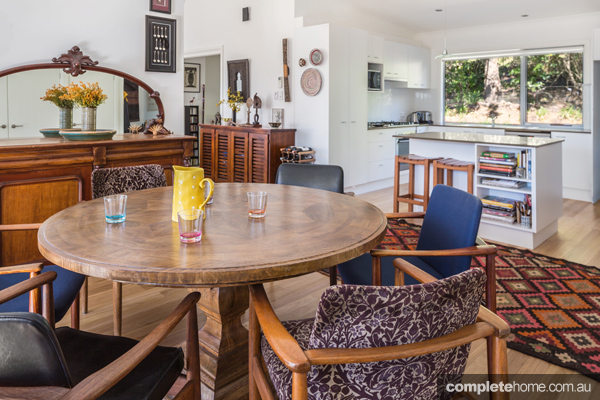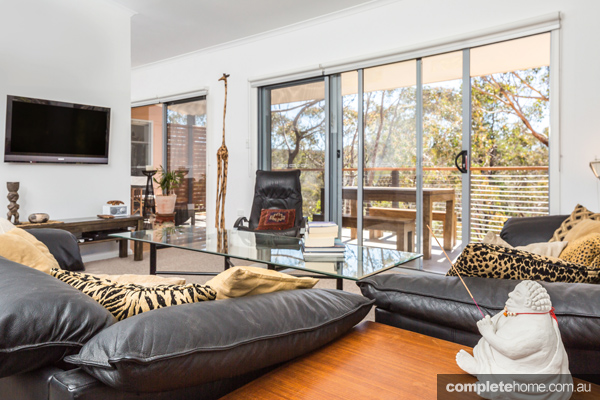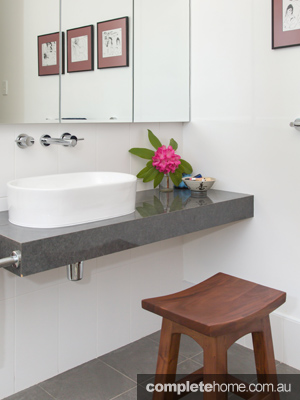 Catherine and Tony wanted a contemporary house that could be built with minimum impact to their site. They chose Parkwood Modular Buildings because the company's style of houses and variety of finishes appealed immediately. They also liked how the company's building method is gentle on the environment and the costs were surprisingly less than a conventional build.
Their new home is loosely based on a standard Parkwood design "The Milson". However it has been adjusted and fine-tuned by Catherine, inside and out, to reflect the couple's likes and lifestyle. "Our home is special to me because it is my design, something I've had in mind for a long while," says Catherine. "Parkwood have been so good (and patient) at interpreting and accommodating my plan. They were able to find the best way to fit it into the constraints of their construction methodology and the four modules required to make up the dimensions and layout of the house."
The facade, although 2m off the ground at the deck, nestles and blends into the site, "almost as though it's always been there". When designing, Catherine zoned and planned in order to take maximum advantage of the sloping site and the orientation, the view, the existing growth of bush and trees, the light, and around the way she and Tony live, work and entertain.
Inside, the living, dining and kitchen areas are open plan but the central wall dividing the living area allows for the feeling of space and flow, while retaining the integrity of each room (and makes a space for the TV and pictures). The kitchen is a hub for family and friends to gather, with guests gravitating to chat around the spacious island.
The home is also built in a BAL 29 fire-zone area. This necessitated the removal of eight trees and appropriate upgrades to glazing and steel fly screening. Catherine chose to include underfloor vented heating for the cooler conditions of the Blue Mountains and sourced many upgraded fixtures in order to make the home unique.
During the construction period, the notion of building from a distance was an initial challenge. Then, as the building progressed, the challenge was the speed of the construction, which precluded changes once it was past those particular stages in the factory. This required a lot of decisions about concepts and finishes to be locked down early in the process. Despite this, Catherine says "neither the distance nor the speed became a problem, Parkwood and I communicated frequently via phone and email and once the construction started, Tony and I drove to visit our house once a week. The swiftness was then an advantage. Like a miracle, it came together so fast, inside an enormous hangar, because no bad weather could halt the work."
The house is now fully built, with the addition of a garage, and Catherine and Tony couldn't be happier with the final result. "It is a great house to live in," says Catherine. "It functions exactly as we envisaged, with no horrible surprises. Due to the large windows and stacking doors, the rooms are light and bright all around the house and we see trees and greenery from every window, in every room. It's warm – even through the cold mountain winter – and the spaces flow well, allowing us privacy but also a feeling of connection. The bathrooms are bright and spacious and outside, I love that we have mostly Colorbond steel walls, with some painted panels to contrast. The view from the entrance hall is also amazing and will be even lovelier as the flowering plants grow. The building technique is so precise that we were able to save a waratah shrub that is literally 500cm away from the house. Marvellous."
PROJECT PARTICULARS
Price $1500 per m²
Flooring Blackbutt matte finish and carpet
Walls Feature wall in Ironestone
Kitchen Caesarstone bench in Wild Rice, Laminex doors in Polar White
Windows and external doors Ultra silver glass and toughened glass
Outdoor Custom orb-ironstone and matrix painted Serengeti, wire-strand railings to tiled decks
Originally in Kit Home Yearbook magazine, Volume 20