A Gold Coast couple painstakingly researched and built their home in line with the principles of sustainability.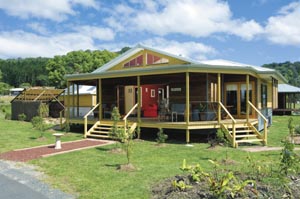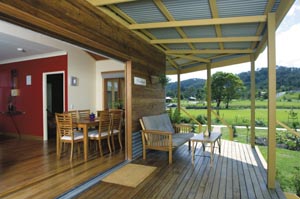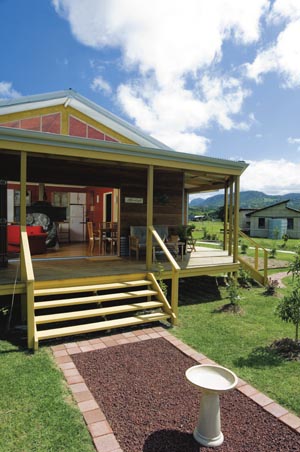 Making a home at the unique Eco Village in Queensland's Currumbin Valley means adhering to a strict, weighty covenant which rules out any material that is non-sustainable or toxic. The home as it stands, Glenleigh, a modified Daintree built by Valley Kit Homes, is a tangible example of the owners' desire to live simply but comfortably and to limit the damage to the environment that construction can inflict.
Recycled timber like western red cedar, mixed hardwood and hoop pine, Hardies cladding and eco-ply blend with a corrugated iron roof and feature panels to resurrect the appealing simplicity of an old-time Queensland cottage. A tank beside the home supplies more than enough water for the household in this lush environment. Timber steps gain entry to this above-ground home at the front and sides. Stacker doors open up in the lounge/dining room to access a wraparound verandah that perfectly captures cooling breezes. The centrepiece of the lounge is a huge seventonne blue metal rock, locally quarried, which is designed to attract the warmth of the sun through high fixed windows during the day and conserve it as the temperature drops. Airconditioning is frowned upon in this village, so ceiling fans, louvres, insulation, cross-ventilation, a northerly aspect and 2.7-metre-high ceilings play an important part.
A towering raked ceiling sealed with eco-ply panels adds height and space to the front living area. The functional central kitchen catches the eye with its splendid polished camphor laurel benches, metallic tile splashback and crisp white, timber-framed cabinets. Adams red walls in this section of the home add a vibrancy. To the right of the lounge is the master bedroom, serviced by a walk-in robe and spacious ensuite. Timber louvres outside shade the room from the western sun. Two more rooms with a handy divider offer accommodation for guests. At the back of the house, the main bathroom continues the metallic look on shower walls. Slate-look ceramic flooring gives an easy-care finish and matches brushed chocolate paintwork.
Teamed with the earthy basics of construction are photo-voltaic panels on the garage roof that free the owners from steep electricity bills. In fact, they work so well the owners make a profit from the power they produce.
Glenleigh's owner took a year off paid work to lend a hand with plastering, painting and other tasks. Valley Kit Homes helped the owners to source building materials. At the finish, they had the satisfaction of knowing the home showcased all-Australian products including recycled and renewable materials.
Valley Kit Homes fosters high-quality, low-cost production due to construction taking place in-house, rather than using outside contractors. A wide range of external cladding caters to individual tastes.
All frames are delivered pre-assembled, ready to stand, and are clearly marked to show their position in the building, ensuring easy construction. Kits are also designed and engineered to provide the structural strength to withstand a minimum of N3 (50 metres/second wind velocity).
The Daintree (modified by owner)
Size: 130 square metres (including verandah).
Accommodation: Three bedrooms or two with second lounge (master with walk-in robe and ensuite), wraparound verandah, central lounge/dining room and kitchen, bathroom, laundry.
Construction time: Nine months.
Construction: Timber with Hardies cladding, Colorbond roof and feature panels.
Special features: Building guided by sustainable principles including recycled and renewable resources, inside rock provides thermal mass, timber dominates, cross-flow ventilation and insulation cools home.