Find out how to prepare for your first meeting with an architect with expert advice from architect Robert Harwood.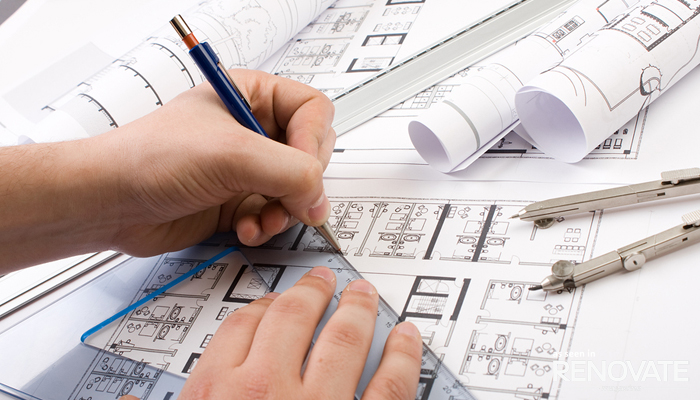 For both the architect and the client, the first meeting is vitally important because it sets the framework for the entire project. From a client's point of view, they may be assessing the architect for their design skills and experience and whether the architect's personality is a good match with their own. All of these are crucial factors. This is the person who is, potentially, not only going to deliver your new home but a fair chunk of your future life. You definitely need to know and trust each other for your project to be a success and your first meeting will give you some indication of whether this will work.
Whether or not you've worked with an architect before, there are several things you can do to make the most of your first meeting, as well as save yourself time and money. The following points are based on years of experience meeting with clients and observing those who get it right, and why.
1. Do your research
It's very helpful for an architect to have any previous plans of the property available to them — whether they are simple layouts from real estate leaflets or comprehensive plans from previous renovations. You can often source old drawings from your local council's database for a small charge.
Magazines are also helpful. If you're a couple, put sticky notes with your individual comments on each picture before your show the architect, because people see different things. Often with a couple, one person will simply agree with the other, but it's more helpful for an architect if both partners express their own reactions. You don't need to present a unified idea at this stage and it's quite ok to have conflicting thoughts about things you and your partner like and dislike.
2. Writing a brief
Your initial brief should contain information regarding general priorities rather than stylistic preferences. For example, better natural light, more play room, the number and sizes of the rooms, the overall size and theme of the structure, features you would like to have and key functional or special inter-relationships of spaces. It's also a good idea to have a general idea about a stylistic palette you prefer (for example, do you prefer a classic, natural, urban or Bijoux look?) rather than being fixed on using specific materials and finishes.
Once the project begins, go back to project brief at regular intervals so you don't lose sight of your original goals and budget.
3. Fine tune your senses
Visit a few buildings and interiors you find inspirational, making notes and taking photos of what you like and don't like. Even take a tape measure if possible to try to work out what feels "too low", "too tall", "too spacious" etc. This will help train your senses and your language to describe what you like. This is very helpful for an architect as you're then more capable of explaining what you want in terms of the space around you. It's these spatial aspects that are actually the most fundamental and become the bones of the structure.
4. Be realistic about what you can afford
Know what budget you have available and any constraints that may exist. Create a wish list in terms of "absolutely must achieve", "would like to achieve" and "would be nice to achieve". Then you can more fully understand and balance the budget with the objective and know what the extra budget would give you.
Don't go in with preconceived ideas about what the project will cost and avoid asking the architect what something will cost on the spot. Architects can make initial comparisons with other projects but generally use cost consultants to work this out accurately once the desired scope of work has been decided.
5. Be clear and open
It's crucial to be clear about whether you are renovating your home to sell it in two years time or whether you want to live there for the next 10 years. These are two entirely different objectives that will impact significantly on the design, so it's vital that your architect knows about them to assess your project realistically and design accordingly.
If you've had previous designers or draftspeople working on your home's design, it's important to show this work to the architect, who can then get a clearer picture of what's already been considered in terms of the design. You can then optimise your use of an architect's time.
Be open about disclosing any work you've already done on the property — it's a bit embarrassing when the architect says "you should probably consider removing this carpet" when you only installed it two months ago. Yes, it has happened!
Don't tell the architect that you know exactly what you want. It's like visiting a doctor and telling them you already know exactly what's wrong with you. If you do have strong ideas about what you want, that's fine, but make sure you give the architect the opportunity to do their job and improve on them.
Don't ask an architect about what size steel beam should span between Point A and Point B. The architect will have a fair idea of what works but he or she will need to consult a structural engineer about these aspects of the project at the appropriate time.
6. Most importantly, you need to understand what you want an architect to achieve for you
For example, do you want your architect to plan the house to better suit the everyday practicalities for all the people living there? Or is the prime objective to create a signature spatial solution that expresses exactly who you are, or want to be?
By Robert Harwood RAIA
Image by Ivo Sekulovski/bigstock.com
From Renovate magazine Vol. 8 No. 4