Tricks and advice for building to a strict budget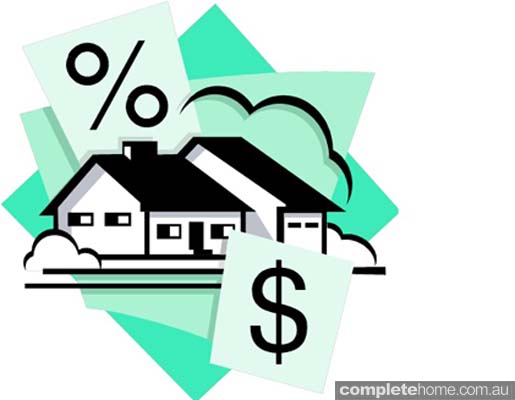 This issue's article will consider ways to ensure a budget doesn't blow out. We'll look at contingencies and how to minimize surprises — usually these relate to initial site works and drainage. It's also important to consider how to calculate ways to reduce costs if the pre-construction estimates come in too high. And, finally, we'll look at ways to avoid getting carried away making changes and sourcing materials.
Building without blowing your budget
Let us imagine you are not a member of a mining dynasty, a Lotto winner, closely related to a European royal family or an anaesthetist; yes they earn the highest hourly rate for non-management employees in Australia ($125 an hour)!
On that basis, if you are about to build, extend or renovate, it is quite likely that before you start this process, you will sit down and assess how much you can afford, whether there is money in the bank, space on your credit card (bad idea by the way) or, perhaps, a top-up of the old home loan. Whatever the source of the money, there is likely to be a point where it dries up and if you do need more, it can be difficult and expensive to obtain. As we all know, when finances are tight, the costs of financial solutions are often at their hardest. It's funny that when you have money, getting more is not too hard, however try raising finances at any other time and rates are either off the scale, the lending criteria is designed to not lend or you have the "people visit you in the middle of the night insisting on payment" option.
Speak to many who have gone through the renovation or build process and going over budget is often par for the course. I don't see why — in fact, we built our family home in 2010 and came in on budget. We have renovated, too, and that is notoriously tricky and we were maybe a few per cent over but it wasn't a budget "blow out". Ironically, I have never managed to, and know very few who have actually been able to, come under budget … unless they forgot to build a few rooms.
I am about to be involved in developing some urban housing for the first time and I can tell you, going over budget will simply not be an option. If we do, we could end up working for 12 months for nothing. This latest stage of my real estate career has meant I have had to really identify and focus on ways to avoid the spiralling costs syndrome; a common complaint that needs careful management and control. I believe there are three major points in any project where budget can be controlled, and control is what you need.
Point 1: The pre-construction stage
Every development, big or small, needs a detailed budget — and not one on the back of a Post-it note, or scribbled on your "TabletPad", but an in-depth break down of all the components of the project. If you do not feel capable of this task, and for many it really is not as easy as you may think, get help.
If you go online there are companies that can offer help, advice software and even phone-in helplines. For example, archicentre.com.au has a downloadable cost guide; rpdata.com has a build/renovation calculator; and homedesigndirectory.com.au also has build/renovation calculators. The minimal costs should be covered by the potential accuracy of your budget, and it could be an absolute lifeline. If you are using a contractor who has compiled the budget, please scrutinize it. Do not just accept it. You need a full breakdown. Perhaps the budget for windows is $10,000. Question if you can really buy and have delivered the window style and quality you want for that.
This can be a very slow and intense part of the building or renovation process and it can take many weeks if you go it alone. It's important to get it right and to itemise your budget in great detail. The more detail, the better because if, for example, the allocation for a certain material was $100 and then you could not secure the product for that, you need to try and make up the cost difference elsewhere. The important element is your level of control and discipline to manage the budget. As they say, knowledge is power.
If you approach suppliers and they quote too high, you will know. Then you have options to protect your budget and either they will meet the reasonable figure or you can source from elsewhere. If this fails, find an alternative. You need to get the budget right from the start and you need to factor in everything — from rubbish removal to council charges and applications, compliance with health and safety legislation to extra insurances. Include a contingency sum in your budget to allow for these unknown elements.
Point 2: Avoiding nasty surprises
This is one of the most common causes for overspend. In my experience, this can relate to unforeseen issues below the ground or the ground works themselves, such as underground services or pipes getting in the way or damaging hidden services. Other issues that are typical nasty and costly surprises for the novice include more complex foundations or site clearance costs not included in a budget, delivery access and potential boundary fence damage. Allowing for bad weather and delays in deliveries should be part of your contingency allowance and should be expected. The worst mistake you can make is to think this won't happen to you. It probably will and, generally, you will have to pay for the solution.
The way to mitigate this is by knowing your build inside and out — and below. This means having detailed soil tests by the experts, knowing lead times for the materials you want and having alternative options when it looks like there could be lengthy waits. And it's vital to have trades lined up and in order. The builder, project manager or yourself will have to keep a close eye on this as there's no point in having the painters arrive before the electricians have done their final fix — obvious stuff of course.
Try to maintain a happy ship. Ensure all suppliers and tradies are paid on completion of their tasks or services, even a few beers on a Friday afternoon delivered to the site (for later, of course — no drinking on-site or before they get in their utes) will appease even the most-seasoned tradie. Keeping everyone on side means that for any issues you encounter, solutions will be sought a lot quicker. Remember, problems usually come complete with a price tag!
Really know your site and your project, keep an eye on proceedings at all stages and try to predict all potential pitfalls.
Point 3: Changes come at a price
My final point on budget-blowing avoidance is all about you! Even with accurate budgeting and detailed site and build knowledge, it is still possible and, I am sorry to say, quite likely you will overspend. This final point can occur at any stage of your project.
For many of us, the chance to build a home for our family, or the large renovation project that will transfer our dull, dreary family home into a place we really want to live, is a dream come true. Sometimes, the sheer scale of options, decisions and choices seems very daunting. To establish that all-important budget, fixtures, fittings, sizes and layouts must be decided and figures been allocated. The trouble is, in real life, at various points of the build, your dreams become reality and there lies the major potential pitfall.
Manage mistakes. Occasionally, contractors may misinterpret plans, window positions, partition placements, service points, heights etc. It is rare but possible. If you are regularly on-site and know your plans, in time, mistakes will be remedied by good contractors and cost you nothing.
More dangerous to your budget are the dreaded "changes". Wanting a partition wall moved, adding windows, changing sizes, adding or reducing square metres, upgrading fittings or getting carried away and spending more on certain materials is not only easy to do, but is one of the main reasons for budget overspends. If you want to stay on budget but you also want to upgrade the fitting you have already chosen, then you have to find savings elsewhere. This takes serious discipline because suddenly that limestone free-standing bath you wanted to add to the ensuite might have to stay in the brochure!
Stay focused, stay disciplined, stay on track and know if you wander off the budget track, you need to find a way to recoup any unexpected or chosen over-budget spends!
Plan well and spend wisely
Building a structure from start to finish, or renovating an existing building, has so many variables. Using experienced contractors and experts will assist in budget management, but you have to play a vital role. Ensure the budget is right from the start, anticipate nasty surprises and investigate every element, from pre-construction to handover. Keep to the budget with discipline, understanding changes may cost you dearly if demanded at the wrong time.
My family and I actually thoroughly enjoyed our build/renovation process. In many occasions, we were literally living among the dust and rubble with the camping table and microwave/barbie kitchen combo set-up. There were some not so pleasurable stages but the results were always worth it. So consider my points and face up to the challenge, expect to put in the long hours and then, possibly, you may just manage to stick to your budget.
WORDS / Andrew Winter
From Grand Designs Australia magazine Vol. 3 No. 1