From the traditional brick veneer to architectural marvels and eco-inspired innovations, architect Robert Harwood shares his thoughts on conventional vs alternative home design.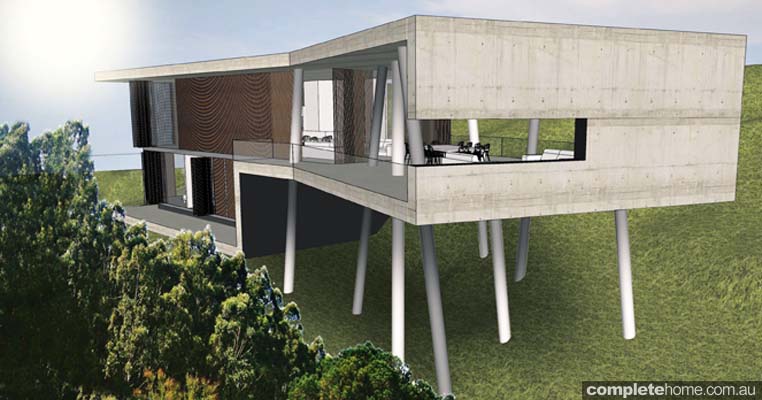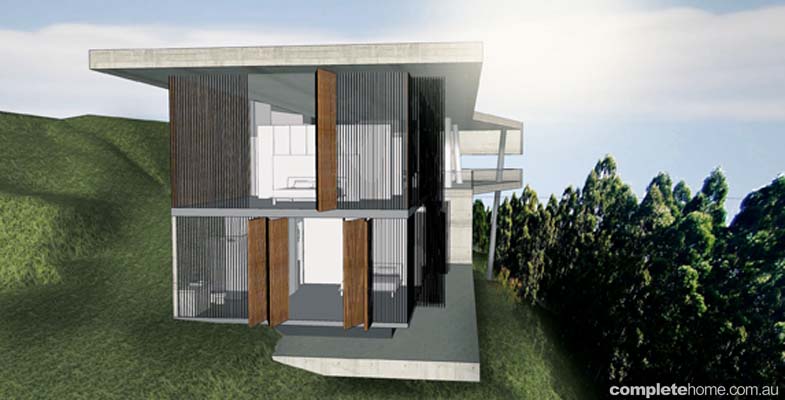 The conventional
Conventionally constructed residential dwellings have evolved throughout Australia in response to a range of conditions. These include the local climate, availability of specific building materials and the historical and ongoing evolution of expectations of a home's spatial layout and appearance. These factors dictate regional differences from the conventional form, but overall a familiar and identifiable suburban home type exists throughout Australia.
Wherever we are in Australia, this home will have three or four bedrooms, a living room, kitchen, dining room, laundry and a bathroom or two. It will include a backyard and a garage. Its boundary will typically be a timber paling fence. Construction starts with a concrete slab or timber sub-frame, then walls are built in timber or steel framing and clad in brick veneer. Colorbond steel or tiles make up the roofing. Most materials are brought to the construction site by a team of tradesmen with prefabrication limited to roof trusses, window frames and cabinetry.
This home has become a fundamental in Australian society: the setting for TV shows, the location business leaders and politicians consider first in their decision-making. This house and its suburban context meet the needs of most families and individuals as it provides for basic requirements shaped around our daily rituals of work, rest, sustenance and play. Our building industry has marketed and delivered this solution to large sections of the community at a price that is affordable to as many as possible.
This model, of course, doesn't suit everyone. It is human nature to seek out better and alternative ways to do things. There are plenty of people willing to look further to find solutions that fit their particular family structure, lifestyle, creative expression or ideological beliefs.
The alternative
When we hear of people looking for alternatives, the tendency is for it not to be located in an area surrounded by conventional homes. It could be situated in an inner-city suburb where a potential adaptive reuse option exists. But it's more likely to be beyond the city fringe, where land can be cheaper and houses spaced out on larger blocks in a more natural environment.
When we consider the inner city as a location for a home, primarily we see it as a higher-density area where buildings are compressed and stacked. Whether a terrace house, townhouse or apartment, each offers the basic functional spaces of the conventional house but (usually) in a condensed way and with a smaller outdoor space. The plus side of the compromise on space is the reduction of car use and greater access to retail and dining, work opportunities, cultural and sporting facilities and local communities.
The inner city can be thought of as one big adaptive reuse zone where old areas are refreshed and change over time. There is a communal will whereby planning controls often pit new ideas and development against the need to retain critical existing building fabric.
Going beyond the city grid, we can find places where it's more likely that alternative forms of construction can be considered by individuals or couples planning to build a new home. Aspirations to being green, off the grid, using new technologies and being expressive and sculptural can find purchase in the wide-open landscape.
Many of these directions have been explored and examined in the British and Australian Grand Designs television shows. A selection of these themes includes:
FLAT PACK
The use of wall and roof components that are largely assembled in a factory, then disassembled and taken to site and reassembled on-site.
Similar to flat pack but with modular units of a house assembled in a factory, transported fully assembled and then clipped together on site.
SITE-SPECIFIC DESIGN
Designing the building around a great view or using a difficult constraint, such as building within a bushfire-prone forest, to arrive at a unique and inspired solution.

STRUCTURAL SOLUTIONS
Choosing to use one specific material, such as concrete, and exploring all its qualities in a sculptural and architectural way.

GREEN IDEAS
Straw-bale walls and green vegetated roofs are examples of expressing your ideological principles in the building you choose to construct and live in.

SHELTER 
Whether using shipping containers or canvas and poles to build a yurt, there is a stepping-back to first principles when considering what shelter means.

ADAPTIVE USE 
Adapting an old structure, whether a barn, old mill or church, leads to dramatic spaces and rich textures and details. The history of the site is literally built into the home.
What excites me as an architect is that so many people are inspired and challenged to think beyond the conventional. Good architects with a balance and fusion of building knowledge, design skill and marriage guidance counselling (!) will distill and direct a project for their clients. Getting the best result out of, and for, the owners by helping them bottle their spirit in their building is the architect's objective.
By Robert Harwood
Images: Design for Hawkesbury River House, NSW, Robert Harwood Architect
From Grand Designs Australia magazine Vol. 2. No. 2