We reflect on the best of Grand Designs Australia and internationally of the past year
1. Design: Cut Paw Paw House
Location: Seddon, Victoria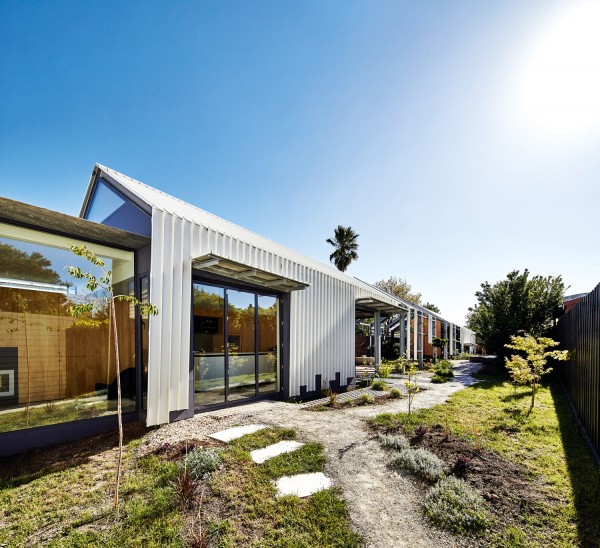 With the creation of "dwalls" (doors/walls), barriers were pulled down to create a special residence. Comprising a renovation and extension, the brief architect Andrew Maynard was given by homeowners Derek Rowe and Michelle Templeton was to make the house "ridiculously inside out". Giving an architect permission to let their mind run wild is a rare chance that must be firmly grasped and Andrew did just that.
"Cut Paw Paw is a structure that's deliberately incomplete," he says. "We not only tested successful ideas, we also left the building incomplete. The central space is an unclad frame within and surrounded by garden. It is both inside and outside, a new building and an old ruin. It is both garden and home." The clients originally requested the pre-war weatherboard bungalow be demolished and replaced with a two-storey sustainable house.
With initial plans scrapped, Michelle and Derek were convinced to make the most of what they had instead of replacing it, thus reducing their environmental footprint. "Sustainability is at the core of Cut Paw Paw," says Andrew.
Architectural design: Mark Austin and Andrew Maynard, Maynard Architects
Builder: Marcus Hamilton, Mark Projects
Photography: Peter Bennetts Studio and Tess Kelly
2. Design: Bushland House
Location: Park Orchards, Victoria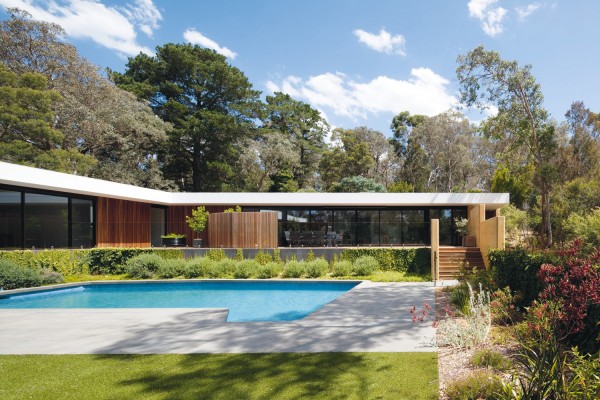 "Our brief to Ramon Pleysier (Pleysier Perkins architect) was to design a rammed-earth wall in front of the pool to act as a fence and to completely hide the house from the street," says homeowner Spence Thomson. "We wanted to create curiosity and mystery to passersby, and privacy while in the pool area." As an architect, co-worker and long-time friend of Spence's, Ramon was an obvious choice to spearhead the creation of the new home.
"Ramon had free reign to come up with the design that he did," says Spence. "He made fantastic use of our northern orientation to the front of the house, creating sun protection during summer and sunlight in winter."
From the timeless design to the modernist architecture, this home is a hidden delight, enjoyed by all who can count themselves lucky enough to dwell within its embrace.
Architectural design: Ramon Pleysier, Pleysier Perkins
Builder: Spence Thomson
Photography: Brendan Finn
3. Design: Norwich Eco Home
Location: Norwich, Norfolk, United Kingdom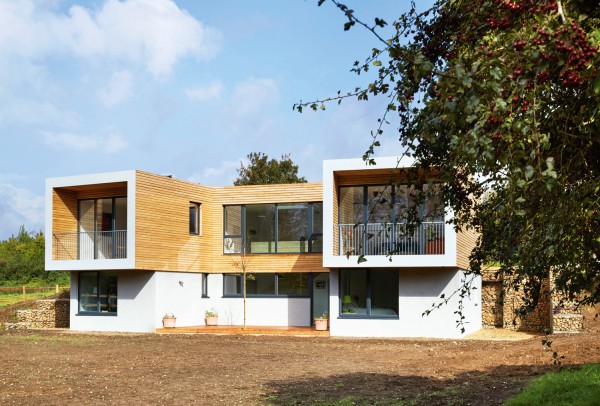 Homeowner Natasha Cargill's faith in 28-year-old architectural designer and family friend Wilf Meynell was a heart-warming element of their build. "It was always going to be a challenge but it could be done, so we were going to do it. That was the soundtrack to most of the build, plus Wilf is incredibly optimistic," says Natasha. After meeting architect Wilf for a chat about ideas, his father sold Natasha a plot on the family estate.
Building on family land was the start of Wilf's above-and-beyond approach to the project. He designed an innovative and considered home and, to save Natasha money, took on the roles of environmental engineer, planning consultant and quantity surveyor, and rang suppliers for better deals. He even convinced his dad to allow them to fell red cedar for the building's cladding and enlisted architecture students to install it for free.
For a young architect in training, it's essential your first full-sized dwelling is exemplary, but Wilf's commitment went beyond self-interest, which stood him in good stead when the build became difficult. Despite everyone's best intentions, the schedule ran behind and with some unexpected groundwork costs, Wilf needed an extra $14,000 to finish on time and achieve the Code Level 6 environmental standard. At the 11th hour, a site inspection revealed the build had slipped down to a Code Level 5. But with lateral thinking, Wilf introduced ecological landscaping to secure Code Level 6 status.
Architectural design: Wilf Meynell, Studio Bark
Builder: Norfolk Pro Build
Photography: Darren Chung
4. Design: Melburnian Hideout
Location: Elwood, victoria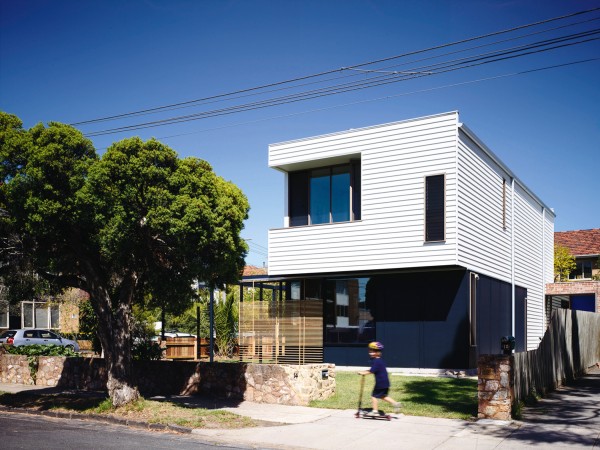 Making the most of a small space isn't an easy task, but architect-owner David Vernon has achieved a family home that considers the current and future needs of his family, who now live in a house that proves good things come in small packages.
David created his family home from a single-storey brick house with deteriorating outbuildings that is small on space but big on character. He set out to build a home for his young family that could bring them all together, while catering to their future needs, and aimed to make the most of the land. Creating a home that works within its natural environment is close to David's heart.
"We were mindful of making the house work with the street and maximising what we're doing inside and out," he says. "Having more carefully considered green spaces makes for a more pleasant environment. We need a balance, and that takes good design."
Architectural design: David Vernon Architect
Builder: Mark Projects
Photography: Derek Swalwell
5. Design: Brookfield Spotted Gum
Location: Brisbane, Queensland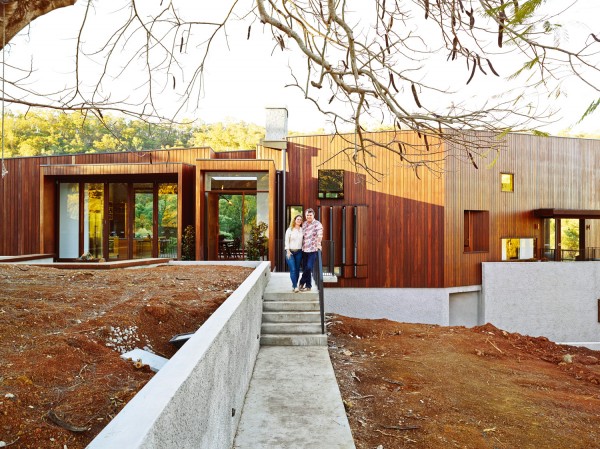 The plan was for a modern farmhouse that kept the essence of Milly Davenport and Andrew Wilson's old home. "We wanted something different," says Milly. "We didn't want a regular house. What was really important to us was to capture that view [and] the views over the valley." With the mathematically complicated design on the side of a hill next to the old cottage, marking out where the house would sit was an obstacle.
The irregular design defies the contours of the land by rising up as the hill falls. Even architect Shane Thompson, who designed it, questioned how it would be built. "We talked a lot about where the house would be positioned, it doesn't really hit home until you actually have to put that blade into the ground," says Shane. The top end of the house is embedded into the hill but as the house moves further down, it grows in size rather than following the contours. The long, skinny shape provides all family members with their own space. The nose of the home rises 9 metres off the ground — a statement in scale as the house gets higher and higher — and the way it sits on the hill is as if it's meant to be.
"It's meant to be here," says Milly. The building is at one with the earth it sits on, a crafted object with a minimal palette of timber, concrete, copper and rough-cast render, and the timber upper-partition of the beautifully articulated building appears to float out of the hillside.
Architectural design: Shane Thompson Architects
Builder: HHH Constructions
Photography: Toby Scott
6. Design: Foxground Pavilion
Location: Kiama, New south wales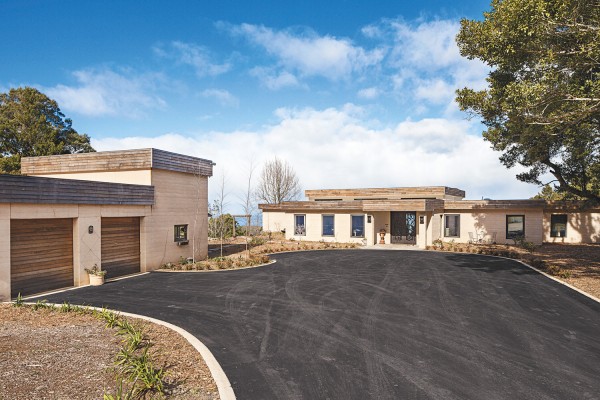 "We changed the plans [and] looked at them from a practical point of view, as to how efficient it was going to be working within the house," says owner-builder Joe Cato, of his pavilion-style house made of rammed earth. "We also reviewed it from a cost point of view. When I looked at the original plans, the numbers came out more than what I wanted, so we decided to get it closer to $1 million."
To bring costs down, Joe simplified his building's shape, straightening out walls, making it easier and quicker to build. But late changes meant more work for architect Brent Rodd. "With any job, there's usually a lot of changes, but they often occur at the schematic stages, not when you're doing construction drawings," says Brent.
Architectural design: Brent Rodd (02 4465 1475)
Builder: Joe Cato
Photography: Nicholas Wilson
7. Design: County Derry
Location: Northern ireland, United Kingdom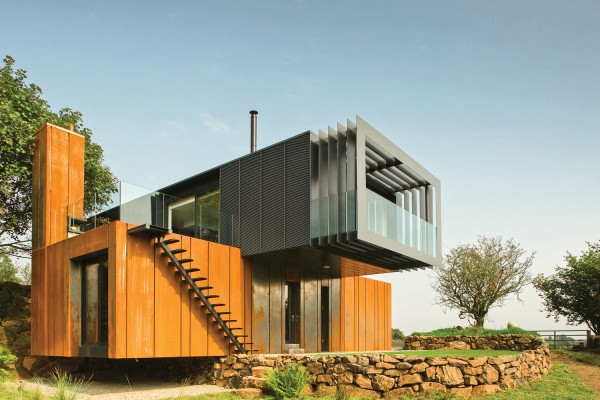 Architect Patrick Bradley used a base of shipping containers to build his home on an achievable budget on his parents' farm. "My idea was for a bold, contemporary home made of boxes balanced on top of each other," says Patrick. His design is simple, with the house having two principal faces. For the view from the road, Patrick created a toned-down facade, with one box laid over another in a natural palette that blends with the countryside.
The rear elevation is more sculptural, with a large statement chimney and a cantilevered first floor, balcony and terrace. The planning office embraced the boldness of Patrick's scheme. "It's not as dominant in the landscape as you might think, when you compare it to the enormous white bungalows that are the norm here," says Patrick.
Architectural design: Patrick Bradley Architects
Photography: Aidan Monaghan
8. Design: Stylish Statement
Location: South Melbourne, Victoria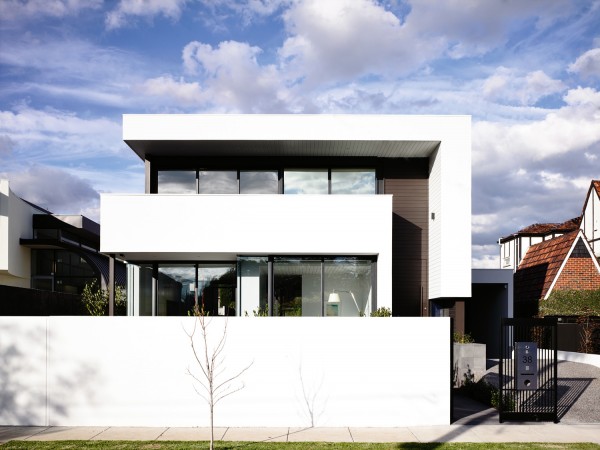 Completed in 2013 on a deep block in bayside Melbourne, this three-storey home designed by Venn Architects provides all the features of a high-quality new build, with bright, airy spaces, abundant storage, bedrooms with ensuites, well-situated living areas for parents and children and, most importantly, ample room for a family to grow.
"The house provides sophisticated family living," says Geoff Challis, principal architect of Venn Architects. "It makes a stylish statement, has beautifully flowing light and space and is delightful to be in." Aesthetically, the home's white-rendered exterior contrasts beautifully with the dark timber detailing. Inside, this palette provides a gallery feel, with sharp interiors that are also light and airy.
In addition to the home's design, Venn Architects helped the owners choose furniture and furnishings to complement their space. "My favourite part of the home is the living area where all the design elements and layers come together to create a stylish but very liveable and functional space," says Geoff. "It's a house where the family has everything they will ever need. It's certainly a wonderful place to call home."
Architectural design: Venn Architects
Photography: Derek Swalwell
9. Design: Castle Rock House
Location: Whangarei Heads, New Zealand
The owners of this beach house wanted their Kiwi bach to be "an enabler of the creation of summer holiday memories for their two young children", says architect Nicola Herbst.
"They wanted a modest building … the house to have an ambiguous relationship between inside and out and to capitalise on the views." And those wrap-around views were well worth working with. Nicola's husband and business partner, Lance, comments, "It's so rich in view in all directions." The home is modest in size, with two compact pavilions joined by an open but roofed walkway, one with the living room and kitchen, the other housing three bedrooms, the main with an ensuite as well as a shared bathroom. Symbiotic with the contours of the site, the home sits like a nest in the landscape.
The desired ambiguous relationship between inside and out has been achieved in spectacular fashion. "The demarcation between inside and out is blurred to allow the inhabitants to engage with nature in all its guises — wind, sun, smells and sounds," says Nicola.
Architectural design: Herbst Architects
Builder: Lindesay Construction
Photography: Patrick Reynolds
10. Design: Clarement Origami House
Location: Claremont, Western Australia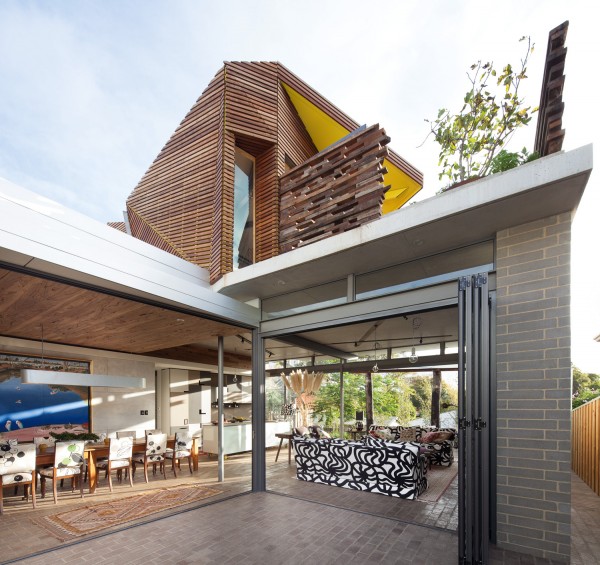 An architect for 30 years, Ariane Prevost doesn't rely on AutoCAD. When designing this home, she created what was in her head, often on-site. When Peter Maddison asked, "Have you done a drawing of it?" she replied, "Of course not! Don't forget they built St Paul's Cathedral from watercolour drawings on three sheets of paper. I want to make something very beautiful, something that I've made myself, something where the journey is as much fun as the destination."
Her simple, pavilion-style home makes the most of its small block but can be easily transformed. Around half the walls are glass, opened up to create a huge single room incorporating the central courtyard. Inside, are moveable walls, too, as Ariane didn't want to restrict rooms to one use. "The brief to self was easy: build an easy-care and easy-living, happy, beautiful and cheap house using sun, wind and light to maximise the potential of the site," says Ariane.
Architectural design and builder: Ariane Prevost Architect (0411 592 187)
Photography: John Madden
11. Design: Curved House
Location: Hobart, Tasmania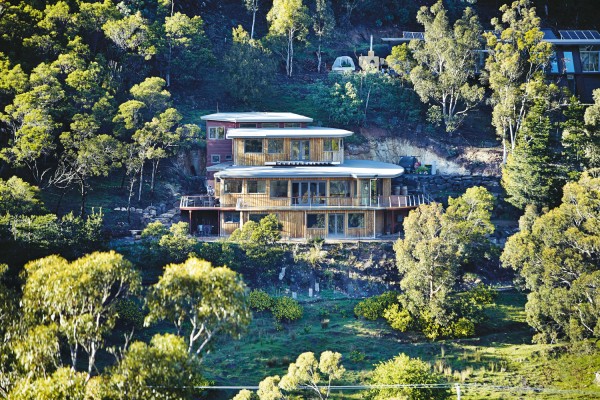 Homeowners Cole and Jane Bradshaw had long admired the work of architect Greg Burgess. This inspired the concept for their curved home in a hilly Tasmanian suburb of an organic design where straight walls were the exception to the rule. The idea behind the curvaceous beauty was that it would sit softly on the land, nestled into the hill almost as though it was always there.
"The homeowners approached us with a very rough clay model of their vision for the house," says designer Graham Richmond. "As the designer, what set this project apart for me was the joy and fulfilment I experienced in being part of such an amazing journey for the homeowners and their extended family, to witness the family bonds developing during the build and to see them conquer the many obstacles created by such a complex design."
Architectural design: Graham Richmond, maui a'kai (formerly ecohaustas)
Builders: Cole Bradshaw (owner), Leif Bradshaw, Freddy Mausz
Photography: Peter Whyte
12. Design: Vineyard Views
Location: Kangaroo Ground, Victoria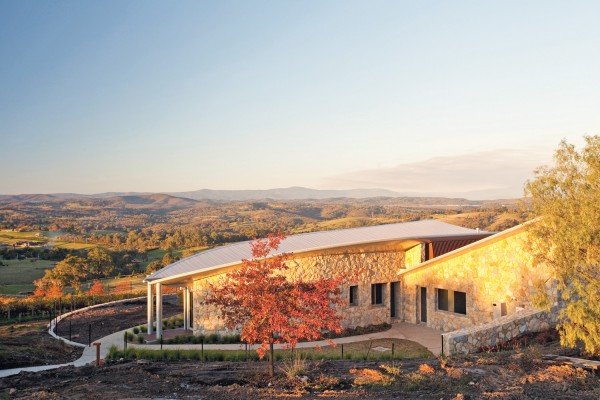 This architecturally captivating home offers the perfect retirement retreat, on a 12-hectare property previously completely covered in vines. Perched on a relatively steep, north-facing slope, the home's main objective was to make the most of the magnificent views from north to east. The project was a collaboration between Michael Sheppard from Sheppard & Dwyer Architects, Lisa Grounds from Bliink Interiors, and Anthony Northwood from Eco Edge Homes.
"Working with Michael was like having a master class on shapes and angles," says Lisa. For a modern and clean look, the minimalist exterior palette includes stone, glass, metal and timber. Fascinating architecturally, this unique home makes a strong first impression with curved eaves and a butterfly roofline. Designed along the contours of the land and taking from the bushland surrounds, the main roof was inspired by the shape of a gum leaf.
"A lot of locals and sightseers assumed the structure didn't fit into a traditional or recognisable house shape," says Michael. Anchoring the home into the hill and contributing to its solid structure, the south half of the house is finished in natural stone. On the north side, the combination of glass, steel and a cantilevered deck creates a feeling of lightness, as if the home is floating above the vineyard. And the home certaintly fits the brief for a view, taking in the stunning landscape that stretches towards Kinglake National Park and the Yarra Valley.
Architectural design: Michael Sheppard, Sheppard & Dwyer Architects
Builder: Anthony Northwood, Eco Edge Homes
Photography: Robert Hamer
13. Design: Mount Eliza House
Location: Mount Eliza, Victoria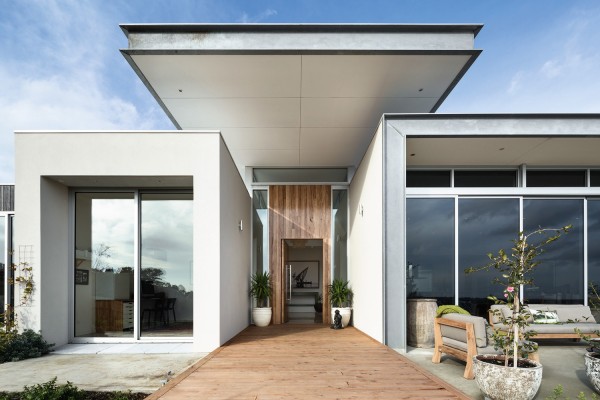 Six months was the timeframe homeowner Georgina Knightley had for this build. But, due to major planning problems and the resulting financial impact, it took more than four years before she, her husband and their two teenage children could finally call it home — the slowest build in Grand Designs Australia history.
"From the start, we were sensitive to the neighbourhood and took the original sketches to the neighbours to consider their needs," says Georgina. "They kept changing their requirements, which meant we had to redesign the north of the house three times. This was very costly. It was heartbreaking as we had to compromise the design to appease others, who subsequently sold their houses and moved on.
The cost to them to appeal our design was nothing, but it cost us hundreds of thousands of dollars in wasted time and money, let alone our lives." Glass and steel dominate the external structure, while the interior is a mid-century-style haven. The serene property is a far cry from the angst and upset it took to get it built. As Georgina says, "The home could be described as uplifting to the soul despite its difficult beginnings."
Building design: Modularc
Builder: Whiteside Homes Pty Ltd
Photography: Emma Cross
14. Design: Wallaby Lane House
Location: Noosa hinterland, Queensland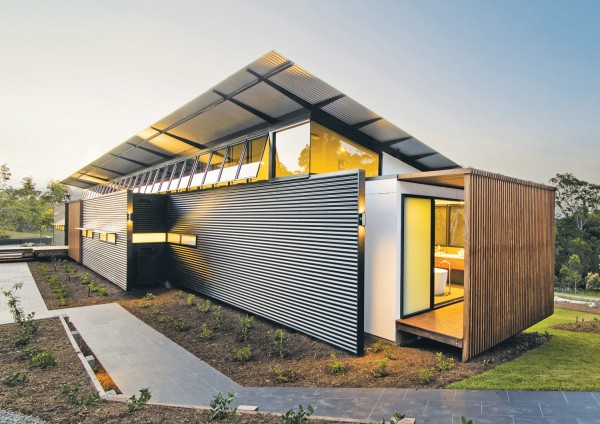 "A building that could deliver both practically and emotionally was paramount," says architect Jolyon Robinson. Large land area doesn't necessarily mean a huge house. Size can also be dictated by aspect, neighbours, lifestyle needs and budget. Funds were limited, and the natural aspect was west, which attracts fierce afternoon sun here. So the house plan was pivoted to the north, its envelope designed to follow the contour of the land.
Other challenges were the sloping topography, existing neighbours, remnant bushland and delays from rain that resulted in the family living on-site in the bush studio, which was completed first. As to the style of the home, "The client had spent years living in Bali and admires modern tropical buildings," explains Jolyon. "The design was to include a pool and cater to indoor/outdoor living in a subtropical climate." Most importantly, "The house was to be nurturing and uplifting."
Architectural design: Jolyon Robinson, Robinson Architects
Photography: Nic Granleese and Alain Bouvier
15. Design: Sydney Villa
Location: Northern Sydney, New South Wales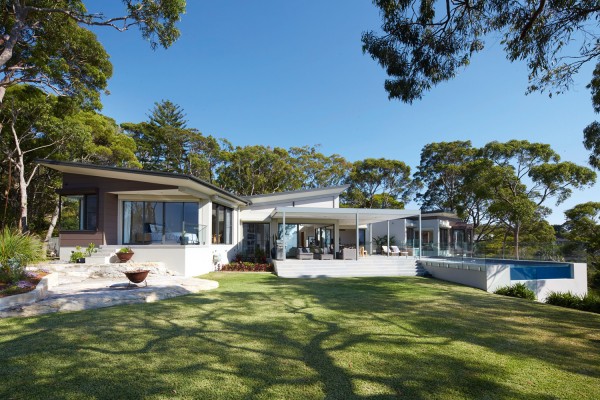 This home was designed with a connection to nature at the fore. Homeowners Carrie and John approached architect Justin Quinlan with a brief for a practical, functional, private and well-designed home. "The project was conceived to function much like the torso of a person," explains Justin. It's easy to imagine the home's shape is a person balancing on the land, its arms outstretched and enjoying the outlook from high on the hill.
"It has its back to the street and its arms stretching out into the landscape," says Justin. "The common areas are sheltered back between the two arms, with the kitchen sitting right at the centre of the plan, at the conceptual heart of the scheme." The design allows for space and light so the full appreciation of the natural beauty enveloping this home can be embraced. Each space has been carefully thought out and is well utilised.
The owners put this down to good preparation and worked closely with Justin to create detailed plans. "We put great emphasis on staying true to Justin's design and not changing anything during the build," says Carrie. The relationship with the land was an important part of the design and requirements of this family. "Justin did an amazing job of designing a house to suit the block of land and our briefs," says Carrie.
"There is a harmonious relationship between the building and its surroundings," says Justin of this new build, which has two storeys, five bedrooms, four bathrooms, two living areas, a double garage, pool and decks. The building forms float over existing rock ledges, jutting out and creating a series of different living platforms.
Architectural design: Justin Quinlan, The Quinlan Group
Photography: Tyrone Branigan
16. Design: Shipping Container
Location: Brisbane, Queensland
After looking at a shipping container for a cheap backyard studio for artist wife Diana, builder Todd Miller got the "notion of building an entire house out of them, and so the process began. Once we decided to use shipping containers, it got bigger than our initial vision," says Diana.
The scale of the house grew in size and Todd's innovative concept led to plans for a three-level home. Constructing such a unique build was daunting, and Todd was never quite sure if his plans would work. Bringing the concept to life was definitely a challenge. As the build took place, the design and layout of the home changed, with rooms evolving and new spaces taking in the spectacular views created.
The intention of the house was never to hide its shipping container roots but with so much hard, cold steel, other elements, such as timber, were introduced.
Architectural design and builder: Todd Miller, ZieglerBuild
Photography: Christopher Frederick Jones
17. Design: Kirribilli Makeover
Location: Kirribilli, New south wales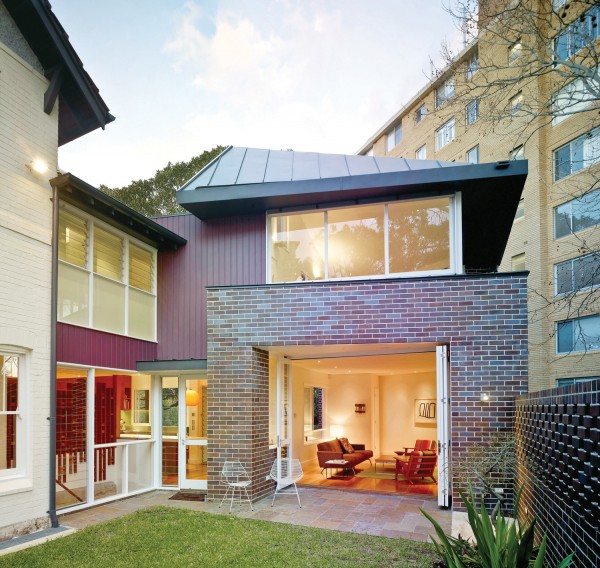 More than 100 years old, this heritage home now fits a modern family's lifestyle while honouring the beautiful elements of its past. Architects Phil Moore and Stephen Evans were to adapt and improve it for the modern era, and tidy the series of uncomplimentary renovations over the years.
"The original building was in good condition but suffered from a series of ad-hoc additions, resulting in ungainly level changes and inherently poor connections between the internal and external living spaces," says Phil. In keeping with the success of the building's original tower, the design solution and central idea was to build a new tower over three levels.
"It was a singular solution to a variety of problems," says Phil. The tower is located against the rear boundary of the property in a corner of the garden, and was deliberately separated from the existing building by a new multi-level circulation link. The circulation link and tower "stitched together" the two different levels of the site and also created a new hub for the home. The new roof of this home's tower now scoops light into the building.
"It's a really happy place," says Phil of this family home that now serves the needs of its owners.
Architectural design: Phil Moore and Stephen Evans, Melocco & Moore Architects (meloccomoore.com.au)
Builder: Rod Verduci, RBV Builders
Photography: Brett Boardman
18. Design: Family Haven
Location: Northbridge, New South Wales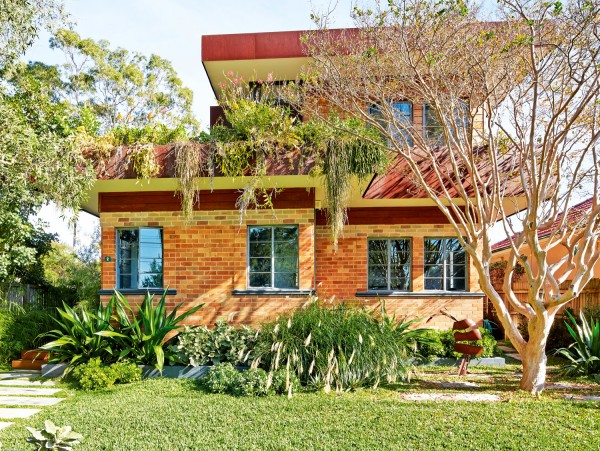 Homeowner and architect Sarah FitzGerald relished the idea of complete freedom to design her family home and explore environmental design. "The main brief was to create a family home that our three children would grow up in, and that we would grow old in," she explains.
While Sarah was careful to pay respect to the original 1940s brick bungalow, her main design direction came from considering privacy and environmental sustainability while exploring the concept of the family home. Sarah drew the plans while heavily pregnant with her third child. Once her son was born, she continued designing their perfect family abode.
"It was a very busy time … but it was a pleasure to design a family home while being immersed in family life and being at home every day," she says. "I was able to think conceptually about what a family home really is … the social aspects of living together as a family unit, as well as the responsibility you have to neighbours as part of your immediate community and to the world beyond this."
As much of the original house as possible was kept. A bedroom, studio and bathroom were added upstairs and the entire roof replaced to unify the new with the old.
Architectural design: Sarah FitzGerald
Builder: Liam Flood, To The Mil
Photography: Marian Riabic
19. Design: NZ Tree House
Location: Manukau Heads, New Zealand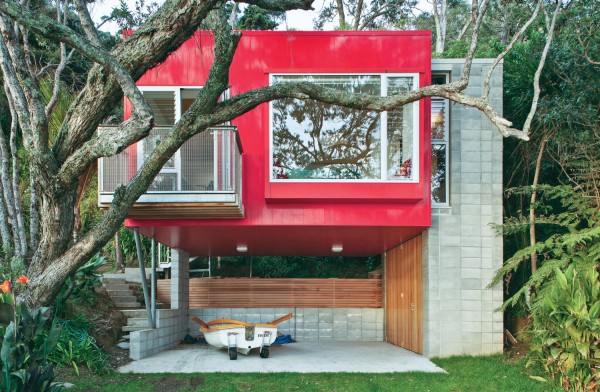 This vibrant red bach is a simple, practical design that provides family space on a small site. The compact design is a single-roomed box that makes a colourful statement.
"There are a number of traditional Kiwi baches along the beach, many of which used to be brightly coloured … we wanted to begin a reversal of this trend, which pleasingly has started to happen," says architect-homeowner Pete Bossley. Built over six months alongside the existing yellow bach, this lofty new house provides an extra bathroom and large room that acts as a combined workspace, bedroom and rumpus room.
Architectural design: Pete Bossley and Miriam van Wezel, Bossley Architects
Builder: Gary Hamilton Builders and Martin Bucksey
Photography: Simon Devitt and Pete Bossley
Originally from Grand Designs Australia Sourcebook, Volume 3