The finalists have been selected in the Grand Designs Australia Magazine House of the Year Awards brought to you by Cosh Living and Rylock Windows & Doors
Selecting the finalists was a difficult task due to both the volume and calibre of entries. April Ossington, Editor of Grand Designs Australia magazine, said, "Australian architects are some of the world's best, so it's no surprise the standard of projects was so high."
With finalists chosen, voting is now open to the public at houseoftheyear.com.au
Entry is now closed for the 21/22 program and the finalists have been determined. They are:
1. Tent House by Sparks Architects and Jaicon Construction. "In response to its sublime rainforest surroundings, Tent House recreates the magical feeling of camping among the stars. To make the home habitable year-round, a dual concept was employed. The home consists of an operable insulated box for cooler months that makes way for a tent-like feature in the warmer weather — seamlessly connecting indoors and out."
2. Bellbird Retreat by Steendijk Architects. "Everything from its architectural form, positioning and building materials to its climatic sensitivity and framing of views connects this bold bushland masterpiece to the natural environment in which it's situated."
3. Bendalong Beach House by Sanders Construction Projects and Madeleine Blanchfield Architects. "Good architecture doesn't have to be ostentatious and nor should it stick out like a sore thumb. The brief was for a humble, 'beachy' home with a strong connection to nature, which also tied in with the laidback community of Bendalong. Bendalong Beach House is visually impressive but assimilates perfectly with the environment, neighbouring residences and the tight-knit community it's located in."
4. Upside Down Akubra House by Blue Eco Homes and Alexander Symes Architect. "The brief for an architecturally designed, sustainable, off-grid home was satisfied and it ended up becoming a 'conversation tool for sustainable living, while celebrating the beauty and opportunity of doing so in this amazing country of ours'."
5. Macdonald Rd House by Philip Stejskal Architecture and Portrait Custom Homes. "The homeowners wanted an 'iconic home' — not pretentious but extraordinary. The standing seam cladding facade in Spotted Gum allows for ventilation and creates a unique design feature. What makes the home one-of-a-kind is the modern interpretation of the iconic Australian verandah."
6. The Ash by Dalecki Design and Limitless Building. "This young, growing family was in need of a light-filled home with a functional layout that supported them through the different stages of life and also utilised a layered, mixed material palette. Compact, yet spacious, the home has been separated into two distinct zones over two floors. The material palette includes brick and block work, as well as exposed concrete and timber to add texture and interest to an otherwise understated design."
7. Powell Street House by Robert Simeoni Architects. "It was considered a vital design requirement to 'stretch the eye' through the new living spaces — to create view lines so the original building and addition could be seen as one. The existing house had a 'quiet interior' and gentle light and the design was developed in response to this, as well as the creation of a long diagonal view through the existing shallow floor plan."
8. Crackenback House by Casey Brown Architecture and Bellevarde Constructions. "The brief was to design a working farmhouse that was architecturally unpretentious and utilised the modest materials of corrugated steel, rusted steel and concrete. While these materials are inexpensive, the beauty lies in the superb detail and execution."
9. Breezeway House by David Boyle Architect and Paterson Builders. "With a focus on passive design, this holiday house needed to accommodate multi-family use. The star of the show, the breezeway provides cross ventilation, acts to thermally regulate the house and provides access to flexible bedroom spaces that open directly onto garden areas."
10. Deco House by Mihaly Slocombe and Basis Builders. "Deco House is a compact, flexible and future-proof home with a lot of soul. Of particular note are the stepped bullnose roofs which solved several design challenges: they navigated maximum building envelope permissions, appropriately paid homage to the Art Deco style of its original era, and added a little Hollywood pizzazz to leafy Kew in Victoria."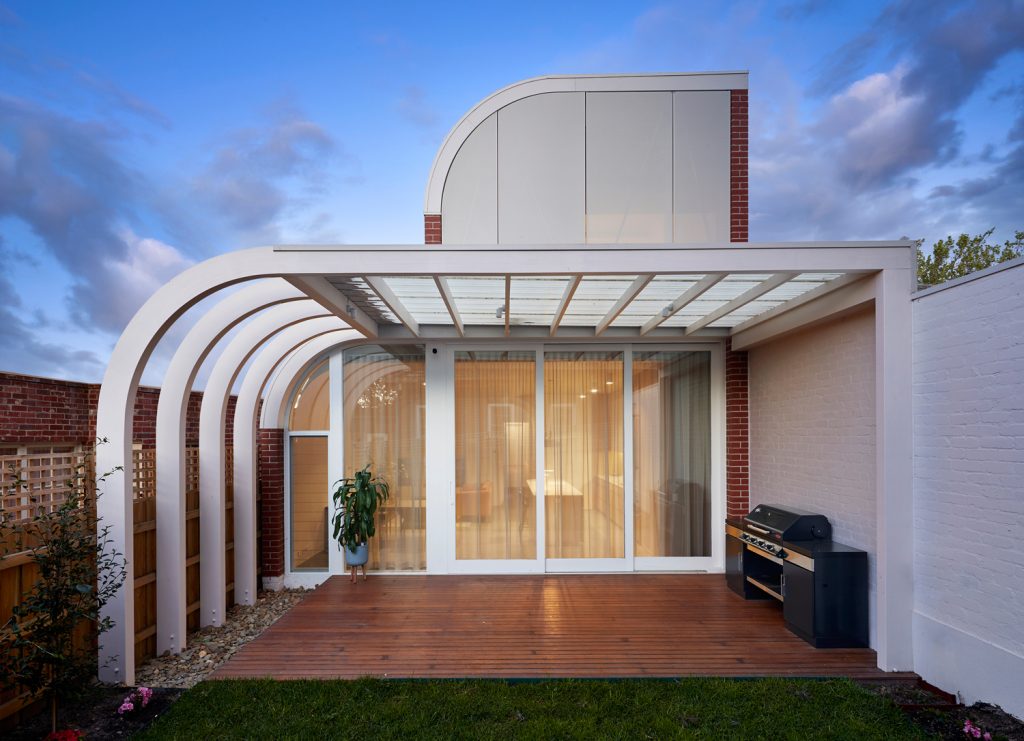 11. The Sticks by i architecture and Djokic Constructions. "A rural property in the Upper Kangaroo River farming area of NSW, The Sticks is an example of a new type of architecture that blurs the line between residential and hotel. Architects have termed this 'Sociable Housing'. It allows for the masses to enjoy great design and escape from everyday life in the process."
12. Hawthorn House by Edition Office and Flux. "The brief was for a private yet open house with multiple living areas. Enveloped by greenery, Hawthorn House is demarcated by two outstanding textured 'concrete shrouds'. These are linked by a walkway and courtyard garden."
The organisers have expanded the number of finalists from eight to 12 to provide a better showcase of the breadth of residential design that is happening in Australia at present. Finalists will receive coverage in the editions of Grand Designs Australia magazine that publish for the remainder of the year, and a winner will be announced in March 2022. As this program awards professionals for creating brilliant client outcomes, finalists will also be loaded into an online voting portal for consumer voting, the results of which will be sent to the judging panel for final considerations. The judging panel consists of Editor of Grand Designs Australia magazine April Ossington, Editor-at-Large and TV show host Peter Maddison, Design Director of Kett Justin Hutchinson, and Marketing Manager of Rylock Windows & Doors Emma Truong, with a component of Audience Vote – real clients responding to what they see.
"We are pleased to see the members of the architecture profession in particular embracing an awards program that focuses on residential work," said Publisher of Grand Designs Australia magazine Janice Williams. "We have a field of professionals who take client outcomes very seriously, and it is clear that we have some brilliantly designed projects."
Vote and win

With voting now open for the chosen finalists, three lucky voters have the opportunity to win one of three ultra-stylish lamps from our creative friends at The Montauk Lighting Co. Just pick your favourite home from the shortlist and tell us why you've chosen that home for your chance to win!
What's different about the Grand Designs Australia Magazine House of the Year Awards?
Anyone who has watched the Grand Designs Australia TV show admires the commitment of the homeowners as they deal with the ups and downs of creating a brilliant home lifestyle. Behind those clients are the professionals— architects and builders — who are managing the process as each project comes to life. Grand Designs Australia magazine is launching the House of the Year Awards to recognise the work of those professionals in making client dreams come true. In the real-world practice of delivering brilliant client outcomes, design must take cues from client desires and their expectations have to be managed. There is a real challenge in delivering what the client wants in the available location, on budget. This is a program that celebrates cases where the right balance has been achieved.
Sponsors
Grand Designs Australia House of the Year is pleased to have the following sponsors onboard:
Cosh Living – Gold Sponsor
Cosh Living represents several world-wide leading furniture brands in conjunction with its own brand, Kett, led by renowned designer Justin Hutchinson, designed and mostly made in Australia. "We are pleased to be involved with Grand Designs Australia and recognising the incredible talent evident amongst Australia's residential design professionals," says Colin Kupke, Director, Cosh Living. 
Rylock Windows & Doors – Silver Sponsor
Rylock Windows & Doors is an Australian-made and -owned innovative leader in the design and fabrication of high-performance window and door systems. "Rylock Windows & Doors has a true appreciation for delivering the design aesthetic clients want and the comfort they need. Our custom-made products are supplied to many upmarket projects across Australia and we are pleased to have this opportunity to showcase the excellence in craftsmanship across the residential design and construction industry, which deserves to be heralded," says Emma Truong, Marketing Manager, Rylock Windows & Doors.
Trade Partners – Geraldton Bricks, Loewe and Indi
Trade Partners to this program include:
·     Geraldton Bricks – One of the few boutique brickworks in Australia, producing upmarket clay bricks and pavers.
·     Loewe TV & Audio – Beautiful TVs and audio systems from Germany's premium electronic entertainment brand.
·     Indi Imports – The importer of leading European electronic brands including Loewe, M&K, Krell and Canton.
Voting is now open for the Grand Designs Australia Magazine House of the Year! Cast your vote here