Featured on the LifeStyle Channel's Grand Designs Australia, the stunning Balnarring Rammed Earth house is a perfect example of old Australia meeting new Australia.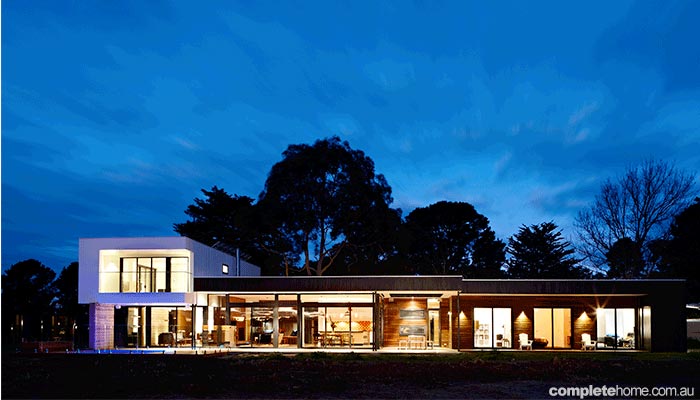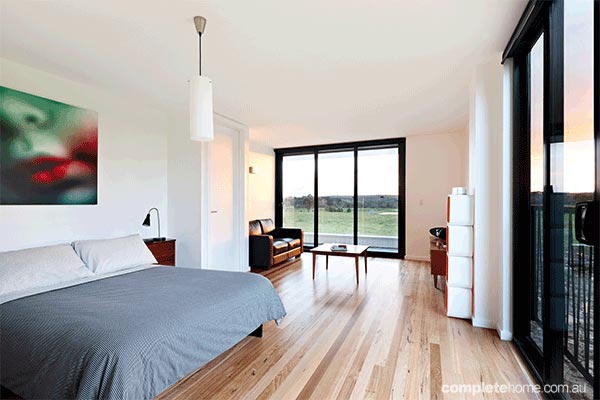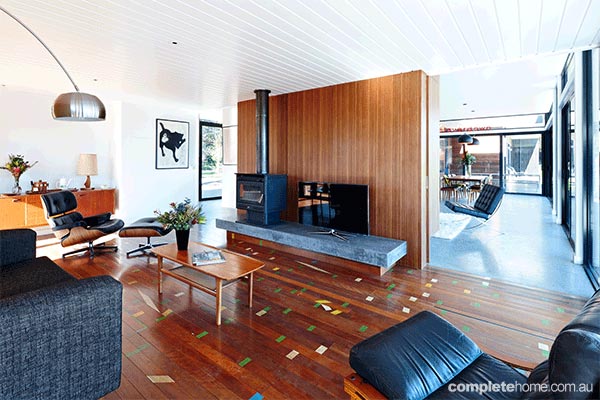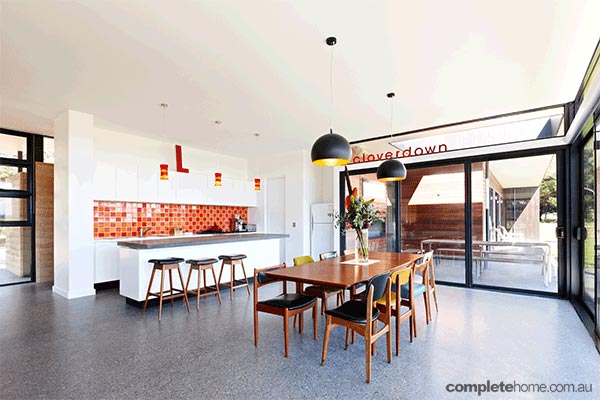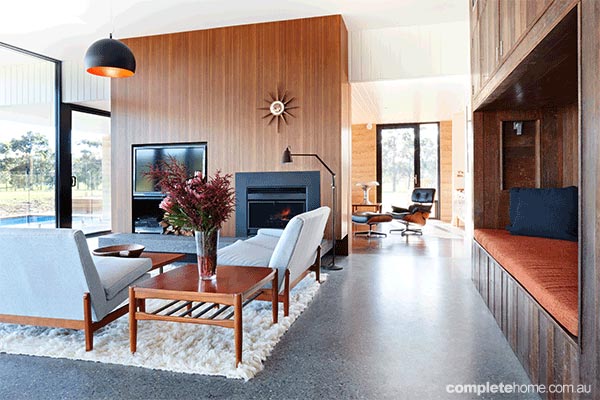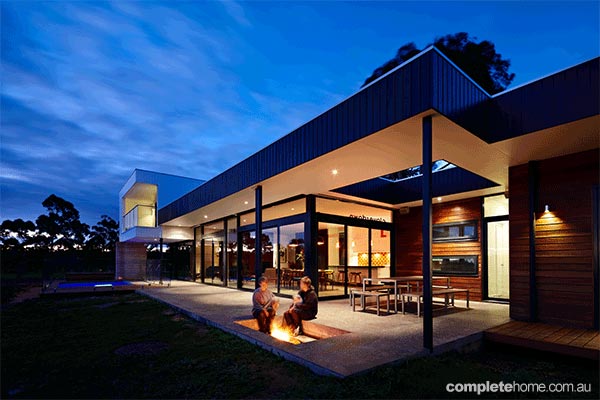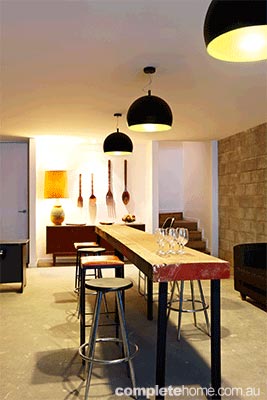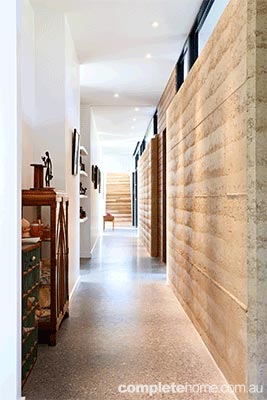 GRAND DESIGNS AUSTRALIA EPISODE 3 SERIES 3
HOUSE Balnarring Rammed Earth house
LOCATION Mornington Peninsula, Victoria
COST $1,100,000
DATE COMPLETED August 2012
Surrounded by rolling hills, paddocks and the vibrant greenery of various national parks, you would be forgiven for thinking you were in some far off European land rather than an hour's drive south of Australia's second largest city. As the home of numerous historical houses, olive groves and vineyards, the Mornington Peninsula has built itself a reputation for being the number one destination for any Melbournian urbanite in need of some R&R.
This backdrop of seaside towns and wineries is where film festival director, Lisa, and investor, Claire, decided to undertake the momentous task of building their new Rammed Earth house; a home away from home. Already owning a home in the inner suburbs of Melbourne, for Lisa and Claire the idea of growing grapes, making wine and being close to the sea was what drew them to the area. However, trying to find a property with a small estate of between 10 and 20 acres in an area renowned for its large properties would prove difficult at first.
"Around eight years ago we started looking on the Mornington Peninsula as we wanted something that was within a 90-minute drive of Elwood," Lisa says. "After a few months of driving up and down each weekend and being laughed at by real estate agents, we wandered into an agent's office in Balnarring and he told us about an old house on 11 acres a couple of kilometres from the centre of Balnarring."
After a drive by the home and meeting the owner, Lisa and Claire decided they had finally found their retreat. The existing home on the land was an asbestos-sheeted 1930s shack. With no insulation, single glazing and surrounded by 70-year-old pine trees that kept the house in a constant shadow, the home was cold and dark during winter and virtually a sauna during summer. "It wasn't rare to experience five degree days inside during winter or 40 degrees in summer," explains Lisa. "Besides us, it was populated by rats and mice, possums and birds in the ceiling — no snakes though."
A few years passed and the couple finally took the plunge and decided the old house needed to be knocked down to make way for something new and different. "We wanted to create a house that would be practical when there was just the two of us there, but also capable of comfortably sleeping around 12 people as we often have friends and family staying," says Lisa.
After experiencing the extreme temperatures in the original house, if there was one issue they were both keen to tackle it was how to heat and cool the home. "Our architect friend came up with the idea of a low, flat pavilion that can be closed off or opened up," explains Lisa. "So when it's just Claire and I we pretty much shut off the southern end of the house and stay down our own end, and when we have the full house we open it all up."
The initial design process for the home began in 2007, but then came the global financial crisis. Deciding to wait it out, Lisa and Claire were able to fiddle with the design until the build began. Incorporating some of the styles seen in architects Robin Boyd and Alistair Knox's work, the design for the home settled with three ground floor bedrooms, a large living and kitchen area, cellar, swimming pool and an upstairs bedroom contained in a "floating" cantilevered room.
Construction began in March 2011, but when winter arrived, so did the rain. "Early in the project we experienced some shocking weather that saw the cellar cave in at least three times, and the site being continually saturated and surrounded by a thick red clay which stuck to everything," Lisa recalls. "The weather probably added around six weeks to the timeline."
If there was one aspect of the design that Lisa and Claire tried to stay true to right through the project, it was their efforts for the home to be as sustainable as possible. The introduction of rammed earth walls, a combination of cement, gravel and adhesive, provides the home with excellent thermal mass properties.
This idea of heating and cooling the home by natural means has been used throughout the home. "Large, overhanging eaves are included to fend off the summer sun and a concrete slab is used throughout the home for thermal mass," explains Lisa. "The orientation of the house means that in winter the sun hits and warms the slab from around lunchtime, while in summer, the sun doesn't directly hit the interior slab until around 4:30pm."
Recycling timber from their previous home, timber yards and even a school gym not only keeps in with the sustainable theme, but also ensures the home relates to its surroundings. "We wanted the Rammed Earth house to refer to the environment, hence the use of spotted gum timber [both oiled and stained charcoal], a lovely buttery rammed earth wall and a concrete slab that appears to be part of the earth," says Lisa. "We also cleaned up the recycled timber from the Echuca High School gym, which had basically been removed and were still in the original condition, complete with 80 years of teenagers' shoe gunk."
Looking at the home from both the inside and out, it is immediately apparent a lot of Lisa and Claire has gone into this project. Every finish, material and piece of recycled furniture chosen adds to the atmosphere of the home and in some way gives the visitor a history lesson about its owners. The old key and screw from the original 1930s dwelling that somehow made their way into the kitchen island bench to the floorboards from the old home that now make up the daybed in the living room — every room in the Rammed Earth house contains a personal touch. "We still wander around looking at various aspects recalling the hard work we both put in," says Lisa. "We've literally had our hands on every piece of timber on and within the house, and even in some cases inside walls."
The project's finale has resulted in a home that some might think may look out of place, but in fact is quite unobtrusive on its surrounds. The tones in the natural timbers on the exterior of the home enable it to blend into the landscape, while on a cloudy day the upstairs "floating" room all but disappears. And as a perfect example of old Australia meeting new Australia, this contemporary home sits next to an old rusting chicken coop and windmill.
Whether you've built your own house or simply lived in one for years, when it comes time to leave we like to think we've left our mark. In Lisa and Claire's case, they have built a home that not only comes with memories but will see many more to come. Like the wine contained in their cellar, this home is sure to only get better with age.
Watch the video walk-through of the Balnarring Rammed Earth House here
By Tessa Hoult 
Photography by Rhiannon Slatter
From Grand Designs Australia magazine Vol. 2 No. 1