Extending over 14 squares, Swenrick Constructions' Sea Haven design is a stylish, sleek and inviting option for a couple or family who want to bring a touch of the coast to their home build.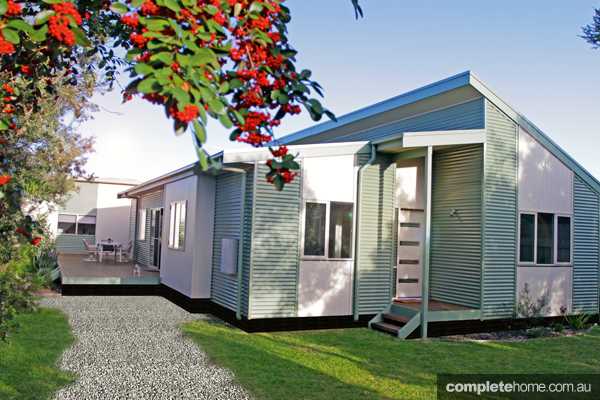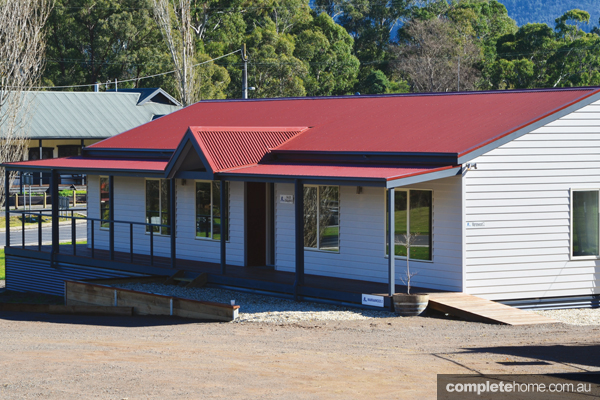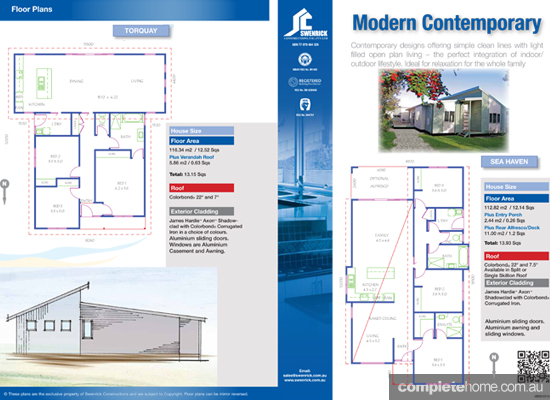 With a walk-in robe and ensuite in the master bedroom, and built-in robes to the other two bedrooms, Swenrick Constructions has incorporated storage solutions that maximise the available space. The open-plan family, living and kitchen areas allow for individual touches to be made throughout the build and floorplans can be further modified to suit individual preferences.
Suiting both country and ocean living, the design of Sea Haven aims to promote a healthy outdoor lifestyle through durable building materials and design considerations. Aluminium awnings, sliding windows and sliding doors come in a range of colours to complement the James Hardie TM Axon TM Shadowclad with Colorbond corrugated-iron exterior cladding.
Using a Colorbond 22° and 7.5° roof in split or single skillion, along with a raked ceiling to the open-plan family, living and kitchen area, Swenrick has ensured a feeling of height and space within the home. The optional alfresco decking at the rear of the build also complements the strong lines of the design and adds to the sense of length and space the floorplan creates.
The Sea Haven includes a six-year structural guarantee, as well as a six-star energy rating, and is perfect for building on your existing land. It is the stylish and affordable way to incorporate a relaxing and healthy lifestyle to modern home design.
COMPANY PROFILE
Swenrick Constructions has been designing and building homes for more than 40 years and, in doing so, has built a strong reputation as providers of quality and modern home design. The company's designs are equally ideal for permanent family living, cosy retirement cottages or holiday homes and are suited to small blocks or large acreage, bush environments, town living or coastal locations. From the mountains to the sea, Swenrick Constructions offers flexibility with all of its floorplans and a smooth construction of your dream build.
CONTACT DETAILS
Swenrick Constructions (VIC) Pty Ltd
7/4 Royan Place, Bayswater North Vic 3153
Phone (03) 8761 6610
Mobile 0447 462 844
Email sales@swenrick.com.au
Website swenrick.com.au
Display Homes:
7 Buxton-Marysville Road, Buxton Vic 3711
Phone (03) 5774 7066
Open Monday to Friday 10am to 5pm, Saturday and Sunday and on most public holidays 12pm to 5pm.
Originally from BuildHome Victoria magazine, Volume 44