The Grand Designs Australia Ocean View house, which featured on the Lifestyle Channel's TV Show of the same name, is considered by its owners as a building with two personalities. Find out why.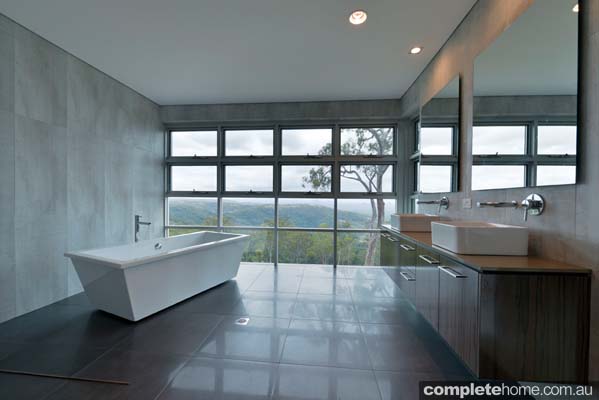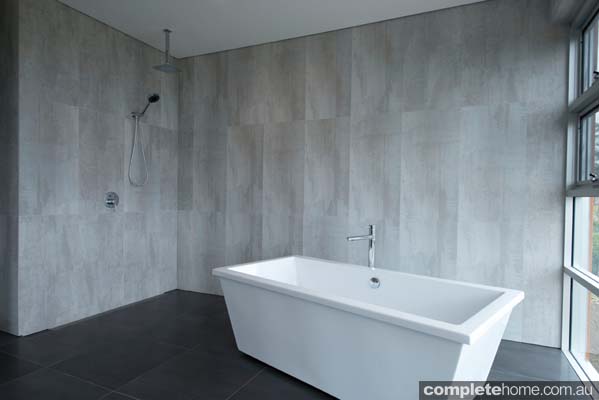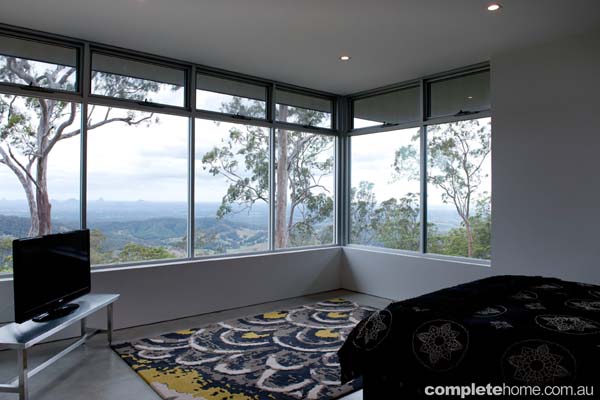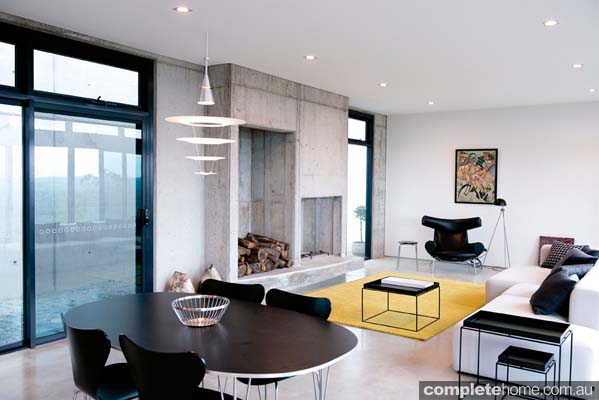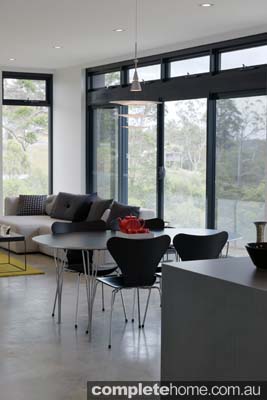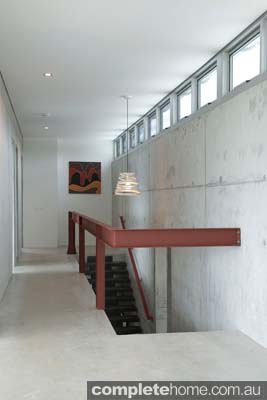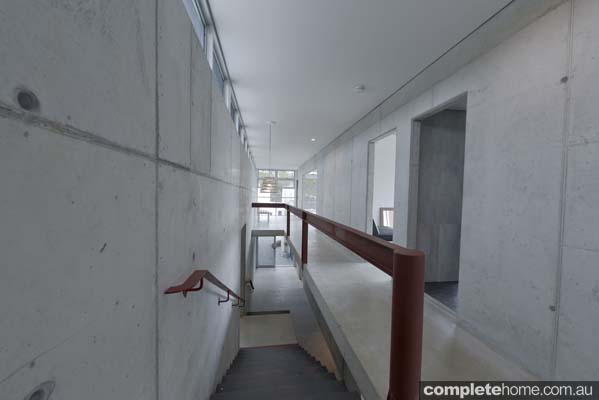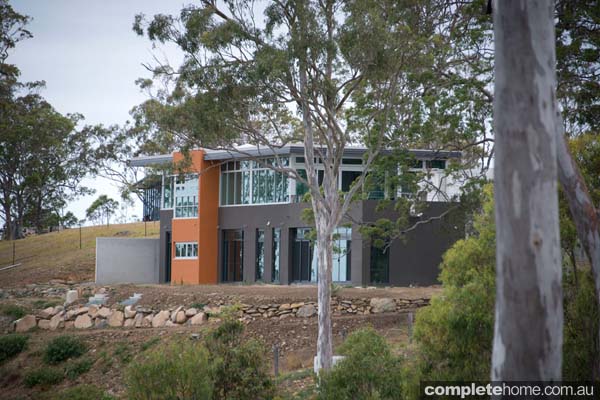 HOUSE Grand Designs Australia Ocean View house
LOCATION Sunshine Coast hinterland, Qld
COST $850,000
It's incredible how much a simple drive or detour can change your life. Some might come across a gorgeous antique that will become part of their home for years, while others may discover a cute little town they never knew existed. But by venturing off the beaten track, Queensland couple Carlo and Brunella Novello found their perfect piece of land, around 1.6 hectares of semi-cleared bushland on a steep slope about 50km from Brisbane that would literally transform their lives. They came around the corner and the remote site, with its amazing outlook to the beautiful Glasshouse Mountains, greeted them and became the sole reason they chose to build their Ocean View House there.
"About seven years ago we were returning from a few days at the Sunshine Coast," says owner-builder, Brunella. "We took a detour and came across blocks of land for sale and bought one, just on the spur of the moment!"
Italian-born Brunella, 56, migrated to Australia in 1960 with her parents and spent her early years travelling around North Queensland as her dad followed sugar-cane cutting and tobacco-picking work. Carlo, 59, was born and raised in Brisbane. His parents were also migrants from Italy, with his dad working on the Snowy Mountains Scheme. The couple has two children — son Steven (31) who is engaged to Karen, and daughter Carolyn (28), who is married to Nick and has an adorable one-year-old son, Jake.
After purchasing the land, Carlo and Brunella faced the exciting part of the process — deciding exactly what they wanted in a home and its design. Here, their heritage played a role — integrating their Italian background with the Aussie bush. "Living in large, solid constructions in Italy in my early childhood and pre-teen years permeated my thoughts on construction," says Brunella. "We knew we wanted concrete. This area is prone to landslip, bushfires and has a very high wind rating, so we really needed and wanted a resilient construction that would be built for durability and as passively as possible.
"We always had a passion for concrete and particularly liked the Wickham Terrace car park, a brutalist construction designed by James Birrell. We have also spent many hours in museums and art galleries, both here and overseas, and are impassioned as much by the buildings as well as the treasures inside. Their sense of solidity and volume is palpable.
"We also wanted the house to sit into the landscape. We have this magnificent view of the Glasshouse Mountains and beyond to the ocean, the bay, Moreton Island, Caloundra and surrounds, so the construction had to maximise this view."
Planning their "grand design" took two and a half years, and the couple worked with architect Martin Chant of Studio of Progressive Architecture. Construction commenced in August 2011. "We worked so closely with Martin — he really understood what we wanted and the look and feel we were trying to achieve," says Brunella. "He also understood concrete!" she laughs.
Despite never having designed or built a house before, a lack of building experience didn't stop Carlo (a pharmacist) and Brunella (who enjoys an extensive, varied career in education and spends time volunteering and fund-raising) from "having a go". While Carlo was travelling for work, Brunella based herself in a granny flat and threw herself into the project with gusto. It was a baptism of fire for her as project manager/builder and she put her teaching work on hold to bring the home to fruition.
"I had a hand in building it… I physically worked on site every day and had a go at everything," says Brunella. "Being a female with no construction or building experience, it was hard to get across that I knew what I wanted, that I could read the plans and knew how I wanted the house to look. From the outset this was the case when I was trying to convince concrete companies that I would need around 500 cubic metres of concrete… I got tired of having to explain that I knew the difference between linear, square and cubic metres… very frustrating!"
The main spine of the house is a 50m in-situ 250mm-thick raw concrete wall which rises 6m high. It required 72.6 cubic metres of concrete and nine tonnes of steel. The internal wall which forms the circulation space (or hallway) is also raw concrete 150mm thick. This is the couple's favourite space. "It is very voluminous and it is entirely raw concrete — floor, ceiling, walls — punctuated only by the steel staircase with tallowwood treads commissioned specially, and glass in the balustrading," says Brunella.
Entry to the home is accessed via the mid level with its double garage, workroom and laundry with entry foyer. Adjacent to the entry foyer is the only opening in the 50m spine wall — this allows access into the house itself.
The couple required four bedrooms (two upstairs and two downstairs) to accommodate visitors. Each bedroom has an ensuite, and there's an additional bathroom in the laundry and a powder room downstairs. Also on their wish list was an entertainment area in which to host visitors and enjoy the views of the stunning landscape in any weather. "The multi-function lounge room gives us this option and it leads straight onto the very large upper-level terrace where views are unencumbered by windows or doors," says Brunella.
There's also an impressive open kitchen/lounge/dining area and behind the kitchen, a 'hidden' scullery (butler's pantry with shelving, very deep sink and a much-loved and -used full-size coffee machine). Here there is also provision for a dumb waiter to service the upstairs lounge room.
"There was just one minor change in our plans along the way — the scullery and store room had a dividing wall and I did not put this in, so it just became one larger room," says Brunella.
The distance of the building site from the main town centre and the fact that the property is up a small mountain made it difficult to secure contractors who were willing to travel the 20-minute drive up the mountain. Brunella personally selected all the trades herself and the couple employed several main contractors only, including formworker Martin Doherty from Aedan Pty Ltd, who undertook the construction of the main spine wall, internal concrete wall and ICF (insulated concrete formwork).
Concreters did the work for the footings, ground floor slab and suspended slab. With that came the associated concrete trucks and concrete pumps to pump the 508 cubic metres of concrete that went into the construction. And it was this extensive use of concrete that Brunella found most exciting. The main spine wall was built first on the footings, then the slab was poured. The house in essence cantilevers off this main spine wall.
A local steel manufacturer constructed all the steel I-beams, channels, steel stair structure and external handrails, as well as the internal handrails and entrance structure. He built the roof substructure, which was assembled on the front lawn, and the entire 6.5-tonne structure was then craned into place.
"When the 6.5-tonne steel roof substructure was being lifted more than six metres by a 60-tonne crane onto the house, I did not want Martin to miss it," says Brunella. "So I set up Skype on my laptop to talk to him in his office in New Zealand. I set the laptop onto a rubbish bin so he could see the process and then carried the laptop around to a higher spot on the site and then around the house so he could have a look."
The engineering on the home was precise and very detailed. "It really had to be exact for all the elements to tie in together," says Brunella. "Each element — the amount of steel, the size of the steel beams, the lintels, windows, the thickness and amount of concrete along with its MPA, and the oversized doors — are all elements and sizes that you would not normally see in a house. They're what you would more readily see in commercial construction. The building methodology consequently was different from a typical home construction. Numerous and various sizes of cranes came here, and the huge concrete pumps that were also being used to construct the airport link project were frequent visitors to our site."
"The home is unique in both its construction and how it ultimately looks," says Brunella. "It really is a building with two personalities. There is the rawness of the monolithic, monochromatic grey concrete that faces the street on the southern side, and this sits well down into the ground with most of the garage wall being only 1.5–2m above ground. The reverse is true for the north face, where this two-storey 6m-plus building emerges from the ground and is filled with light from an abundance of glass, and has a rendered colour of muddy grey and ochre which reflects the colours in the surrounding trees and rocks."
The windows are a big part of the house as the entire north face is glass. They were also the single most expensive item in the build. The glass in all the windows and glass doors has a very high thermal rating and is known as 'smart glass' — tinted glass that draws warmth from the sun in winter then radiates this warmth into the house. Similarly, when the fireplace is on, it radiates that heat back into the house. In summer, when the sun is higher, it does not heat the glass so the house stays cool.
Needless to say, the house performs very well, both thermally and in terms of living. 'Breathing' with its owners, the house's comfort levels are excellent. "Thermally, the building works extremely well," says Brunella. "There is so much thermal mass with concrete." There is also a lot of insulation — the roof has insulation, and there's insulation in the ceilings, both upstairs and downstairs. All the ICF walls are double-insulated; they have 60mm of polystyrene on the outside, 60mm on the inside of the wall and 150mm of concrete inside.
"We wanted the house to be passively effective so there is neither air-conditioning nor fans," says Brunella. "There is provision for a wood heater inside and we have an outdoor fireplace on the terrace. We have oriented the house on an east-west axis with all major glass north-facing, with high opening windows for ventilation and a small band of high awning windows to the south face to allow hot air to escape and for cross-ventilation. The house also affords great privacy but with windows and doors being all glass they allow a lot of light in as well as great access to the incredible views."
The finishes chosen are extremely hardy, with most of the construction concrete. "The materials we have chosen for the main body of the house — concrete and the garage core-filled concrete besser blocks — are in their raw state and will remain so, which requires minimal maintenance," says Brunella. Inside, as the entire void area is raw concrete it will not require painting. All floors are concrete, so need minimal maintenance. The house is also very low-tech, which means few breakdowns in electronic, motorised and electrical equipment.
While managing various contractors had its moments, the main challenge for the couple as builders was timing and sequencing building events, such as the amount of curing time for the concrete on the main walls and the technical aspects such as testing the slump and the curing of the concrete, especially in the main 50m wall.
"There were really so many 'known unknowns' and we just had to be patient and keep the project moving as best we could," says Brunella. "The unknowns were also a source of enjoyment for me… I really was excited by the challenge and doing things differently, even though I had not done anything like this before and, in many cases, nor had the contractors. So it was a journey for all of us, though I'm not sure they had quite the same excitement! I also always looked on the positive side of things and not at the problems but the solutions.
The couple admits that while they would go through the building process again, they have no plans to do so. "No, no plans… at this stage," laughs Brunella. "We really had fun most of the time during construction. We worked and ate with the various contractors and shared many a story and joke.
"The whole build all pretty well went to plan, apart from the rain and the budget blowout of $150,000. Weather was the main hold-up, and also between Christmas and New Year there is always a slowdown as most trades take holidays. However, we also enjoyed the break ourselves, as building was pretty frenetic in those first five months!
"When the house was finished we felt relief and a great sense of accomplishment." The couple moved in just before Christmas 2012. "We had Christmas at our place, surrounded by lots of family… just wonderful!" says Brunella.
"Although adults, our children love the open kitchen/dining/lounge area as it's reminiscent of the open design in the Queenslander home where they grew up. It allows us to be together and talk to each other. It really was the hub of the home and we have it here as well. I think they also love that the bedrooms each have an ensuite, something they did not have when growing up."
The couple couldn't be happier in the Ocean View House and its surrounds, in which they can indulge their love of life's finer things — for Brunella this is cooking, gardening, bushwalking and reading, while Carlo shares her passion for gardening, bushwalking and reading, and also golf.
"There's lots of beautiful native animals in and around our garden… wallabies, kookaburras, black cockatoos, echidnas, koalas, owls, eagles, lorikeets, galahs… and some unwelcome visitors such as eastern brown snakes and red-bellied black snakes," says Brunella.
"Living here is just as we had imagined. Being part of every changing day and experiencing the weather from this unyielding home is amazing. It was a difficult thing to think about how we wanted to live now, into retirement, with family and friends visiting and how the house was going to meet our changing needs and requirements in the future, but we feel we got it right."
GRAND DESIGNS AUSTRALIA OCEAN VIEW HOUSE: PROJECT TEAM
ARCHITECT Martin Chant, Studio of Progressive Architecture (+64 03 337 1360 or progressivearchitecture.com.au)
INTERIOR DESIGN Meredith Dobson (+64 03 337 1360 or progressivearchitecture.com.au). There was no formal interior designer, however architect Martin Chant designed the basic layout of kitchen and bathrooms and then he and Meredith Dobson, along with the girls from Paperbark Studio, assisted with design ideas and feedback
OWNER-BUILDER Carlo and Brunella Novello
STRUCTURE
Structural engineers Wood & Grieve Engineers (07 3811 4500) Geotechnical engineers Soil Surveys Engineering — Mike Brice (07 3369 6000 or soilsurveys.com.au) Surveyors Bennett + Bennett — Daniel Ebert (0448 097 902 or bennettandbennett.com.au) Formwork & ICF Aedan Formwork Contractors — Martin Doherty (0423 557 117) Steelwork AE & RJ Hewitt Steelwork & Crane Hire — Tony Hewitt (0429 873 883)
FIXTURES AND FITTINGS
Concrete tanks and ABS sewage system Taylex Industries — Mike Barnes (0417 751 1991 or taylex.com.au) Windows Total Concept Group (07 5522 1055 or totalconceptgroup.com.au) Garage door Smoothpanel B&D Doors & Openers (bnd.com.au) Kitchen and bathroom cabinetry MKN Kitchens and Bathrooms (07 3889 9054 or modularkitchens.com.au) Tiles Uptiles Strathpine — Sharon McFarland interior designer (07 3881 0116 or uptiles.net) Lighting Ideal Lighting & Electrical — Enoggera Showroom (07 3355 4499 or idealelectrical.com.au) Hot water heat pump Stiebel Eltron (stiebel.com.au) Domestic appliances Harvey Norman Albany Creek (07 3630 9000 or harveynorman.com.au)
FURNITURE AND FURNISHINGS
Furniture Corporate Culture (07 3852 4220 or corporateculture.com.au) Rugs Designer Rugs — Julie Prosser (07 3852 6433 or designerrugs.com.au) Pendant lights The Caribou Group — Craig Thomas (07 3390 6411 or caribou.com.au) and Corporate Culture NZ (+64 9 379 4466 or corporateculture.co.nz)
SERVICES
Interior design assistance Paperbark Studio — Rachael Gwaro, Rebecca Shaw, Louise Willey (paperbarkstudio.com.au) Concrete HY-TEC – Matt Hasted (0419 229 893 or hy-tec.com.au) Concrete pumping Powercrete Concrete Pumping (Qld) — Frank Cantronese (0409 497 565 or powercrete.com.au) Concreting Road to Roof — Wesley Cunningham (0409 476 321 or roadtoroof.com.au) Steel Neumann Steel — Rod Collins (0412 627 233 or neumannsteel.com.au) Electrical BW & JL Moore — Brian Moore (0412 736 081) Plumbing Molan Plumbing — Bernie Molan (07 3262 1688) Tiling and carpentry Dinnic Carpentry & Joinery — Dino Buiatti (0418 726 972) Roofing and guttering Sorensen Fascia & Guttering Specialists — Palle Sorrenson (0412 986 598) Crane Burpengary Crane Hire — Steve Gonano (07 5428 1118 or burpengarycranehire.com.au) Render Pro-Coat — Brett Sweeting (0431 137 457 or pro-coat.com.au) Paint Resene (resene.com.au)
By Danielle Townsend
Photography By Paul Broben
From Grand Designs Australia magazine Vol. 2 No. 3
If you loved reading about the Grand Designs Australia Ocean View House, read more from our Grand Designs archives here!